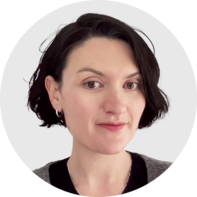 Jazz Croft, PhD
Senior workplace scientist, Flo Health Inc., UK
Work Experience: 5+ years in psychology and health research
"As a researcher in industry, I work to better understand how digital interventions can improve well-being in the workplace."
Career Highlights
Senior workplace scientist, Flo Health Inc., 2022–present
Senior researcher, 87%, London, UK, 2021–2022
Research associate at the University of Bristol, UK, 2020–2021
Post-graduate researcher at the University of Bristol, UK, 2016–2020
Education
PhD in psychiatric epidemiology from the University of Bristol, UK, 2020
Master of Science in psychology of mental health from the University of Edinburgh, UK, 2016
Bachelor's degree in English language and literature from University College London, UK, 2013
Featured Publications
"Association of Trauma Type, Age of Exposure, and Frequency in Childhood and Adolescence with Psychotic Experiences in Early Adulthood." JAMA Psychiatry, vol. 76, no. 1, 2019, pp. 79–86, doi: 10.1001/jamapsychiatry.2018.3155.
"Childhood Trauma and Cognitive Biases Associated with Psychosis: A Systematic Review and Meta-analysis." PLOS One, vol. 16, no. 2, 2021, e0246948, doi: 10.1371/journal.pone.0246948.
"A Computational Analysis of Abnormal Belief: Updating Processes and Their Association with Psychotic Experiences and Childhood Trauma in a UK Birth Cohort." Biological Psychiatry: Cognitive Neuroscience and Neuroimaging, vol. 7, no. 7, 2022, pp. 725–734, doi: 10.1016/j.bpsc.2021.12.007.
My Journey in Research
Throughout my career in health and psychology research, I've enjoyed researching mechanisms that contribute to health outcomes and discovering which practical tools can improve lives.
My area of expertise in workplace well-being has been inspired by growing evidence that work environments play an instrumental role in population health. In addition, I've found that many current interventions do not have an evidence base to illustrate their efficacy.
I'm driven by the opportunities to use preventive health strategies to improve lives across the world through digital, low-cost interventions that have a positive social impact. I enjoy finding novel ways to increase the value of data insight and devising feasible solutions to the relevant problems of today's society.
I am so excited to be part of the Flo science team. In this role, I strive to deliver groundbreaking scientific research and focus on how employers can play a significant role in reducing workplace inequalities and improving quality of life using Flo.
Fun Facts
I've always been an avid reader and have previously been a fiction reviewer for a few online publications. The series of novels that I reread as often as I can is Elena Ferrante's Neapolitan Quartet — perfection!
Flo Advisory Board of 100+ Doctors, Scientists, and Health Experts
We break down complex medical topics into accessible and digestible information that empowers readers to take action and prioritize their own well-being. Our team of Medical and Scientific Advisors is made up of over 100 certified health experts from a variety of disciplines who ensure that every piece of content we release is medically accurate, understandable, and up-to-date with the latest scientific findings. We rely on medical guidelines from international health organizations and get information from academic institutions and peer-reviewed articles, which is fully described in our Flo Editorial Process and Standards.