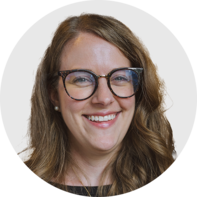 Kimberly Peven, PhD
Senior research scientist, Flo Health Inc., UK
Work Experience: 10+ years in health care and health research
"I'm driven to improve health for women, newborns, and families through data and research. I believe in using technology as a way to empower people to make informed decisions for their reproductive health."
Career Highlights
Consultant, Department of Maternal, Newborn, Child, Adolescent Health and Aging, World Health Organization, 2021–present
Research fellow, Maternal and Newborn Health Group, London School of Hygiene and Tropical Medicine, University of London, UK, 2019–2022
Survey manager, Demographic and Health Survey Program, ICF International, Rockville, MD, US, 2014–2016
Doctoral researcher, epidemiology, King's College London, UK, 2016–2022
Visiting lecturer, child health and well-being, University of Roehampton, UK, 2016–2018
Monitoring and evaluation officer, Population Services International, Yaoundé, Cameroon, 2011–2012
Author of 25+ publications published in peer-reviewed medical journals
Education
PhD in epidemiology from King's College London, UK, 2022
Executive MBA from the Quantic School of Business and Technology, Washington, DC, 2020
Master's degree in public health from Tulane University, LA, 2011
Bachelor of Science in nursing from the University of Michigan
Featured Publications
"Distance to Available Services for Newborns at Facilities in Malawi: A Secondary Analysis of Survey and Health Facility Data." PLOS One, vol. 16, no. 7, 2021, e0254083. doi: 10.1371/journal.pone.0254083.
"Stillbirths Including Intrapartum Timing: EN-BIRTH Multi-Country Study." BMC Pregnancy and Childbirth, vol. 21, no. 1, 2021, doi: 10.1186/s12884-020-03238-7.
"Household Survey Measurement of Newborn Postnatal Care: Coverage, Quality Gaps, and Internal Inconsistencies in Responses." Global Health: Science and Practice, vol. 9, no. 4, 2021, doi: 10.9745/GHSP-D-21-00209.
"Evaluating Implementation Strategies for Essential Newborn Care Interventions in Low- and Low Middle-Income Countries: A Systematic Review." Health Policy and Planning, vol. 35, no. 2, 2020, pp. Ii47–ii65, doi: 10.1093/heapol/czaa122.
"Breastfeeding Support in Low and Middle-Income Countries: Secondary Analysis of National Survey Data." Midwifery, vol. 82, 2020, doi: 10.1016/j.midw.2019.102601.
My Journey in Research
I started my medical career as a registered nurse, caring directly for hospital patients. In my daily work, I came across many health issues that were preventable, which inspired me to pursue a career in public health.
My public health roles have included working on HIV programs in Louisiana, child health programs across Cameroon, and supporting demographic and health surveys and malaria indicator surveys in multiple countries, including Armenia, Burundi, Madagascar, Nigeria, and Uganda.
After completing my PhD in epidemiology and newborn health, I continued to focus on women's and newborn health, including coverage and quality of care and quality of measurement. I believe improving health and opportunities for women and newborns is key to healthy families and populations — a topic that's been a central theme in my research. Over the years, I've had the opportunity to publish papers in a variety of international peer-reviewed medical journals and have focused a large portion of my research on low- and middle-income countries.
I'm delighted to be a part of Flo's science team and to work toward Flo's mission to improve health for women and people who menstruate everywhere around the world.
Fun Facts
Outside of work, I enjoy aerial arts and flying trapeze!
Flo Advisory Board of 100+ Doctors, Scientists, and Health Experts
We break down complex medical topics into accessible and digestible information that empowers readers to take action and prioritize their own well-being. Our team of Medical and Scientific Advisors is made up of over 100 certified health experts from a variety of disciplines who ensure that every piece of content we release is medically accurate, understandable, and up-to-date with the latest scientific findings. We rely on medical guidelines from international health organizations and get information from academic institutions and peer-reviewed articles, which is fully described in our Flo Editorial Process and Standards.