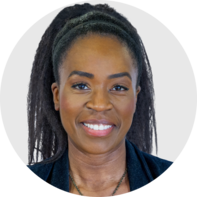 Lauretta Ihonor, MBBS, MA
Director of Medical Accuracy, Flo Health Inc., UK
Work Experience: 10+ years spanning health content production, mobile health tech and clinical practice (general medicine)
"There's nothing more rewarding than doing work that makes a real difference in people's lives — giving them hope and helping them feel seen, heard, and understood. I absolutely feel this sense of doing work that really matters at Flo."
Career Highlights
Director of Medical Accuracy at Flo, 2021–present
Head of Content Innovations and Operations at Healthily, 2018–2021
Founder of The Ambition Plan, a digital career-change platform for women, 2018–2020
Health news reporter/producer at Sky News, BBC, and CNN International, 2013–2015
Medical news reporter at Springer Publishing, 2010–2011
Medical writer and editor at Medeuronet Medical Communications, 2011–2013, 2015–2017
Hospital Doctor at Chelsea and Westminster Hospital, London, 2008–2009
Education
MBBS, graduated with distinction, from University College London, 2008
Master of Arts in International Journalism, graduated with distinction, from University College London, 2013
Bachelor of Science in Human Genetics and Nutritional Genetics Research, 1st Class, from University College London, 2005
My Journey in Medicine
As a doctor, health journalist, and digital content strategist, finding effective and engaging ways to give the average person the health information they need to live their healthiest life possible has always been a passion of mine. But trying to do this brings a great challenge: finding ways to give people access to the information they need, when they need it, and, of course, doing so in a way that truly hits home without compromising the facts.
Prior to joining Flo, I was leading all things content strategy and operations for the doctor-created symptom checker and self-care app, Healthily. This included working with doctors, data scientists, epidemiologists, health writers, and software engineers to create digital solutions designed to give users from all walks of life the information they needed to make the best decisions for their health.
Additionally, I worked for several years as a health journalist, reporting on current health issues and breakthrough medical research on international and national TV news. Passionate about helping women progress in all areas of life, I also founded The Ambition Plan to help women transition from one career to another by providing expert advice, digital courses, and networking opportunities.
It's so fulfilling knowing that the work we do here at Flo empowers women all over the world to better understand their bodies, look after their health, start families, and move through different chapters of their lives. I love collaborating with the amazing group of talented and inspirational professionals here who are passionate about advancing women's health.
Fun Facts
I'm a certified yoga and Vedic meditation teacher, and I teach meditation classes to busy Londoners in my spare time.
Flo Advisory Board of 100+ Doctors, Scientists, and Health Experts
We break down complex medical topics into accessible and digestible information that empowers readers to take action and prioritize their own well-being. Our team of Medical and Scientific Advisors is made up of over 100 certified health experts from a variety of disciplines who ensure that every piece of content we release is medically accurate, understandable, and up to date with the latest scientific findings. We rely on medical guidelines from international health organizations and get information from academic institutions and peer-reviewed articles, which is fully described in our Flo Editorial Process and Standards.