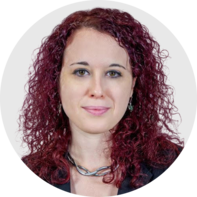 Sonia Ponzo, PhD
Director of science, Flo Health Inc., UK
Work Experience: 8+ years in research
"My research interests lie in both diagnostic and therapeutic approaches to health and specifically in finding ways to prevent health disorders by monitoring and interpreting individuals' everyday habits and behaviors. As the director of science at Flo, I aim to help people optimize their health through science-backed information and empower them to advocate for themselves in their daily lives."
Career Highlights
Member of the the Digital Health Expert Advisory Group, 2022–present
Director of science at Flo Health, Inc., London, UK, 2022–present
Honorary lecturer at the University College London Institute of Health Informatics, UK, 2021–present
Head of clinical research at Thrive Therapeutic Software, London, UK, 2021–2022
Lead research scientist at Huma, London, UK, 2020–2021
Panelist on the webinar "How can companies be better supported in digital health evaluation?" 2021
Research scientist at BioBeats, London, UK, 2019–2020
Lecturer in biological psychology and cognitive neuropsychology at the University of Hertfordshire, UK, 2018
Neuropsychological researcher at Centro Puzzle, Turin, Italy, 2014–2015
Education
PhD in psychology from the University of Hertfordshire and University College London, UK, 2019
Master of Science in psychology from the University of Turin, Italy, 2014
Bachelor of Science in psychology from the University of Turin, Italy, 2011
Featured Publications
"Measuring Interoception: The Phase Adjustment Task." Biological Psychology, vol. 165, 2021, pp. 108-171, doi:10.1016/j.biopsycho.2021.108171.
"Measuring Interoception: The CARdiac Elevation Detection Task." Frontiers in Psychology, vol. 12, Aug. 2021, doi: 10.3389/fpsyg.2021.712896.
"Development of Digitally Obtainable 10-year Risk Scores for Depression and Anxiety in the General Population." Frontiers in Psychiatry, vol. 13, Aug. 2021, doi: 10.3389/fpsyt.2021.689026.
"Implementation of a mHealth Solution to Remotely Monitor Patients on a Cardiac Surgical Waiting List: Service Evaluation." JAMIA Open, vol. 4, no. 3, Jul. 2021, doi: 10.1093/jamiaopen/ooab053.
"Population Risk Factors for Severe Disease and Mortality in COVID-19: A Global Systematic Review and Meta-Analysis." PLOS ONE, vol. 16, no. 3, Mar. 2021, doi:10.1371/journal.pone.0247461.
"Efficacy of the Digital Therapeutic Mobile App "BioBase" to Reduce Stress and Improve Mental Wellbeing Among University Students: A Randomized Controlled Trial." JMIR Mhealth Uhealth, vol. 8, no. 4, Apr. 2020, doi: 10.1016/j.neuropsychologia.2018.06.020.
"Balancing Body Ownership: Visual Capture of Proprioception and Affectivity during Vestibular Stimulation." Neuropsychologia, vol. 117, 2018, pp. 311–321, doi:10.1016/j.neuropsychologia.2018.06.020.
"Development and Validation of Risk Scores for All-Cause Mortality for a Smartphone-Based 'General Health Score' App: Prospective Cohort Study Using the UK Biobank." JMIR MHealth and UHealth, vol. 9, no. 2, 2021, doi:10.2196/25655.
My Journey in Science
My journey started as a clinical neuropsychologist, treating patients with traumatic brain injuries. After noticing clear disconnects in the way some of these patients perceived their bodies following the accident, I started researching bodily awareness. That's when I had the chance to explore the relationship between the mind–body connection and mental health, understanding how everything comes back to this fundamental experience of our own self. This is what prompted me to eventually broaden my research interests to general health. I firmly believe that being in tune with our own body is the foundation of all health.
Since finishing my PhD, I have always chosen to work in companies where I was sure I could make a difference. At Thrive, Huma, and BioBeats, I designed research projects on the efficacy of digital health interventions to help diagnose and treat mental and general health problems.
I'm so excited to have joined the excellent team here at Flo, as women's health is a particular passion of mine. Flo has huge potential to be a positive, disruptive force in femtech by supporting millions of people worldwide in their journey of discovering their healthy self. There's still a lot of work that needs to be done to help people feel fully supported, empowered, and understood in their everyday health challenges, and I am truly glad to be able to be part of this much-needed change.
Fun Facts
I have a fake rubber hand on my desk that I use as a cable organizer. When I was obtaining my PhD, I used to run experiments on embodiment and body ownership using the famous "rubber hand illusion" (see example in this video).
Flo Advisory Board of 100+ Doctors, Scientists, and Health Experts
We break down complex medical topics into accessible and digestible information that empowers readers to take action and prioritize their own well-being. Our team of Medical and Scientific Advisors is made up of over 100 certified health experts from a variety of disciplines who ensure that every piece of content we release is medically accurate, understandable, and up-to-date with the latest scientific findings. We rely on medical guidelines from international health organizations and get information from academic institutions and peer-reviewed articles, which is fully described in our Flo Editorial Process and Standards.