When your baby reaches 10 months old, they are most likely sitting independently, crawling, standing, and maybe attempting their first steps. Toys for 10-month-old babies need to get their attention and keep it. At this age, your baby is looking for things to play with that are a little more complicated.
They're probably no longer satisfied with a simple rattle or soft toy. They may still play with these toys, but they might be using the rattle to bang on other things or feeding their soft toy a bottle.
This is a good time to put away some of the simpler toys and introduce new ones that will encourage both physical and intellectual development. These toys can include things that 10-month-olds can play with independently or with another person. The best toys for 10-month-old babies are ones that can grow with them.
One of the most basic learning toys for your 10-month-old is a book. Board books are great for this age. They are made from heavy cardboard and can stand up to the rough chewing and grabbing they might endure. Your baby might also be getting interested in the actual story and pictures on the pages. This is an excellent choice for quiet times and to take on trips.
Experts suggest that you start reading to your baby before or shortly after they are born. Your voice can be very comforting when they are preparing to sleep or if you need them to calm down and be quiet.
Many toys now incorporate different colors, shapes, and textures to encourage your baby to explore and learn new things. As you and your baby play, name the colors or shapes of objects when they pick them up or when you hand them to your baby.
These basic repetitive actions help your baby identify the objects with practice. You can also count as you stack blocks or put objects into a bucket or basket. Some toys can combine these two actions (e.g. red number 1 or blue letter B).
Awesome app, informative, user-friendly. Been using it since 2015. Thanks for your hard work!
Your baby has good hand-eye coordination by this age and should be encouraged to continue to practice this skill. Some toys can help develop gross motor skills, such as balls, nesting/stacking cups, blocks, and shape-sorting toys.
At this developmental stage, look for toys that will encourage your baby to stand. Activity tables are an excellent choice for this. They are adjustable and usually have a variety of features along with music, sounds, and spoken words. Other toys that will encourage mobility are those with wheels that they sit on, push, or pull behind them.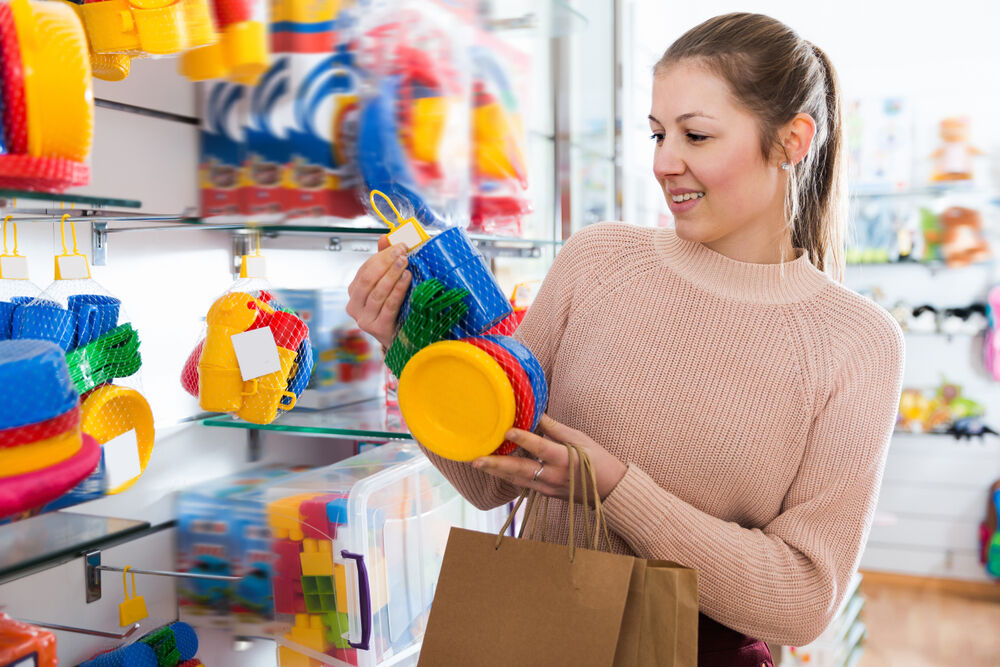 Toys for 10-month-old babies should stimulate their brain, help them develop new physical skills, and be safe. Your baby is more mobile than ever. If they are pulling themselves up on furniture, they can reach so much more than they could before. If you haven't already, now is a good time to make sure any possible choking hazards are safely put away.
If there are older children in the house, make sure their toys are out of reach of your 10-month-old. Your 10-month-old is probably very interested in the older child's toys, but they tend to put nearly everything in their mouth. These toys aren't designed for younger children and could have small pieces that can be a possible choking hazard.
As your baby is learning new things, this is a great time to play with them. For short periods of time, your 10-month-old might not need a toy to occupy them at all. They are happy to play basic hand games, hide and seek, or dance to music.
This is also a good time to take your baby outside for small adventures. You can go for a walk to discover new things in your neighborhood or to the zoo or children's museum. It's great to do these activities before noon to avoid overstimulation and problems sleeping at night.
Take the time to find out what makes your baby happy and what excites them. Your 10-month-old is the expert about what they will play with and how much they will enjoy it. As they add new toys, they will probably still have that old favorite that they turn to whenever they are tired, nursing, or not feeling well.