Many names actually contain the word red, such as Redder, Redmond, and of course, Red. Other names simply denote the meaning of red, as in color, complexion, or temperament.
Often times, mothers want to give their child a name with a deeper meaning. Perhaps you've always loved names associated with the color red and wish to pass that on. Or maybe you're hoping to name your baby in honor of the many redheads in your family.
Take a quiz
Find out what you can do with our Health Assistant
Derived from Old English, Red was originally used as a nickname for an individual with red hair or a ruddy complexion. Nowadays, the name Red signifies many things, including:
The zodiac sign of Leo
The element of fire
The color
The planet Mars
A gemstone
Love
Alternatively, a name associated with red in another language would be a great pick, too. For example, Shani is Hebrew for red, and Rumen means red-cheeked in Macedonian.
Certain names that mean red are widely known due to important historical figures like Erik the Red, the first Norseman to found a settlement on Greenland.
If you really want to get the creative juices flowing, check out Flo's lists of potential baby names meaning red below.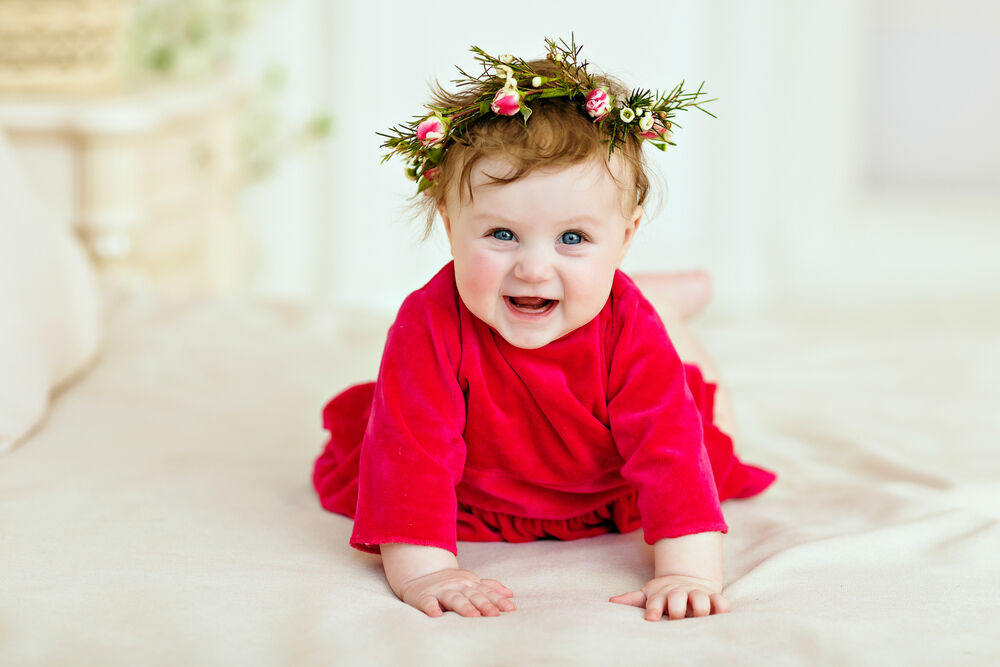 Just found out you're having a girl? Consider selecting a name that's distinctly feminine. Girl names that mean red come from all over the world. You can even take it one step further by choosing one based on your family's ancestry. Here's a list of girl names that mean red, along with their origin/literal translation:
Crimson - English, deep, purplish red color
Rosie - English, red roses
Poppy - English, reddish, orange flowers
Ruby - English, gemstone
Roisin - Irish, little rose
Cherry - English, type of fruit
Autumn - English, the fall season and associated colors
Corsen - Welsh, a reed plant
Hazel - English, type of tree
Sienna - Italian, reddish-brown color
Akako - Japanese, red
Alhambra - Spanish, the "red city"
Arusha - Hindu, red
Omaira - Arabic, red
If you know you're having a boy and want to bestow a masculine name associated with red, you've got a lot of options as well. Adam, a Hebrew name from the Old Testament, means "son of the red earth." Though fairly common, this particular name comes with a rich history. Now, here's a list of boy names that mean red, along with their origin/literal translation:
Jasper - Persian, gemstone
Rory - Irish, the "red king"
Radley - English, from the red meadow
Keegan - Irish, fiery
Harkin - Gaelic, red
Rudyard - Old English, red yard
Gough - Australian, red
Radcliff - English, red cliff
Redmond - Irish, wise protector
Rumo - Cornish, red
Russell - French, fox-colored
If you've been blessed with twin babies, consider choosing complementary names that mean red, like the following:
Adam and Alroy
Keegan and Rooney
Jasper and Garnet
Rose and Poppy
Alani and Annie
Cherry and Hazel
Sienna and Sorrell
Ruby and Coral
Carmine and Crimson
Scarlett and Rufus
Reading and Redmond
In the case of twins, it's sometimes hard to determine gender beforehand. Be sure to check out both lists of girl names meaning red and boy names meaning red, then mix and match as you please.
Patiently waiting till the big day to find out the gender of your baby? Or are you making a conscious decision to name your child something that isn't either male or female? Then, review this list of unisex, gender-free names associated with red, along with their origin/literal translation.
Rowan - Gaelic, little red one
Phoenix - Greek, reborn from the ashes
Blaze - English, fire
Carmine - Latin, vivid red
Flannery - Irish, red eyebrows
Garnet - French, pomegranate or gemstone
Ginger - English, red hair or a derivative of Virginia
Rory - Irish, descendant of the champion
Sorrel - French, reddish-brown color
Was your little one born with fiery, red locks? Or do they come from a long line of redheads? Either way, you can take your pick from this collection of names meaning red-haired:
Clancy - Irish, red-haired warrior
Flynn - Irish, son of the red-haired one
Rusty - English, a shade of red
Rohan - Gaelic, red-haired
Alroy - Gaelic, red-haired
Redford - Scottish, red-headed
Rufina - Latin, red-haired
Flanna - Irish, red-haired
Reading - English, son of the red-haired one
Reed - English, red-haired
Rogan - Irish, redhead
Roone - Irish, red-haired
Roth - German, redhead
Roy - French, red-haired
Rufus - Latin, redhead
Admittedly, naming your newborn can be a stressful endeavor. While some moms like to have their favorite names written down before they officially arrive, others wait till they see them for the first time. This way, you'll be able to gaze into your child's eyes and decide then and there which name suits them best. Either way, the above lists of names meaning red should help you get the ball rolling.