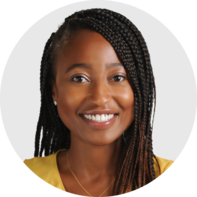 Dr. Charlsie Celestine
Obstetrician and gynecologist, New Jersey, US
Expérience de travail 10+ years in obstetrics and gynecology
"I am passionate about teaching young women and girls about their health and bodies. Education is empowerment. I believe that women's health should be taught in a way that eliminates taboos and is understandable to everyone."
Career Highlights
OB-GYN at clinics in New Jersey and West Virginia, 2016–present
Podcast creator and host of "For Vaginas Only," 2017–present
New Jersey Board of Education testimony to improve sexual health education in public schools
Women's health columnist for the Charleston Gazette, WV
Presented research to the American Society for Reproductive Medicine
Education
Residency in Obstetrics and Gynecology at Hackensack Meridian Jersey Shore University Medical Center, Chief Resident, 2012–2016
Degree in Medicine from West Virginia University School of Medicine, 2011
Bachelor of Science in Biology, with honors, from Penn State University, 2007
Featured Publications
"Incidence of anemia among obstetric patients in an Appalachian teaching clinic." Military Medicine, vol. 177, no. 10, Oct 2012, doi: 10.7205/milmed-d-11-00445
My Journey in Medicine
I am a strong advocate for women's health and health education. In my clinical practice as an OB-GYN, I specialize in gynecologic surgery, including minimally invasive procedures, and pregnancy care. Recently going through my first pregnancy and giving birth to my baby boy helps me better relate to my pregnant patients and understand what their bodies are going through — especially the parts that aren't so great!
Finding the right OB-GYN is so important. Your OB-GYN is by your side through all phases of life and should make you feel comfortable discussing the most intimate parts of yourself. With each patient I see, I devote my complete attention to them, striving to understand their needs and find the best way to care for them in a personalized way.
My passion for health education led me to create my own podcast, "For Vaginas Only." I love that this podcast allows me to share empowering knowledge with an audience beyond the patients I see at the clinic. In each episode, I discuss a wide range of female health topics, from birth control and recurrent UTIs to vaginal discharge, sex, and relationships in a simple, accessible way.
I believe that all women should understand their bodies and feel empowered to take an active role in their health, and I'm so happy to be a part of Flo to help spread health information far and wide.
Fun Facts
I'm a first-generation American — my family comes from Trinidad. I try to visit once a year and especially love the music and Carnival. Travel is a huge passion of mine, and I love to explore new places whenever I can.
Flo Advisory Board of 100+ Doctors, Scientists, and Health Experts
We break down complex medical topics into accessible and digestible information that empowers readers to take action and prioritize their own well-being. Our team of Medical and Scientific Advisors is made up of over 100 certified health experts from a variety of disciplines who ensure that every piece of content we release is medically accurate, understandable, and up-to-date with the latest scientific findings. We rely on medical guidelines from international health organizations and get information from academic institutions and peer-reviewed articles, which is fully described in our Flo Editorial Process and Standards.