Editorial Process and Standards
Content review principles
There's so much easily accessible health information on the internet. But sifting through it all to find credible and understandable information can be a challenge. At Flo, we break down complex topics to give you the tools and facts you need to prioritize your health and well-being and take action.
All Flo content is evidence-based and reviewed by experts — that includes our web articles, social media posts, graphics, app courses, and more. We present the latest scientific findings to give you the most up-to-date and factual information possible.
We have several in-house departments of specialists involved in the content creation process, including in-house medical doctors and expert writers, legal advisors, and professional editors.
Trusted sources
The integrity and trustworthiness of our content is essential to us. Each piece of content is thoroughly researched using reliable, primary, and current sources of information. We have strict guidelines for the sources of medical and scientific data we use, which prioritize:
Peer-reviewed articles from credible databases (including unbiased and nonprofit domains such acog.org, cdc.gov, and others)
Internationally recognized health advocacy organizations and academic institutions (such as nhs.uk, who.int, and others)
The references for the medical information used are provided at the bottom of each article. If you'd like to know more, you can access the list of trusted sources that we use for content creation and fact-checking.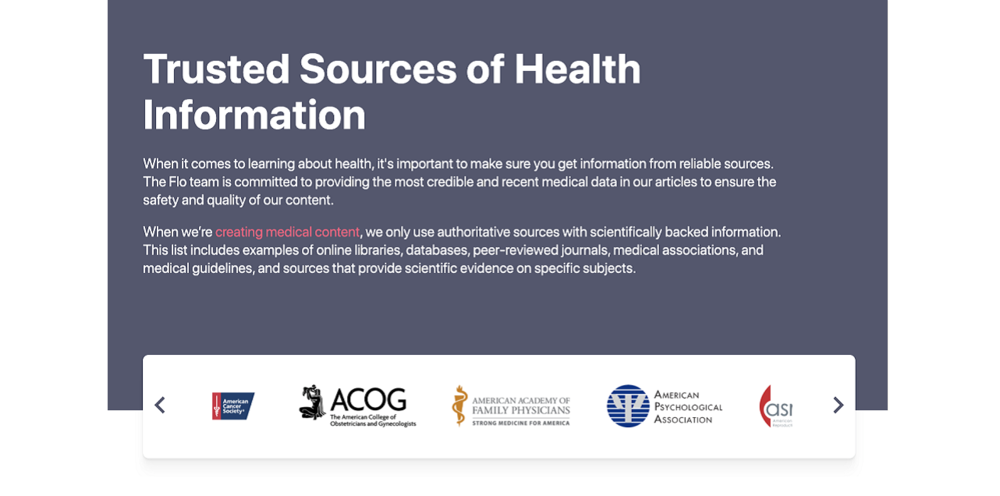 Peer review
Professional experts from our medical board or a trusted organization review every piece of Flo content for the app and website before it goes live. Our reviewers check the content, provide notes, and confirm that it's thorough, accurate, and reflects the latest medical findings. At the bottom of each article, you'll find a link to the profile of the person or organization who reviewed it.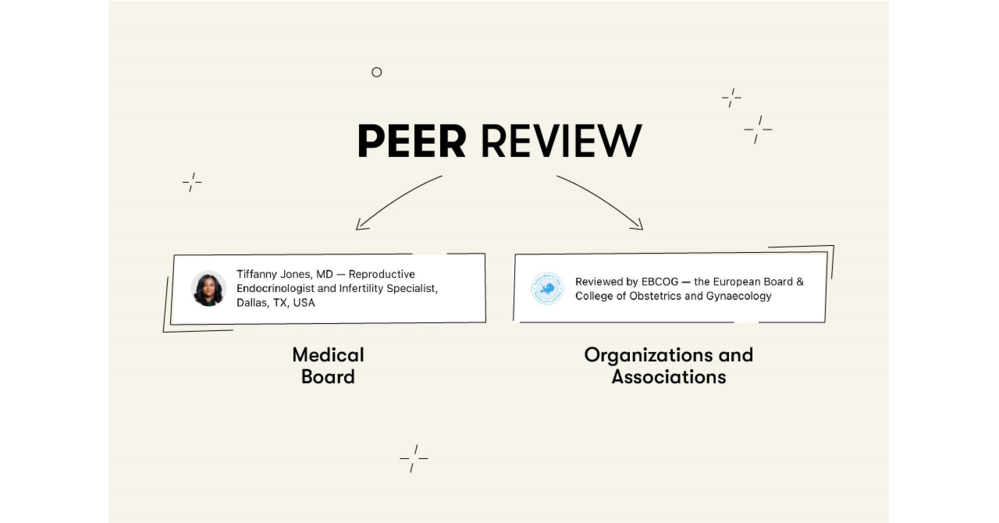 Medical board
Our content creation and validation is based on peer review practice, which is when medical experts of common competence revise, evaluate, and improve each other's work. This helps maintain the quality of medical and scientific content.
The Flo team collaborates with 100+ doctors, health experts, and scientists. Our peer reviewers are experts in a variety of disciplines and have extensive experience in their respective fields, including obstetrics and gynecology, pediatrics, oncology, neurology, psychology, nutrition, mindfulness, and more.
Science and health organizations and associations
Collaborating with leading medical and scientific institutions ensures that we provide factual information that's based on innovative research. Choosing the right collaborators is of the utmost importance to us. We work with acclaimed medical experts, research institutions, universities, and research groups all over the world. These are just a few of our collaborators:
The United Nations Population Fund (UNFPA)
The European Board & College of Obstetrics and Gynaecology (EBCOG)
Society of Endometriosis and Uterine Disorders (SEUD)
Legal compliance and regulations
One of our underlying principles is to provide a secure platform for millions of people around the world. This implies that we have a legal basis (valid ground) to deliver health-related information to our users. That's why all of our content gets a comprehensive review by the Flo legal team to make sure we're providing information that's safe and relevant to our users according to their age, location, and needs.
Regular review
As time passes and medicine progresses, health information changes. We constantly monitor for changes in health standards, scientific discoveries, and clinical guidelines to keep our content up-to-date. When new information becomes available, content is re-worked and re-certified by our medical review board. You can find when the last update was made at the bottom of each article.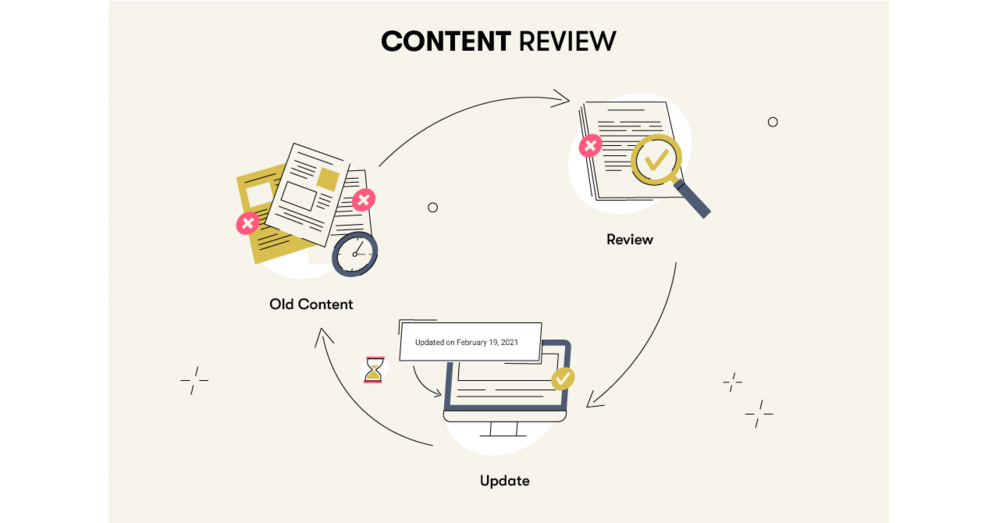 Your voice counts
At Flo, it's important that our readers remain in charge of their own experiences — we're here to help them with useful information and guidance along the way. If you have any feedback, questions, or thoughts, feel free to let us know. We listen to our users' requests and make sure to incorporate your suggestions as best as possible to improve your experience with Flo.