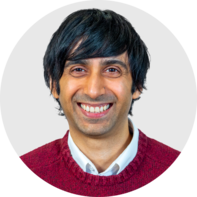 Dr. Saddif Ahmed
Director of clinical accuracy and safety, Flo Health Inc., general practitioner with the National Health Service, UK
Work Experience: 10+ years in clinical practice
"I firmly believe that improving medical literacy through education will empower people and ultimately improve health outcomes. I am thus driven by a desire to educate our users about their bodies and medicine so they know when to seek help, which can reduce the time to diagnosis and save lives."
Career Highlights
Director of clinical accuracy and safety at Flo Health, London, UK, 2021–present
General practitioner locum with the NHS, 2018–present
Medical doctor at various NHS hospitals, 2009–present
Clinical product manager at Babylon Health, London, UK, 2019–2021
Designed and built multiple apps available in the Apple App Store, including one with anesthetics guidelines for the AHUS hospital in Oslo, Norway
Education
Master of Science in information technology from the University of London, Birkbeck College, UK, 2018
Diploma in tropical medicine and hygiene from the London School of Hygiene and Tropical Medicine, UK, 2011
Medical degree (MBCHB) from the University of Warwick, Coventry, UK, 2009
PhD in medical microbiology and bacteriology from the University of Oxford, UK; awarded the Medical Research Council scholarship, 2005
Bachelor of Science in biochemistry from Imperial College London, UK, 1998
NHS Clinical Entrepreneur Programme, 2017–present
Featured Publication
"Crossing the Digital Divide in Online Self-Management Support: Analysis of Usage Data from HeLP-Diabetes." JMIR Diabetes, vol. 3, no. 4, Dec 2018, doi: 10.2196/10925
My Journey in Medicine
I have always been interested in and inspired by the interface between medicine and technology. Digital health is an area that allows me to apply my medical knowledge together with my love for technology to build products that will hopefully help improve the health of millions.
Before joining Flo, I was a front-line clinician for the National Health Service for over 10 years. I worked on rotations in various medical specialties, including infectious disease and tropical medicine, ophthalmology, cardiology, general surgery, emergency medicine, and general practice. I continue to work as a family doctor in London on the side to keep my clinical skills and knowledge up to date.
In addition to my experience in clinical practice, I have conducted research on how digital health interventions can be combined with routine health care services while avoiding deepening health inequalities. At Babylon Health, I led the development of an application to analyze health risks and give advice to users.
I feel very excited to be a part of Flo's team to work toward our mission of improving the health and well-being of every girl, woman, and menstruating person worldwide.
Fun Facts
I am a lover of street art and used to live in Camden — a famous neighborhood with some of London's best street art. I have built an iPhone app called Streetshot to help fellow admirers of street art find cool hotspots in London and beyond.
Flo Advisory Board of 100+ Doctors, Scientists, and Health Experts
We break down complex medical topics into accessible and digestible information that empowers readers to take action and prioritize their own well-being. Our team of Medical and Scientific Advisors is made up of over 100 certified health experts from a variety of disciplines who ensure that every piece of content we release is medically accurate, understandable, and up-to-date with the latest scientific findings. We rely on medical guidelines from international health organizations and get information from academic institutions and peer-reviewed articles, which is fully described in our Flo Editorial Process and Standards.