Please note that Flo Health does not collect, process, or store any of the data that you enter while using these Tools. All calculations are done exclusively in your browser. Flo Health does not have access to the results. All data will be permanently erased after leaving or closing the page.

Our Due Date Calculator is based on a 28-day cycle (cycles can vary from 20 to 45 days), and your period and ovulation are considered to be the first 2 weeks of pregnancy. As this method is affected by the regularity of your menstrual cycle, the due date predictor is not 100% accurate.

Remember that pregnancy due date calculators, birth date calculators, and pregnancy calculators can help you learn more about your estimated due date and pregnancy timeline, but they are not a replacement for medical advice. You should always notify your health care provider that you are pregnant. Sometimes an ultrasound will be needed to date your pregnancy.
You will meet your baby on
date
day
Gestational age is
weeks and day
Gestational age is the age of pregnancy and is counted from the first day of your LMP. So technically it includes two weeks during which you weren't pregnant yet.
If you've taken a pregnancy test and it appears to be positive, you might be wondering what happens next. That's where our due date calculator or due date predictor comes in.
By using some basic information about your last period and cycle length, our pregnancy calculator can help you work out your estimated due date (EDD — aka when you might meet your baby). This information is also useful if you're thinking about the baby's due date timings before you start trying to conceive.
Try using our EDD calculator now and then scroll down for more on how due dates (and pregnancy) are calculated, plus information on when you could have conceived and how far along you might be.
Note:
How far along am I?
One of the first questions you'll probably have after discovering that you're pregnant is "How pregnant am I?" Interestingly, there are two ways to measure the age of a baby during pregnancy — gestational age vs fetal age — but health care providers generally use gestational age only because it's deemed more accurate.
More on those below, but when you know how far into your pregnancy you are, you can get a clearer idea of your expected date of delivery. This is another name for a due date, meaning your EDD is the approximate date when labor is expected to begin. As we'll explain if you scroll down, this date is really just an estimate, so you can expect to go into labor anytime in the two weeks before and after your due date.
How far along am I? Gestational age
To track pregnancy and calculate a due date, doctors use gestational age. Gestation is how long a person is pregnant in weeks, and gestational age is measured from the last menstrual period (LMP) — the first day of your last period — to the current date in weeks.
In general, pregnancies last anywhere from 38 to 42 weeks (or around 280 days). If a baby is born before 37 weeks, they are considered premature.
How far along am I? Fetal age
The other method of measurement is fetal age. While gestational age measures how far along a pregnancy is in weeks, fetal age is the actual age of the growing baby. To calculate this, you work out the amount of time from the date of conception (which is around two weeks later than your LMP in a 28-day cycle but varies depending on cycle length) to the current date in weeks. However, this is a far less common measurement for pregnancy because it's often hard to pinpoint exactly when you ovulated (and therefore the moment of conception).
How is due date calculated?
Lots of us assume that a pregnancy is exactly nine months long, but that's not the case. To work out how to calculate pregnancy weeks, there's a little more to it.
"The nine months of a pregnancy are actually 40 weeks," Dr. Charlsie Celestine, Flo board member, obstetrician, and gynecologist (OB-GYN), explains. "The due date is 40 weeks from the first day of your last menstrual period. But some women can go beyond that to 41 weeks."
In fact, the first thing you'll likely notice when you let your health care provider know you are pregnant is that pregnancy is calculated in weeks rather than months. And your baby's estimated due date falls on the 40th week, when you'll actually be around 10 months pregnant.
That's to account for the fact that pregnancy is measured according to gestational age, not fetal age. So that means you count pregnancy from your LMP, not the date you conceived, adding an extra two weeks even though you weren't technically pregnant then. Also, this method recognizes that not all months have the same number of days, so you'll likely still be pregnant at nine months.
You might also see figures like 13/5 or 13+5 in your doctor notes. Pregnancy is counted in complete weeks, so 13/5, 13+5, or a variation of this would mean you're 13 weeks and 5 days pregnant. Learn more about how you count pregnancy weeks here.
Your health care provider will usually calculate your due date based on one or a combination of the following methods, so let's find out more about how they work.
How to calculate due date: Naegele's rule
As we now know, the most commonly used method to calculate due date is to count "40 weeks from the first day of your LMP," Dr. Celestine says, adding that this is usually done at your first appointment.
This method is also known as Naegele's rule. "You calculate [EDD] using the first day of the last menstrual period [adding exactly one year to it], add seven days to that, and then subtract three months," she explains.
It's worth noting that this rule considers a regular menstrual cycle to be 28 days long, but it's totally normal for a person's cycle to vary from anywhere between 21 and 45 days. If your cycle lasts longer, the estimated due date will likely be later. If you have a shorter cycle, your due date may be earlier.
How to calculate due date: Period wheel
"More commonly, I use a pregnancy wheel using the first day of the menses [period]," says Dr. Celestine, explaining how she tends to work out the due date in her patients.
A pregnancy wheel or gestation calculator is a simple calendar that works out your EDD or baby's birth date based on different inputs, such as your LMP. OB-GYNs can also use a pregnancy wheel as a pregnancy timeline calculator to work out when you'll have certain scans and screenings, along with your trimester dates.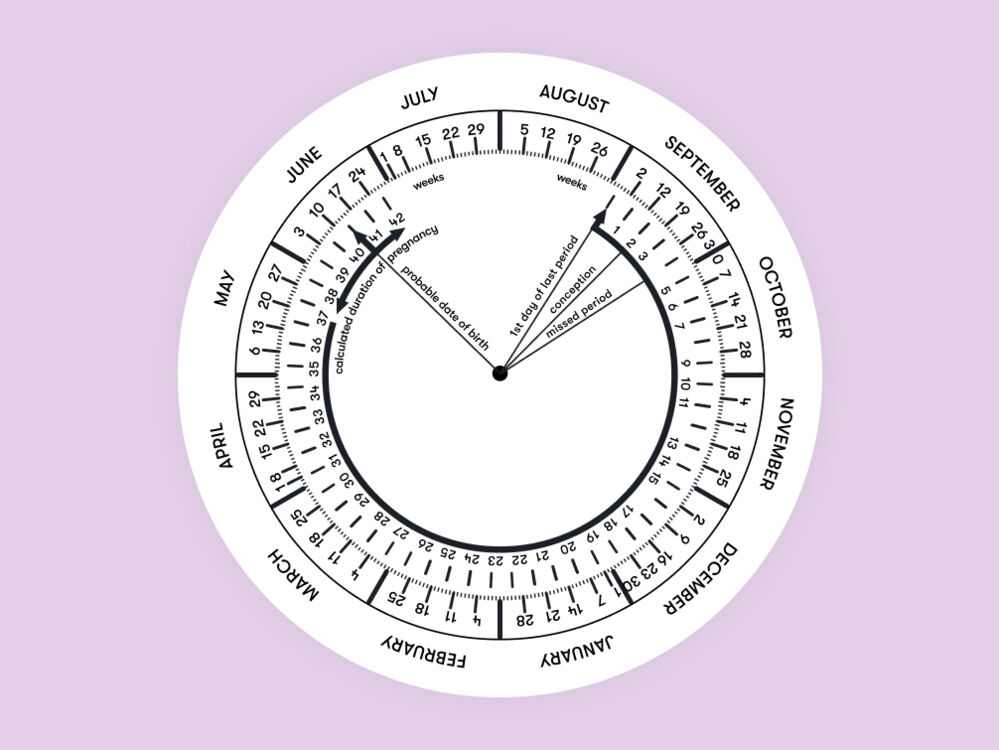 How to calculate due date: Ultrasound scan
As you've seen above, there are numerous ways to calculate an estimated due date — most involving the date your last period started. But an ultrasound scan in the first trimester is used to check that the dating based on the last menstrual period is correct. This is especially important if your period doesn't always arrive at the same time each month.
"The LMP is compared to an ultrasound because some women have irregular cycles [and some can't remember when their last period happened], so their LMP is not the most accurate," Dr. Celestine explains.
"On ultrasound, I would measure the length of the fetus, called the 'crown–rump length,' in the first trimester to get the gestational age or due date. I then compare that date to the result I would get from just using the LMP.
"If the two dates are within five days of each other, and the pregnancy is less than nine weeks along, then we use the due date calculated by the period, not the ultrasound. But for a greater-than-five-day difference, we use the ultrasound."
Already had your first ultrasound scan? Then you can use our Due Date by Ultrasound Calculator.
Take a quiz
Find out what you can do with our Health Assistant
While most OB-GYNs use a combination of Naegele's rule and the pregnancy wheel to determine EDD — and then use an ultrasound to confirm it — there are some other theories and methods about how to calculate due date. However, it's worth noting that none of the following are currently used by health care providers to work out the due date, as there's a lack of scientific evidence behind them. The theories are as follows:
How to calculate due date: Mittendorf-Williams rule
One theory on how to calculate due date, also using LMP, is the Mittendorf-Williams rule. This is based on an old study from 1990, and there haven't been any more recent studies to suggest it's accurate, which is why health care professionals don't commonly use it to predict EDD.
This rule is based on a decades-old study that showed that first pregnancies tend to be slightly longer (an average of 288 days from LMP), and for subsequent pregnancies, the delivery date is an average of 283 days from LMP. So …
First, determine the first day of your last menstrual period.
Next, count back three calendar months from that date.
Lastly, add 15 days to that date if it's your first pregnancy or 10 days if it's not your first pregnancy.
How to calculate due date: Parikh's rule
Parikh's rule is another theory that lacks scientific evidence to back it up, so medical practitioners don't commonly use it to calculate due date either. The idea goes, however, that it can help predict due date in those who have irregular cycles. So, how does it work?
Loosely designed around Naegele's rule, the expected date of delivery in Parikh's rule is calculated by adding nine months to the date of your last menstrual period, subtracting 21 days, and then adding the duration of previous cycles. In short, use this formula:
LMP + 280 days – 21 days + the average length of previous cycles
How to calculate due date: Wood's rule
Wood's method considers the individual length of the menstrual cycle, as well as the number of pregnancies a person has experienced. However, there is also minimal research on this and its effectiveness. To work it out …
First, you calculate your expected due date. Do this using the following formulas.
- For first pregnancies: LMP + 12 months – (2 months and 14 days) = EDD
- For subsequent pregnancies: LMP + 12 months – (2 months and 18 days) = EDD

Then, you use the expected due date in the equations below.
- For cycles longer than 28 days: EDD + (actual length of cycle – 28 days) = EDD
- For cycles shorter than 28 days: EDD – (28 days – actual length of cycle) = EDD
How to calculate due date: Conception date
If your cycle runs like clockwork, and you were having sex to get pregnant at a specific time, then you might have an inkling that conception happened on a certain date. But Dr. Celestine says that the conception date "isn't used medically to calculate due date" because it's often not accurate.
That makes sense because we know sperm can live in the female body for up to five days, an egg can still be fertilized for up to 24 hours after its release from the ovary, and ovulation doesn't always happen on the same day each month (you can find out when you're likely to be ovulating each month using our online ovulation calculator). That means you can still get pregnant several days after you've had unprotected sex.
How to calculate due date if you've had IVF
If you've had IVF, then your baby's due date is calculated slightly differently, depending on:
Whether you had a fresh or frozen embryo transfer
If you had a frozen transfer, the age of the embryo when it was frozen. For example, if it was frozen on day three, then you will be two weeks and three days pregnant on the date of transfer. For embryos frozen on day five, it's two weeks and five days pregnant on the date of transfer. Your clinic will be able to explain more.
The good news is that IVF due dates are generally more accurate because you'll know exactly when you had your embryo transfer or medically conceived, although no due date is 100% accurate. Use our IVF Due Date Calculator to work out when you could be due.
How accurate is due date?
There's a lot that centers around it, so you're probably wondering how likely it is that you'll give birth on your due date. "The accuracy of the due date depends on how early in the pregnancy it was calculated and how predictable your menstrual cycle is," Dr. Celestine explains.
"The earlier you see an OB-GYN to establish care for the pregnancy, the better, because the due date [from an ultrasound scan] is more accurate early in pregnancy compared to later. It's rare for a baby to be born exactly on their due date [only around 4% of babies are]. Usually, delivery happens within a week before or after. But there are many babies also born prematurely, [along with] medical reasons why you might need to be induced for labor early, so it really depends on the individual."
What day did I get pregnant?
As Dr. Celestine explains, it's hard to predict the exact day you got pregnant (unless you've successfully conceived after fertility treatment).
"It's all an estimate because it depends on the day you ovulated," she says. "If you know your cycle length and it's always the same, then usually midway through your cycle prior to pregnancy is when conception occurred."
Can my due date change?
Lots of people will calculate their due date as one of the first things they do after finding out they're pregnant. And that's useful for having a rough idea of when your baby will arrive, but it's worth noting that this should be confirmed by your health care provider. They will use information about your last menstrual period, plus your first ultrasound, to work out your EDD, and once this has been calculated, it's rare for your due date to change.
It's so unusual for the due date to change after your first ultrasound scan because knowing the gestational age holds a lot of importance in monitoring the health of a pregnancy. "There are certain tests that need to be performed at certain gestational ages during a pregnancy," Dr. Celestine explains. "Knowing how far along you are is also important for following the growth of the baby, when we can expect to deliver, and much, much more."
Can I plan my due date?
Some people like to be organized, and there's nothing wrong with that. But it can be quite tricky to plan a due date because there are so many factors at play with conception that you (and your partner) don't have control over.
Nobody ever knows for certain when they will conceive. Even if you pinpoint your fertile window and have plenty of unprotected sex during that time, you still won't know for certain whether or not that will be the month you get pregnant. That's because so much of it is up to chance. For context, 45% of young couples (under 35) will conceive after three cycles, and 65% will get pregnant after six cycles. So while you might want to plan to have a baby in a certain month, all you can really do is try.
And even if you do manage to conceive at a time that gives you your ideal due date, remember that your EDD is just an estimate. Babies come on their own schedule. While the "average" pregnancy lasts 40 weeks from the day of the last menstrual period, it is normal for babies to come anywhere from 37 to 42 weeks, so it's best not to focus too much on a specific due date.
Due date tracking with Flo
Whether you're currently pregnant or trying to work out when you'd be due if you got pregnant today, Flo can help. Use our Trying to Conceive mode to optimize your chances of getting pregnant by tracking your periods, which can help to identify your most fertile days. Alternatively, switch to Pregnancy Mode to get week-by-week updates for both your body and your baby.
"Extremely Preterm Birth." The American College of Obstetricians and Gynecologists, www.acog.org/womens-health/faqs/extremely-preterm-birth. Accessed 30 Aug. 2022.
"Heavy and Abnormal Periods." The American College of Obstetricians and Gynecologists, www.acog.org/womens-health/faqs/heavy-and-abnormal-periods. Accessed 30 Aug. 2022.
"How Long Does Pregnancy Last?" The American College of Obstetricians and Gynecologists, www.acog.org/womens-health/experts-and-stories/ask-acog/how-long-does-pregnancy-last. Accessed 13 July 2022.
Jukic, A. M., et al. "Length of Human Pregnancy and Contributors to Its Natural Variation." Human Reproduction, vol. 28, no. 10, Oct. 2013, pp. 2848–55.
Khedri, Parichehr, et al. "Comparison of the First Trimester Ultrasound and Parikh's Formula in Determining the Expected Date of Delivery: A Prospective Study." BMC Pregnancy and Childbirth, vol. 21, 30. Apr. 2021, jbrms.medilam.ac.ir/article-1-152-en.pdf.
Mittendorf, R., et al. "Predictors of Human Gestational Length." American Journal of Obstetrics and Gynecology, vol. 168, no. 2, Feb. 1993, pp. 480–84.
Morgan, John A., and Danielle B. Cooper. "Pregnancy Dating." StatPearls, StatPearls Publishing, 2021.
"Screening Tests in Pregnancy." NHS, www.nhs.uk/pregnancy/your-pregnancy-care/screening-tests/. Accessed 13 July 2022.