Please note that Flo Health does not collect, process, or store any of the data that you enter while using these Tools. All calculations are done exclusively in your browser. Flo Health does not have access to the results. All data will be permanently erased after leaving or closing the page.

Our Due Date Calculator is based on a 28-day cycle (cycles can vary from 20 to 45 days), and your period and ovulation are considered to be the first 2 weeks of pregnancy. As this method is affected by the regularity of your menstrual cycle, the due date predictor is not 100% accurate.

Remember that pregnancy due date calculators, birth date calculators, and pregnancy calculators can help you learn more about your estimated due date and pregnancy timeline, but they are not a replacement for medical advice. You should always notify your health care provider that you are pregnant. Sometimes an ultrasound will be needed to date your pregnancy.
You will meet your baby on
date
day
Gestational age is
weeks and day
Gestational age is the age of pregnancy and is counted from the first day of your LMP. So technically it includes two weeks during which you weren't pregnant yet.
If you've taken a pregnancy test and it appears to be positive, you might be wondering what happens next. That's where our Due Date Calculator or due date predictor comes in.
By using some basic information about your last period and cycle length, our pregnancy calculator can help you work out your estimated due date (EDD — aka when you might meet your baby). This information is also useful if you're thinking about the baby's due date timings before you start trying to conceive.
Try using our Due Date Calculator now and then scroll down for more on how due dates (and pregnancy) are calculated, plus information on when you could have conceived and how far along you might be.
When is my due date? How is due date calculated?
Lots of us assume that a pregnancy is exactly 9 months long, but that's not the case.
"The 9 months of a pregnancy are actually 40 weeks," Dr. Charlsie Celestine, Flo board member, obstetrician, and gynecologist (OB-GYN), explains. "The due date is 40 weeks from the first day of your last menstrual period (LMP). But some women can go beyond that to 41 weeks."
In fact, the first thing you'll likely notice when you let your health care provider know you are pregnant is that pregnancy is calculated in weeks rather than months — and your baby's estimated due date falls on the 40th week, when you'll actually be around 10 months pregnant.
That's to account for the fact that pregnancy is counted from your LMP, not the date you conceived, so 2 extra weeks are added even though you weren't pregnant. Also, this method recognizes that not all months have the same number of days, so you'll likely still be pregnant at 9 months.
You might also see figures like 13/5 or 13+5 in your notes. Pregnancy is counted in complete weeks, so 13/5, 13+5, or a variation of this would mean you're 13 weeks and 5 days pregnant. Learn more about how you count pregnancy weeks here.
Why is working out your due date so important? Dr. Celestine says there's a number of reasons doctors estimate a baby's due date. "There are certain tests that need to be performed at certain gestational ages during a pregnancy," she explains. "Knowing how far along you are is also important for following the growth of the baby, when we can expect to deliver, and much, much more."
Your health care provider will usually calculate your due date based on one or a combination of the following methods, so let's find out more about how they work.
Take a quiz
Find out what you can do with our Health Assistant
How to calculate due date: First day of last period
As we now know, the most commonly used method is to count "40 weeks from the first day of your LMP," Dr. Celestine says. Your health care provider will usually work out your due date using your LMP info at your first appointment.
"You calculate [EDD] using the first day of the last menstrual period [adding exactly 1 year to it], add 7 days to that, and then subtract 3 months (Naegele's rule). More commonly though, I use a pregnancy wheel using the first day of the menses [period]."
A pregnancy wheel or gestation calculator is a simple calendar that works out your due date or baby's birth date based on different inputs, such as your LMP. OB-GYNs can also use a pregnancy wheel (like the one below) as a pregnancy timeline calculator to work out when you'll have certain scans and screenings, along with your trimester dates.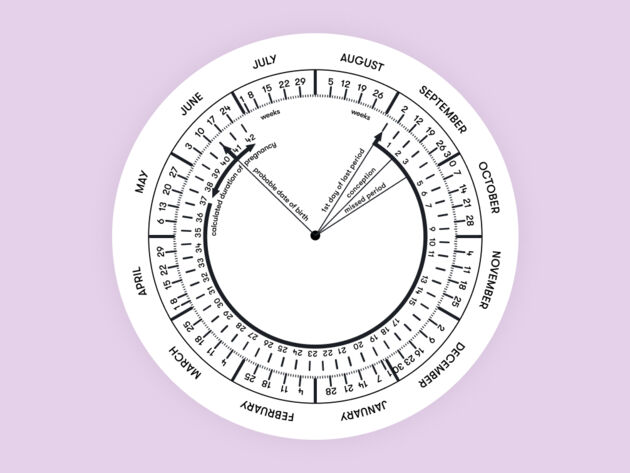 How to calculate due date: Ultrasound scan
An ultrasound scan will then be used to check that the estimated due date is accurate, which is especially important if your period doesn't always arrive at the same time each month.
"The LMP is compared to an ultrasound because some women have irregular cycles, so their LMP is not the most accurate," Dr. Celestine explains.
"On ultrasound, I would measure the length of the fetus, called the 'crown–rump length,' in the first trimester to get the gestational age or due date. I then compare that date to the result I would get from just using the LMP.
"If the 2 dates are within 5 days of each other and the pregnancy is less than 9 weeks along, then we use the due date calculated by the period, not the ultrasound. But for a greater-than-5-day difference, we use the ultrasound."
Already had your first ultrasound scan? Then you can use our Due Date by Ultrasound Calculator.
How to calculate due date: Conception date
If your cycle runs like clockwork, and you were having sex to get pregnant at a specific time, then you might have an inkling that conception happened on a certain date. But Dr. Celestine says that the conception date "isn't used medically to calculate due date" because it's often not accurate.
That makes sense because we know sperm can live in the female body for up to 5 days, an egg can still be fertilized for up to 24 hours after its release from the ovary, and ovulation doesn't always happen on the same day each month (you can find out when you're likely to be ovulating each month using our online Ovulation Calculator). That means you can still get pregnant several days after you've had unprotected sex.
How to calculate due date: IVF transfer date
If you've had in vitro fertilization (IVF), then your baby's due date is calculated slightly differently, depending on:
Whether you had a fresh or frozen embryo transfer
If you had a frozen transfer, the age of the embryo when it was frozen. For example, if it was frozen on day 3, then you will be 2 weeks and 3 days pregnant on the date of transfer. For embryos frozen on day 5, it's 2 weeks and 5 days pregnant on the date of transfer. Your clinic will be able to explain more.
The good news is that IVF due dates are generally more accurate because you'll know exactly when you had your embryo transfer or medically conceived, although no due date is 100% accurate. Use our IVF Due Date Calculator to work out when you could be due.
How accurate is due date?
"The accuracy of the due date depends on how early in the pregnancy it was calculated and how predictable your menstrual cycle is," Dr. Celestine explains.
"The earlier you see an OB-GYN to establish care for the pregnancy, the better because the due date [from an ultrasound scan] is more accurate early in pregnancy compared to later. It's rare for a baby to be born exactly on their due date [only 3% to 4% of babies are].
"Usually, delivery happens within a week before or after. But there are many babies also born prematurely, [along with] medical reasons why you might need to be induced for labor early, so it really depends on the individual."
Due date tracking with Flo
Whether you're currently pregnant or trying to work out when you'd be due if you got pregnant today, Flo can help. Download our Trying to Conceive Mode to increase your chances of getting pregnant by tracking your most fertile days or switch to Pregnancy Mode to get week-by-week updates for both your body and your baby.
What day did I get pregnant?
As Dr. Celestine explains, it's hard to predict the exact day you got pregnant (unless you've successfully conceived after fertility treatment).
"It's all an estimate because it depends on the day you ovulated," she says. "If you know your cycle length and it's always the same, then usually midway through your cycle prior to pregnancy is when conception occurred."
References
"How Long Does Pregnancy Last?" The American College of Obstetricians and Gynecologists, www.acog.org/womens-health/experts-and-stories/ask-acog/how-long-does-pregnancy-last. Accessed 13 July 2022.
"Screening Tests in Pregnancy." NHS, www.nhs.uk/pregnancy/your-pregnancy-care/screening-tests/. Accessed 13 July 2022.
Wilcox, A. J., et al. "The Timing of the 'Fertile Window' in the Menstrual Cycle: Day Specific Estimates from a Prospective Study." BMJ, vol. 321, no. 7271, 18 Nov. 2000, pp. 1259–62.
Morgan, John A., and Danielle B. Cooper. "Pregnancy Dating." StatPearls, StatPearls Publishing, 2021.