Chances are you've heard of gestational diabetes. The condition is something many pregnant women and people are invited to test for during their pregnancy — and testing is particularly important because the condition rarely causes any symptoms.
As Dr. Amanda Kallen, Flo board member and associate professor of obstetrics, gynecology, and reproductive endocrinology at Yale University School of Medicine, explains, gestational diabetes or gestational diabetes mellitus (GDM), as it's also known, "happens when the body can't make enough insulin during pregnancy."
Those who do test positive for gestational diabetes will have to control their blood sugar levels throughout pregnancy, but the good news is that the condition can be managed and will often resolve itself after the baby is born.
Take a quiz
Find out what you can do with our Health Assistant
If you're reading this article, you probably have some questions about what to expect and how to prepare for your gestational diabetes test. Rest assured; that's completely normal, and we're here to prepare you with the knowledge you need.
Below, Dr. Kallen answers the most common questions around the gestational diabetes test, including when the test happens and what a positive result means.
Firstly, what exactly is gestational diabetes? And should you be worried about it? Well, it occurs when blood glucose levels become abnormally raised (also known as hyperglycemia), and your body cannot produce enough insulin (the hormone that helps control blood sugar levels) to meet your extra needs in pregnancy.
The number of pregnant women diagnosed with GDM is growing, and these women have an increased risk of a range of complications during pregnancy and childbirth. [2] More on that below. That's why those at an increased risk of developing gestational diabetes are invited to test for it.
There are two classes of gestational diabetes: Class 1 can be managed through diet and exercise, and class 2 needs medication. Keep scrolling for more information on treatment.
One of the questions lots of people ask is how GDM differs from Type 1 and 2 diabetes. Unlike preexisting diabetes, gestational diabetes is diagnosed for the first time during pregnancy and typically resolves itself once the baby is born. That said, studies have found that GDM increases the risk of developing Type 2 diabetes in the future. So those who test positive will likely continue to need check ups post pregnancy. After GDM 35-60 % women develop diabetes within 10 years. Very rarely a gestational diabetes test might discover that a person has previously-undetected regular diabetes, which will remain after the pregnancy. But your health care practitioner will be able to tell you if this is the case.
"Up to 10% of pregnant women worldwide per year will develop gestational diabetes"
While the percentage of people diagnosed with gestational diabetes is relatively low, it's not insignificant. Over to Dr. Kallen for the stats: "Up to 10% of pregnant individuals per year [worldwide] will develop gestational diabetes," she says.
Doctors also know that there are some factors that might mean you're at greater risk, including:
That said, lots of women and pregnant people in "at-risk groups" don't test positive for gestational diabetes — and many of those who do test positive go on to have uncomplicated pregnancies. If you're at all worried, then speak to your doctor or OB-GYN. They'll be able to offer advice, information, and support ahead of your glucose test.
Remember too that the European Board and College of Obstetrics and Gynaecology says everyone should be screened for gestational diabetes during pregnancy, so you're likely to be invited for a test even if you're not at an increased risk. Like any health screening, it's your choice whether you take the test.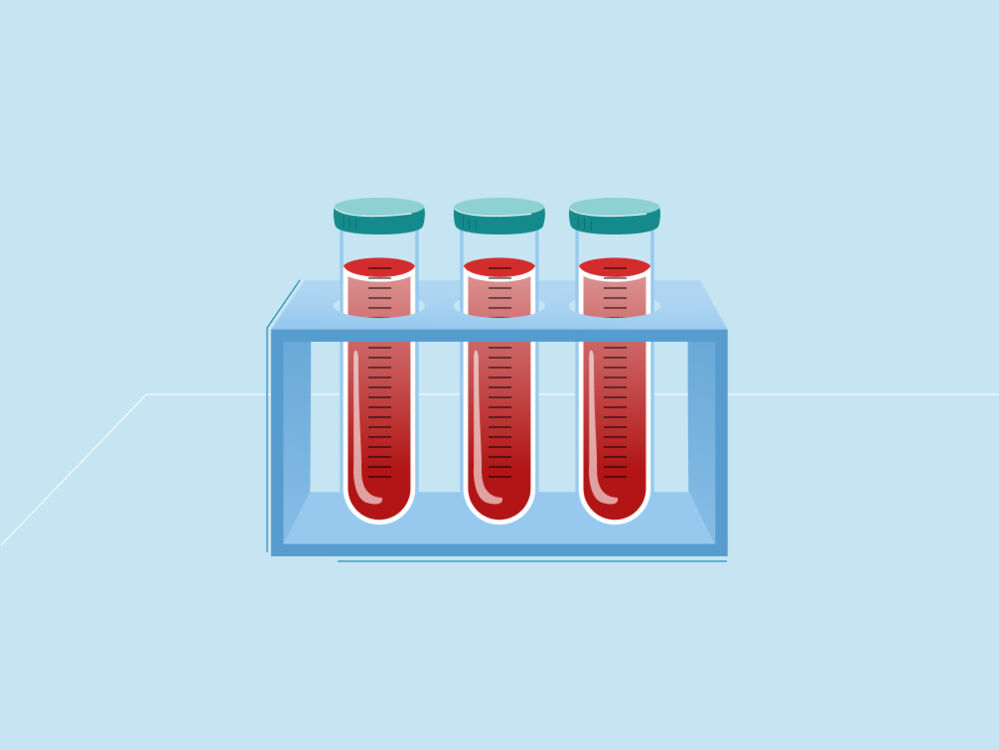 Now that we know the background of GDM, let's dig deeper into what happens during a gestational diabetes glucose test (or oral glucose tolerance test - oGTT). The type of o-GTT you have is largely dependent on where you live, as different countries have different preferences. Ask your health care provider for more information on the test you'll get.
You'll be glad to know that neither test is particularly invasive. Regardless of whether you have the one step or the two step gestational diabetes test, your blood sample will usually be taken from a vein, or occasionally from the fingertips.
Popular in many European countries, the one step gestational diabetes test is endorsed by the World Health Organization (WHO). In this test, you need to fast beforehand, and a blood sample is taken 3 times.
Your first blood sample is taken to determine your fasting glucose levels. Then, you drink a glucose drink with 75 grams of sugar in it, and a second blood sample is taken after one hour. Finally, your blood sample is taken a third time, two hours after drinking the glucose drink. Depending on your results, your health care provider will either let you know you're clear of gestational diabetes, or confirm that you have it.
The two step gestational diabetes screening is used most commonly in the United States, and is made up of two stages. The test starts with a glucose challenge test. Dr. Kallen explains how it works: "The pregnant person drinks a glucose drink with a preset amount of sugar in it (50 grams), and a blood glucose level is taken 1 hour later."
She adds, "If the screening test is positive, the person will be asked to complete a longer 3-hour test to confirm the diagnosis, unless the blood sugars are so [high] on the screening test that the diagnosis is confirmed." In the 3 hour test, the pregnant person drinks another glucose drink, this time with a higher amount of preset sugar in it (100 grams) and the blood glucose level will be taken again 3 hours later.
- One step gestational diabetes test
You don't need to worry about changing any of your food habits in the run up to this type of gestational diabetes test. However, it's recommended that you fast for 8 hours directly beforehand so that it delivers accurate results.
- Two step gestational diabetes test
The 1-hour GTT shouldn't disrupt your daily routine much at all. "You can eat or drink as usual," says Dr. Kallen. One hour after drinking the glucose solution, a normal blood glucose level is lower than 200 mg/dL, so this is an early sign you passed your glucose test.
But, if you're having the 3-hour screening, you'll probably be advised to avoid food and just drink water from midnight onward on the day of your test. It will also take longer to get your results because you'll have 2 blood tests instead of 1, both of which need to be sent away to the lab once you've gone home. Your health care provider will then get in touch with the results.
"Most of us will be unaware we have the condition until we take a glucose test"
If you're wondering how to pass the gestational diabetes test, sadly there's no magic answer here. It will help to eat a well-balanced breakfast or lunch beforehand (if your test allows — ask your health care provider if you're not sure), as well as avoiding ultra-processed or sugary foods.
Unfortunately, altering your diet immediately before the test won't make much difference. A healthy, well-varied diet and regular exercise during pregnancy is generally how to pass the gestational diabetes test.
If you do test positive, don't panic. Your health care professional will be on hand to give you all the information you need to help normalize your blood sugar levels. This is usually through a few tweaks to your diet (like eating more fresh fruit and vegetables) and exercising regularly. You'll also be given more specific guidance about pregnancy weight gain, so make sure you have a conversation with your health care provider about this.
If you have gestational diabetes, you'll probably be asked to monitor your glucose levels closely throughout the day using a machine called a glucometer, and you may also be referred to a high-risk obstetrician and gynecologist to more closely monitor your pregnancy.
If glucose levels are unable to be controlled with lifestyle changes, then your health care provider may explore the options of medication such as insulin, glyburide or metformin.
Gestational diabetes can cause a few complications, such as preterm or early birth, babies born with a higher-than-average birth weight, or an increased chance of needing an assisted birth (such as a cesarean section or induction), but that's not the case for everyone. Lots of women and people with gestational diabetes continue to have straightforward pregnancies, and your new arrival should arrive happy and healthy, too.