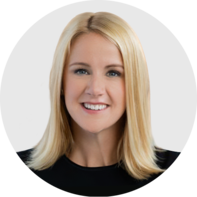 Dr. Amanda Kallen
Associate professor of obstetrics, gynecology, and reproductive endocrinology, Yale University School of Medicine, Connecticut, US
Work Experience: 15+ years in obstetrics, gynecology, and infertility care
"I love building connections with patients. I try to validate their feelings and reassure them; to tell them I will be there for them, that I'm on their team, and that we will work towards a solution together. It makes my day when I feel like I have built that connection, that I have made myself available to a patient, even if it's someone I met just minutes earlier."
Career Highlights
Associate Professor of Reproductive Endocrinology and Infertility at Yale University School of Medicine, New Haven, CT, 2021–present
Visiting Professor in the Department of Obstetrics and Gynecology at Zhejiang University, Hangzhou, China, 2020–present
Clinical Competency Committee Chair of the Division of Reproductive Endocrinology and Infertility at Yale University School of Medicine, 2015–present
Assistant Professor of Reproductive Endocrinology and Infertility at Yale University School of Medicine, 2014–2021
Served on the Executive Boards of the American Congress of Obstetricians and Gynecologists (ACOG) and the Board of Hope After Loss, a nonprofit organization supporting people who have gone through pregnancy loss
Regular speaker at regional, national, and international conferences, such as the American Society for Reproductive Medicine Annual Meeting in 2021, and many more
Received multiple awards for teaching, clinical excellence, and research, including the American Society for Reproductive Medicine Research Grant, the Global Consortium for Reproductive Longevity and Equality Junior Scholar Award, and the Society for Reproductive Investigation "Early Career Investigator" Award for work on mechanisms of reproductive aging
Published multiple articles in peer-reviewed medical journals and co-authored ACOG national guidelines on ovarian reserve testing and recovery after surgery
Double board-certified in reproductive endocrinology and infertility as well as obstetrics and gynecology
Education
Fellowship in Reproductive Endocrinology and Infertility at Yale University School of Medicine - New Haven Hospital, 2011–2014
Residency in Obstetrics and Gynecology at Yale-New Haven Hospital, Chief Resident in the final year, 2008–2011
Internship in Obstetrics and Gynecology at Yale-New Haven Hospital, 2007–2008
Medical Degree from University of Connecticut School of Medicine, Farmington, CT, 2007
Featured Publications
"Updates on molecular and environmental determinants of luteal progesterone production." Molecular and Cellular Endocrinology, 15 Sep 2020, vol. 515, doi: 10.1016/j.mce.2020.110930
"Control of Murine Primordial Follicle Growth Activation by IκB/NFκB Signaling." Reproductive Sciences, Nov 2020, vol. 27, no. 11, doi: 10.1007/s43032-020-00225-3
"A counterintuitive lesson in family planning? Patience first: taking a "gap year" after live birth from assisted reproductive technology before frozen embryo transfer is performed." Fertility & Sterility, Jun 2019, vol. 111, no. 6, doi: 10.1016/j.fertnstert.2019.03.017
My Journey in Medicine
The physician and alchemist Paracelsus once wrote, "Medicine is not only a science; it is also an art. It does not consist of compounding pills and plasters; it deals with the very processes of life, which must be understood before they may be guided." As I completed my medical training, including residency in obstetrics and gynecology and fellowship in reproductive endocrinology and infertility (REI), I realized I wanted to spend my career not only treating patients in the clinical setting, but also attempting to understand the "very processes of life" as they affect reproductive physiology and disease. As an REI specialist, each patient encounter and research challenge represents a unique facet of a field I love.
My specialities within my field include fertility preservation, access to fertility services for LGBTQ+ patients, and primary ovarian insufficiency. I strive to create a positive, welcoming atmosphere in my exam room, so that each patient who comes to see me feels comfortable and that all of their needs are being met. Outside of my clinical practice, I advocate for my patients at the state and clinical level, teach future women's health care practitioners at Yale, and conduct my own research on human reproduction.
I'm overjoyed to be a part of the phenomenal team at Flo, and I hope that through this collaboration I can help even more people reach their goals of building a family through support and education.
Fun Facts
Outside of my work as an OB-GYN and REI specialist, I love to experience the outdoors by traveling, camping, hiking, and skiing with my family. I also enjoy painting watercolor and cooking without a recipe!
Flo Advisory Board of 100+ Doctors, Scientists, and Health Experts
We break down complex medical topics into accessible and digestible information that empowers readers to take action and prioritize their own well-being. Our team of Medical and Scientific Advisors is made up of over 100 certified health experts from a variety of disciplines who ensure that every piece of content we release is medically accurate, understandable, and up-to-date with the latest scientific findings. We rely on medical guidelines from international health organizations and get information from academic institutions and peer-reviewed articles, which is fully described in our Flo Editorial Process and Standards.