Wow, the time flies so fast, right? You are now 34 weeks pregnant. You better watch what you say. Your baby can hear your voice now and listen to your conversation.
Are you happy, but still nervous because you don't know whether you have done everything needed and you still have questions? Here is more information about being 34 weeks pregnant.
34 weeks pregnant in months
If you are 34 weeks pregnant, you have been expecting for almost 8 months. You have only 1 month left to meet your baby. You're only about six weeks away from becoming a mom.
In the last several weeks your baby's body has begun to fill out with the formation of fat tissue under its skin. This is a really important part of your baby's development because the fat that is stored helps your baby to regulate its body temperature after being born.
How big is your baby at 34 weeks pregnant?
Now, your baby is the size of a butternut squash. It weighs around 4.7 pounds (2 kg) and it is 17.7 inches (45 cm) in height. Every baby is different, so if your baby has a little bit smaller or bigger measurements then this, it is normal.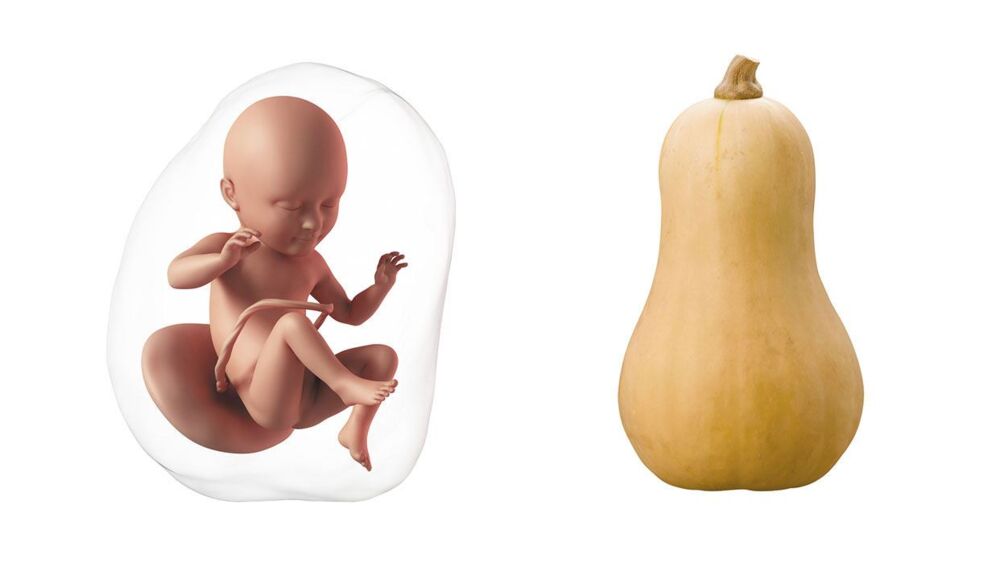 Pregnancy week 34 fetal development
Most of the organs of the baby are now fully formed and matured, except the lungs (primitive alveoli are formed, mature alveoli will develop later).
The fat continues to be stored under the skin, and your baby is now looking a bit plumper and you're able to see some of his or her first major facial characteristics. The facial features are very distinct now.
The baby continues to grow and you may notice when he or she will be getting hiccups - it's normal. The central nervous system has matured.
Your body at week 34 of pregnancy
Your belly continues to grow and to get lower in your pelvic area. The amount of amniotic fluid will begin to decrease, and you will feel every movement of your baby more pronounced. Your hands and feet and even your face will start to swell. Your normal blood volume is increased and it can be a hard time for your body to manage all the extra fluid. But even though you may feel tired, remember that your baby still needs you every day in order to grow and develop properly.
34 weeks pregnant belly
Now your belly will seem a little lower than it did a few weeks ago. This is because your baby may have descended lower into your pelvis. You will feel the difference in your breathing because your lungs now have more space. But when the baby descends, it puts more pressure on your bladder, so you will have frequent visitations to the restroom.
Your belly should measure around 32 to 36 cm (12.6 to 14 inches) from the top of the uterus to the pubic bone. If your measurements are a bit smaller or bigger than this, it means that your baby is a little bit bigger or smaller than average or that there is an abnormal level of amniotic fluid. If your doctor thinks that there is something abnormal happening, he or she will order a 34 weeks pregnant ultrasound.
34 weeks pregnant symptoms
The biggest change that you will notice when being 34 weeks pregnant is the reduction of pressure on your chest and lungs. Your baby is moving down into the pelvic area, and your lungs are having now more space.
Other symptoms that may occur at 34 weeks pregnant are pretty typical symptoms in late pregnancy, and they include:
Blurry vision. Being 34 weeks pregnant brings difficulties of falling asleep. The combination of hormones and having difficulties to fall asleep may cause blurry vision. It is a temporary pregnancy symptom. But if your blurry vision comes with swelling, weight gain, and headache, it may be a sign of severe preeclampsia. If you have these signs present, call your doctor right away.
Constipation. This is a normal symptom at 34 weeks pregnant. You're heavier and it's not really easy for you to walk. But try to take frequent walks, eat food that is rich in fiber and don't forget to drink a lot of water to stay hydrated.
Fatigue. Your baby is growing faster and it is really exhausting for you to carry around all that extra weight, especially if you're pregnant with twins. So it's not a weird thing to be tired and feel fatigued most of the time. You can't even get a decent rest while sleeping at night.
Abdominal pressure. As your baby grows, it causes pressure on your pelvis. As the baby prepares to get out and settle down lower, the pressure grows and you will feel the urge to urinate frequently.
Swollen ankles and feet. When you will notice that your ankles and feet are swollen, sit down and put your feet up for a few minutes. This may help you reduce the swelling.
Hemorrhoids. The extra weight of your baby is causing pressure on rectum as well, and hemorrhoids can appear. In order to ease the situation, try to find a different sitting and standing position where you can reduce some of the pressure put on this area.
Braxton Hicks contractions. Contractions and cramping sensation are normal at 34 weeks pregnant. Your body is getting prepared for the real deal that is about to happen. But if the contractions don't stop after about an hour and you experience vaginal bleeding and lower back pain, call your doctor or visit the nearest hospital. These are all signs of premature labor.
Stretch marks. You may get stretch marks, especially if you are fair-haired and you have a genetic predisposition towards stretch marks. Try keeping your weight steady.
34 weeks pregnant ultrasound
If your doctor orders it, you may do a biophysical profile (BPP). This is a combination of an ultrasound done at 34 weeks pregnant and a special nonstress test. The special nonstress test is done to measure the baby's heart rate over a period of time. With this, the doctor can see whether the baby is reacting well to stress and thriving or not.
34 weeks pregnant lifestyle and diet
If you're having heartburn, try to divide the food into several smaller meals per day instead of having two or three large meals. Be careful what you eat during pregnancy. Don't wear clothes that are tight and make you feel uncomfortable. Wear loose and baggy clothes. Choose the pregnancy bra right for you.
Sex at week 34 of pregnancy
Being 34 weeks pregnant means that you should be careful if you want to have sex. It can't be dangerous for you and for your baby if you are being careful. The baby can suddenly change the position, and you may disturb the baby now. So, if you want to have sexual intercourse, choose a pose that won't be disturbing to your baby.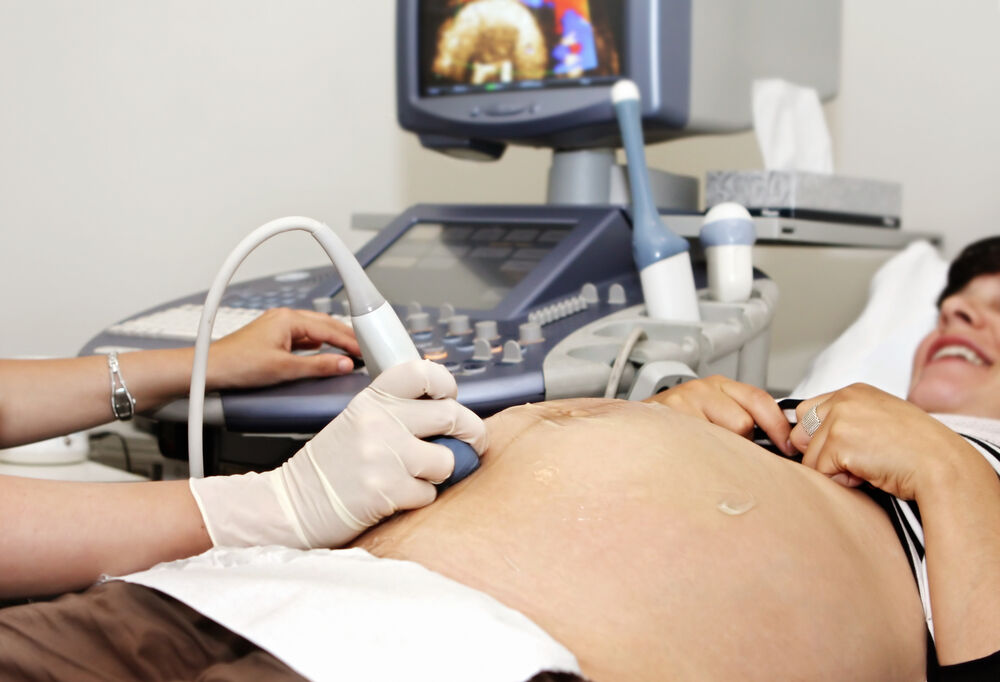 34 weeks pregnant checklist
Here are several things that you need to do while being in your 34 pregnancy week.
34 weeks 1 day pregnant
Schedule your 36-week prenatal visit
Mind what you eat
34 weeks 2 days pregnant
34 weeks 3 days pregnant
Do a group B strep test. Group B streptococcus is a bacterial infection that is found in a pregnant woman's vagina or rectum. The mother can pass the bacteria to her baby during delivery. Because of this, your doctor will ask you to do this testing as a part of prenatal care.
34 weeks 4 days pregnant
You may write thank-you notes to your baby.
34 weeks 5 days pregnant
Lactation consulting if you are planning to breastfeed your baby
Commemorate your belly
34 weeks 6 days pregnant
Talk to your baby
Read up on baby care
34 weeks 7 days pregnant
Buy and organize your baby gear
Learn how to install the car seat for your baby
What to ask your doctor?
Your eyes may be dry and more sensitive than usual now. Ask your doctor to prescribe you the right treatment. Also, if you are feeling blue, talk to your doctor. Around 15% of pregnant women suffer from depression during pregnancy.
There isn't much time left. Try to relax and ask for help from your friends and family. The last weeks are crucial to your baby, and your baby needs you to be calm and to eat healthy food. You'll find these nutrition tips for expectant moms useful. Walk on a daily basis, and drink a lot of water. And, you can start imagining what your baby would look like because you are about to meet him or her.
https://www.pregnancycorner.com/being-pregnant/pregnancy-week-by-week/34-weeks-pregnant.html https://motherhow.com/34-weeks-pregnant/