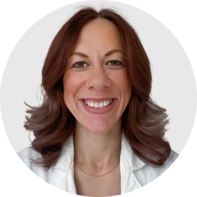 Dr. Jenna Beckham
Obstetrician and gynecologist, WakeMed, North Carolina, US
Work Experience: 5+ years in obstetrics and gynecology
"My patients are my motivation for everything I do professionally. They teach me something new every day! As an OB-GYN, I have the privilege to be involved in some of the most important and intimate moments in my patients' lives."
Career Highlights
OB-GYN at WakeMed, Raleigh, NC, 2017–present
Physician at Planned Parenthood South Atlantic, Chapel Hill, NC, 2017–present
Fellow of the American Congress of Obstetricians and Gynecologists and member of the World Professional Association for Transgender Health, Association of Professors of Gynecology and Obstetrics (APGO), and AAGL
Research award to focus on maternal and infant morbidity and mortality; recognized for excellence in minimally invasive gynecologic surgery as well as in female pelvic medicine and reconstructive surgery
Several publications in peer-reviewed medical journals
Presented research at conferences across the U.S.
Education
Association of Professors of Gynecology and Obstetrics (APGO) Surgical Education Scholars Program, 2020
University of North Carolina at Chapel Hill School of Medicine Teaching Scholars Program, 2021
Residency in Obstetrics and Gynecology, University of North Carolina Hospitals, Chapel Hill, NC, 2013–2017
Medical Degree from University of North Carolina School of Medicine, Chapel Hill, NC, 2013
Master of Science in Public Health from University of North Carolina Gillings School of Global Public Health, Chapel Hill, NC, 2012
Featured Publications
"Risk factors for postpartum readmission for preeclampsia or hypertension before delivery discharge among low-risk women: a case-control study." American Journal of Obstetrics & Gynecology MFM, May 2021, vol. 3, no. 3, doi: 10.1016/j.ajogmf.2021.100317
"The elusive diagnosis and emergent management of a late-presenting ruptured interstitial pregnancy: a case report." BMC Pregnancy Childbirth, 13 Aug 2021, vol. 21, no. 1 (553), doi: 10.1186/s12884-021-04026-7
"The Gestational Diabetes Management System (GooDMomS): development, feasibility and lessons learned from a patient-informed, web-based pregnancy and postpartum lifestyle intervention." BMC Pregnancy Childbirth, 21 Sep 2016, vol. 16, no. 1 (277), doi: 10.1186/s12884-016-1064-z
My Journey in Medicine
For me, the field of obstetrics and gynecology is the most exciting, while also being enjoyably challenging. I was drawn to the mix of medical and surgical care and the diversity of patients and conditions in this specialty. Additionally, I enjoy practicing the full breadth and depth of the complex field of OB-GYN.
My clinical interests include high-risk obstetrics, minimally invasive gynecologic surgery, and family planning. Caring for LGBTQIA+ patients and providing comprehensive and gender-affirming care to this population are also passions and specialties of mine.
In my faculty position at UNC Chapel Hill, I really enjoy training residents and teaching medical students, passing on my love for the profession to the next generation of doctors.
My job as an OB-GYN at WakeMed is truly my dream job! When I was a third-year medical student on a rotation at this clinic, I told my current boss that I wanted to work here. It was the only job I applied for upon completing my training, and it's just as wonderful as I imagined!
Collaborating with Flo is such an exciting opportunity, and I'm so thrilled to be here. I am fascinated by the intersection of technology and medicine and am excited that Flo is prioritizing expansion of its LGBTQ+ content.
Fun Facts
In my free time, I love to travel with my husband, hike with my three big dogs, and practice power vinyasa yoga.
Flo Advisory Board of 100+ Doctors, Scientists, and Health Experts
We break down complex medical topics into accessible and digestible information that empowers readers to take action and prioritize their own well-being. Our team of Medical and Scientific Advisors is made up of over 100 certified health experts from a variety of disciplines who ensure that every piece of content we release is medically accurate, understandable, and up-to-date with the latest scientific findings. We rely on medical guidelines from international health organizations and get information from academic institutions and peer-reviewed articles, which is fully described in our Flo Editorial Process and Standards.