You are only seven weeks to go in an average 40-week pregnancy. It is most probably tough for you to be comfortable and relax being 33 weeks pregnant.
You are in your third trimester and starting to imagine what your life would be like with the new baby. More changes are happening to you and you are dealing with uncomfortable pains and aches. Having swollen parts is an everyday situation to you now.
33 weeks pregnant in months
Being 33 weeks pregnant means that you are in month 8 of your pregnancy. You have around one month left to go! Do you still have some questions related to your pregnancy and your baby? With less than a month left, you should get fully informed about the signs and symptoms of early labor and when to call your doctor.
Your baby is getting ready to enter the world and continue to pack on the weight as the final date approaches.
How big is your baby at 33 weeks pregnant?
At week 33, your baby is around 15 to 17 inches (38-43 cm) in length (like the size of a pineapple) and weighs around 4 to 4.5 pounds (1.8-2 kg). But every baby is different and the growth can vary during this time. So, if your baby is a little off from these measurements, don't worry as he is completely normal in most of the cases.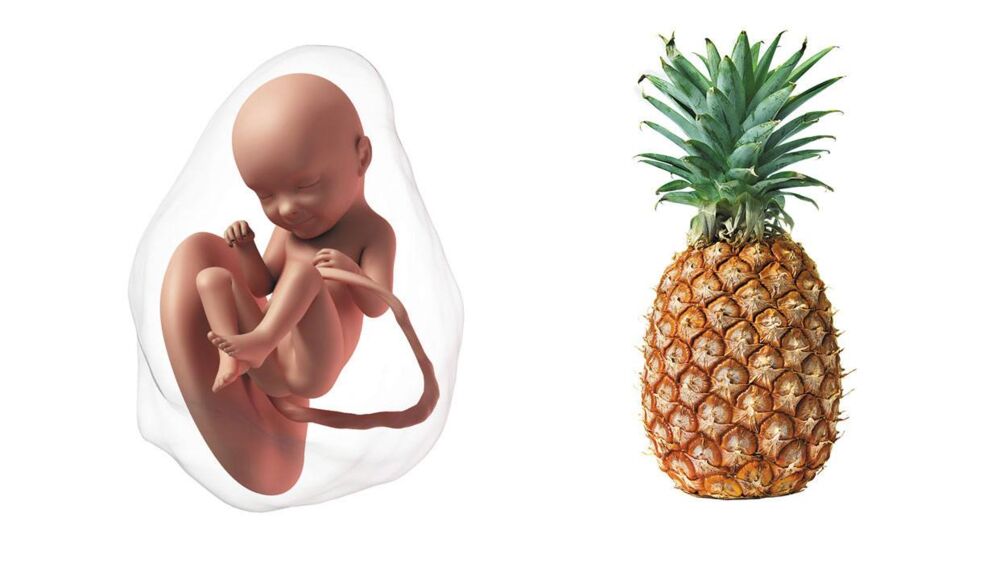 Pregnancy week 33 fetal development
The immune system of the baby is developing, it already has its own immune system. Antibodies are passing from you to your little baby as your baby continues to develop.
By this period, many parts of your body will be changed. Some changes like growing midsection and breasts are obvious. Your body is adapting to your pregnancy. Almost every change will come back to normal after giving birth.
Your body produces more blood than usual, and your blood volume will be increased approximately by 40 percent. Your hair will start to pump faster in order to accommodate this change. You may even feel your heart skipping beats. This is normal, but if you notice that this is happening more frequently you should call your doctor.
33 weeks pregnant belly
The top of your uterus is around 5 inches (13 cm) from your belly button. Being in the 33rd week of pregnancy, your total weight gain should be around 10 to 13 kg (22-28 pounds).
33 weeks pregnant symptoms
During this week, you may notice some changes in your heart. Apart from this, the other symptoms that you might experience during week 33 include:
Pain in the back. As the baby grows, your enlarged uterus applies more pressure on your sciatic nerve, which is the largest nerve found in your body. Applying pressure to this nerve can cause back pain called sciatica. In order to relieve the back pain, try to switch the side to sleep on to alleviate sciatic pain. Physical therapy can also reduce the back pain which is present before and after pregnancy.
Your ankles and feet will most likely be swollen. Your ankles and feet will be swelling more than previously. Your growing uterus applies pressure on the veins that are running through your legs and feet. Prop your legs and feet up for several minutes, a few times a day.
Shortness of breath.
Being in the final trimester, you must be fully informed and know the signs of early labor.
Signs of early labor include the following:
Contractions will occur more frequently and at regular intervals.
Lower back pain and leg cramping won't stop.
Water breaking.
You may notice a bloody or brownish vaginal discharge.
You might think that you are in labor, but sometimes it could just be the Braxton Hicks contractions. These contractions are infrequent and don't get closer together and more intense like the contraction of early labor.
If you're having contractions for a longer period of time and they are becoming stronger and closer together, go quickly to the nearest hospital. Still, it's too early for your baby to be born and the doctors can stop the labor.
If you're having an ultrasound in your 33rd week of pregnancy, you will see that your baby is keeping his or her eyes open while being awake. Your baby is turning to coordinate breathing with the help of sucking and swallowing.
During this week, the ultrasound might be that as a part of a biophysical profile. The ultrasound will show the movements of the baby, breathing, muscle tone and the amount of amniotic fluid. Also, it will measure the baby's heart rate and the way it changes when the baby moves or when you're having contractions.
Like we said before, in the 33rd week of your pregnancy, you will be experiencing swelling legs.
Walking in swimming can reduce the swelling and provide you with a temporary relief. Don't forget to drink plenty of water and stay hydrated.
Taking good care of your food is also essential. Your food intake should consist of a variety of foods, including proteins, carbohydrates, vitamins, minerals, and fats. Having a balanced nutritional intake is the best way to be sure that you're getting all of your daily nutrients. Your doctor will prescribe you a prenatal vitamin supplement and the right dosage.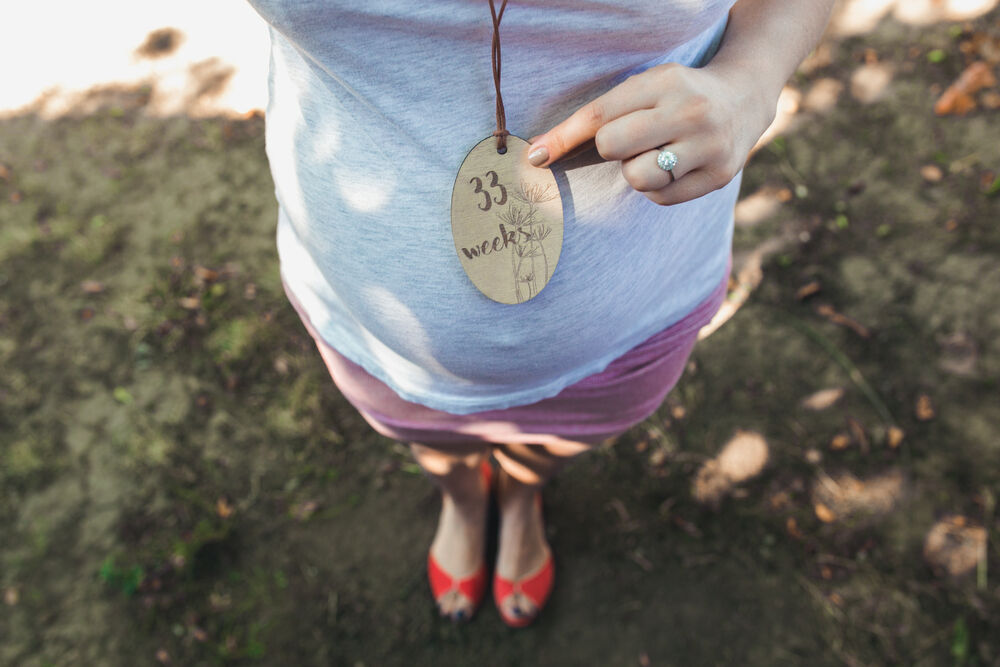 Sex at week 33 of pregnancy
Most of the women are wondering if they can still have safe sexual intercourse during this period in their pregnancy. Remember that it is completely safe as long as your doctor is not telling you the opposite. Be aware that your body is changing and it may be a little more difficult for you, but there are several ways to make sex during pregnancy a little more comfortable.
You are close enough to give birth to your baby, so you should start preparing for your delivery day. The last weeks of your pregnancy will fly so fast, so now is the best time to get started doing all the big stuff if you haven't done that already.
33 weeks 1 day pregnant
Choose a doctor for your baby. Talk with your friends, coworkers, or your prenatal caregiver and get names of pediatricians or family practitioners. Be sure that you will choose a doctor that accepts your health insurance, the working hours are acceptable for your schedule and that it has an office that's convenient for you.
Remember that your baby will have its first visit to the doctor several days after birth.
33 weeks 2 days pregnant
It's time to think about big decisions. Will you have the religious ceremony done when your baby will be born? Are you thinking about banking your baby's cord blood? Are you going to stay home with your baby full time or part-time? These are things that you should think about, talk with your partner and make big decisions.
33 weeks 3 days pregnant
Make sure that the sleeping space of your baby is safe. It doesn't matter whether you're planning to have a crib or bassinet, it is really important to follow the basic guidelines in order to reduce some unpleasing things to happen.
33 weeks 4 days pregnant
Learn about the different types of pain medication during childbirth or the natural birth. Remember that there isn't only one right way to deliver a baby. Every woman experiencing different pain and every labor is different.
33 weeks 5 days pregnant
Create a birth plan. You can't predict the childbirth, but still, it's helpful to have someone by your side who will help to manage the pain and who will be in the room with you after giving birth.
33 weeks 6 days pregnant
You must have received a ton of clothes and blankets for your baby. Wash your baby's clothing and bedding. Watch everything that is going to be near your baby's skin. Choose a detergent that is labeled as hypoallergenic.
33 weeks 7 days pregnant
Calculate your baby costs. Rising up a baby is not cheap. There are plenty of things to be bought. But also there are plenty of ways that you can think about saving money now.
What to ask your doctor?
In the 33rd week of your pregnancy, you can ask your doctor about the following things:
About the right dosage of vitamins and minerals.
What types of foods to eat during pregnancy.
To give you advice for a pediatrician.
Ask your doctor for advice if you are having a continuously fast heartbeat.
Ask your doctor what types of physical activities to do in order to reduce the leg swelling.
As time passes, you're most probably getting more and more excited. The due date is getting nearer. Try to stay relaxed and focus on the last things that need to be done, so you can enjoy in your last week of pregnancy.
https://www.mom365.com/pregnancy/week-by-week/33-weeks-pregnant/ https://www.everydayfamily.com/pregnancy-week-33-to-do/