First things first: don't feel awkward or self-conscious about cutting out the cutesy games from your baby shower! If you're organizing the event, it's your call to make and you're in a good position to judge what your guests will find most enjoyable.
And if you're not making plans yourself, don't feel shy to throw in a few casual suggestions. The host will appreciate your input — all the more so when your alternative activities go down a treat with all the guests!
If it's a virtual baby shower that's hosted completely online, it probably makes more sense to play alternatives to conventional games.
Memories and milestones
Your guests are mostly adults so here's an idea: why not treat them like adults, rather than subject them to childish games that are better suited to kids? A baby shower can be an opportunity to allow the friends and relatives of the mom-to-be to share meaningful memories and milestones from their childhood and the life lessons they learned from them.
This can simply take the form of sitting in a circle and asking those who wish to do so to share what they remember of their parents and how they were raised, and also their memories of significant milestones and important moments in life.
Not everyone will be happy to join in, but many of those who do will appreciate the opportunity to reminisce openly in the company of close friends and family members — and if you're lucky, share some of the life lessons that made them who they are today.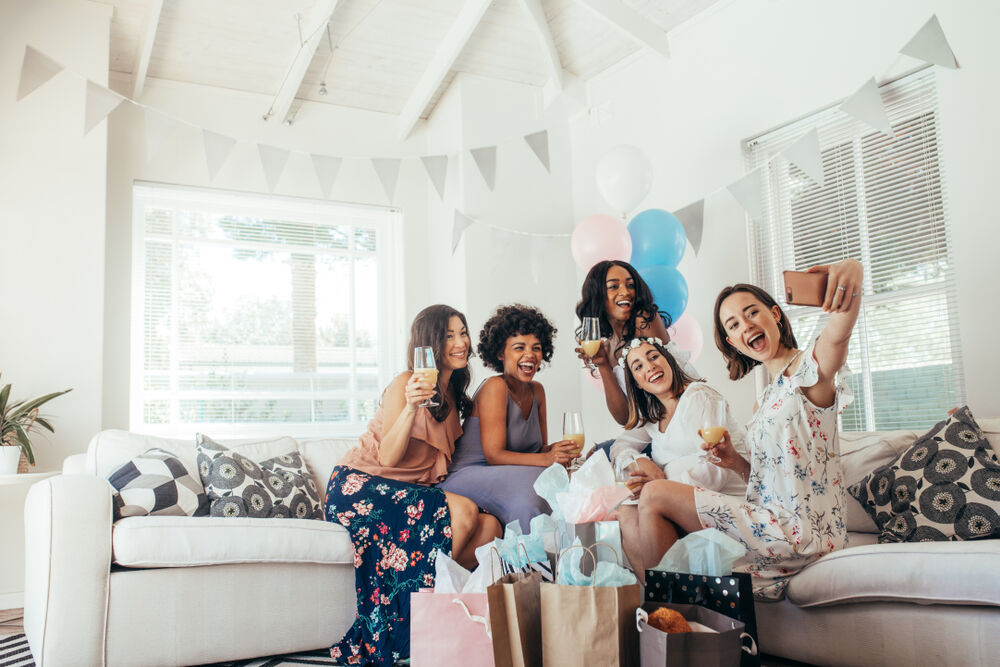 Best-kept baby secrets
Ask any parent for their top five parenting tips and you'll probably find one or two real treasures. You may already know (or think you know) how to change a diaper, how to cope with colic, and how to deal with a toddler tantrum. But once your group starts to share, you'll be shocked at the things you'd never have thought of.
Just introduce your group to the exercise and let your guests loose! You'll probably be astounded at the pool of collective wisdom you're able to tap into. And one of the great things about opening up this kind of discussion is the opportunity it offers for people from very different cultures and social backgrounds to share their experiences with one another.
Just be careful not to push any guests beyond their comfort zone. Some will understandably be reluctant to contribute to the conversation if childhood was a difficult time or if the child-parent relationship was problematic. Be mindful of people's boundaries and welcome guests to join the circle without contributing.
And if you must play games…
When it comes to your typical baby shower games, they're not all as silly as each other. In fact, with a little thought, you can arrange a few light-hearted distractions that will be both entertaining and informative for your guests. You've got lots of options here — so let your imagination run wild!
But if you're stuck for ideas, here's ours: a swaddling masterclass. If you're not aware, swaddling is the age-old practice of wrapping a newborn in a blanket to provide comfort and encourage deep sleep. However, it should be practiced correctly and with care.
With this in mind, a brief tutorial on swaddling can be great for any mom-to-be — you might even have guests try out swaddling for themselves using blankets and dolls, with prizes for the best attempts!
We hope our guide to baby shower activities will have inspired you to come up with your own ideas. Here's to planning a baby shower that won't have guests rolling their eyes and looking for the nearest exit!