They are a great occasion for the mom-to-be to receive useful baby tips, support, and creative baby shower gifts from her closest friends. However, many people struggle to find the best baby shower gift. Why? Because when you're close friends with the mother, you probably want to get her something personal, unique, and practical.
To help you with your struggles, we've put together a list of unique baby shower gift ideas that will surely win you a round of hugs and kisses.
When wondering how much to spend on a baby shower gift, it's important to stick to a budget you can afford. Your relationship with the recipient also plays an important role. To help you make the right decision, here are some generally accepted price ranges to take into consideration:
A colleague from work or an acquaintance: $20-$25. Is the recipient an old college roommate? Or a coworker you barely know? In this case, you shouldn't spend more than $20-$25 on the baby shower gift.
A friend or a distant relative: $30-$50. If the baby shower gift is for a distant relative or friend, a budget of $30-$50 is generally considered appropriate.
A close friend or a close relative: $60-$100. If you've known the recipient your entire life, a price range of $60-$100 seems appropriate. Your close relationship warrants a more thoughtful and meaningful baby shower gift that will show how much you love and support them.
Group gifts. In many cases, instead of individual baby shower gifts, people come together to buy a big-ticket gift that it's harder for parents to afford. This can be a stroller, baby bed, or a car seat. When buying gifts like this, people usually contribute what they can and the card is signed by everyone.
Baby shower gift baskets are practical baby shower gifts because you can fill them with a variety of things. When putting together a baby shower gift basket, stick to more practical items, and throw in a few fun things.
To save yourself valuable time, instead of going from store to store, stick to a one-stop-shop that offers all kinds of items. Here, you can find a wide range of baby products for your basket, available for great prices. Or you can make an online purchase. Check for delivery times before you order. If it's a virtual baby shower, check for delivery time directly to the future parent's address. Most stores have a two-day delivery to your home.
Here's what you should put in your baby shower gift basket:
Baby essentials:
shampoo
moisturizing lotion
baby dish soap
gas relief drops
diapers
diaper rash ointment
and gripe water
Something fun:
baby books
stuffed plush toys
teething toys
cozy towels with animal designs
baby gyms and playmats
Clothing:
House items:
blanket
grooming kit
cabinet safety latches
emergency contact magnet for the refrigerator
bath spout cover
soft tip infant spoons
bottle brush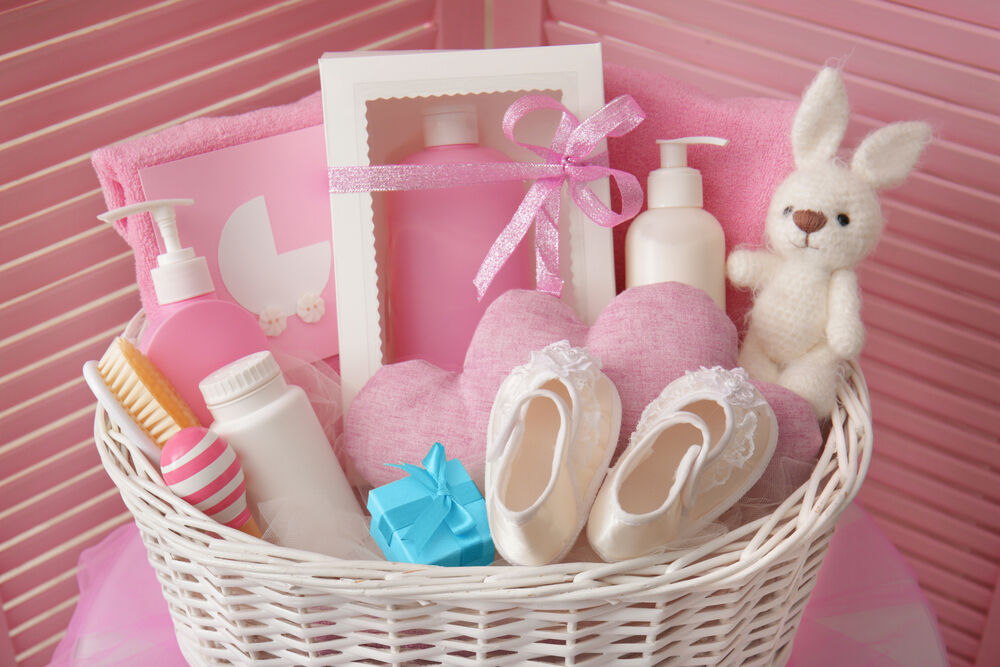 Ah, the amazing baby shower! A beautiful event for the parents-to-be, a confusing time for the person choosing a gift.
Sure, there are tons of baby shower gifts to choose from, but we all want to buy something the baby and the mother would use. The golden rule, in this case, is to get something practical that will help the parents survive the first few challenging months.
Finding the truly useful baby shower gift may be a little trickier, so here are some practical baby shower gift ideas to consider:
Diapers: Because all babies need diapers, right? Find out whether the parents will be using the cloth type or disposable ones. You can either fill a reusable hamper with as many disposables as possible or pay for a month's worth of a cloth diaper.
Basic onesies: The mom will thank you later! This is the most essential piece of clothing every baby needs. After all, they'll be spending most of their time in these basic but exceedingly comfy onesies. You can look for a multiple-piece baby suit baby shower gift set in different colors.
A baby bag: Smart, right? Buy a regular baby bag, and then fill it with all the essentials: diapers, onesies, a bottle, a teething ring, and a pacifier.
Gift certificates: if everything else fails, why not get a gift certificate? They are one of the most practical baby shower gifts. By giving the parents a gift certificate, they'll get something they really want.
DIY baby shower gifts are a delightful way to show off your creativity and love for the baby. Another thing is that by doing a DUY baby shower gift, you don't have to spend a lot of money. You would only need a couple of supplies and a splash of imagination.
The best thing? The parents will know that you put thought and effort into the gift. From baby barefoot sandals and bow tie drool bibs to patchwork baby quilt and baby puff blanket, there are lots of simple and adorable things you can try putting together.
What's even better than practical? Practical and personalized! Personalized baby shower gifts will surely surprise and excite the parents and the new baby alike.
To save you time, here are some cool ideas for personalized baby shower gifts for boys and girls:
Custom plush robe: with a gift like this, bath time may just become their favorite time of day.
Personalized baby quilt: a quilt that will keep them warm and have their baby's beautiful name written on it? What more can parents ask for?
Wooden name train: kids will love learning their A-B-Cs with a train that spells out their very own name!
Custom knit sweater: a personalized knit sweater will never go out of style. It'll be ideal for chilly days and keepsake photos.
Customized bedtime hug toys: this will become their baby's favorite bedtime toy!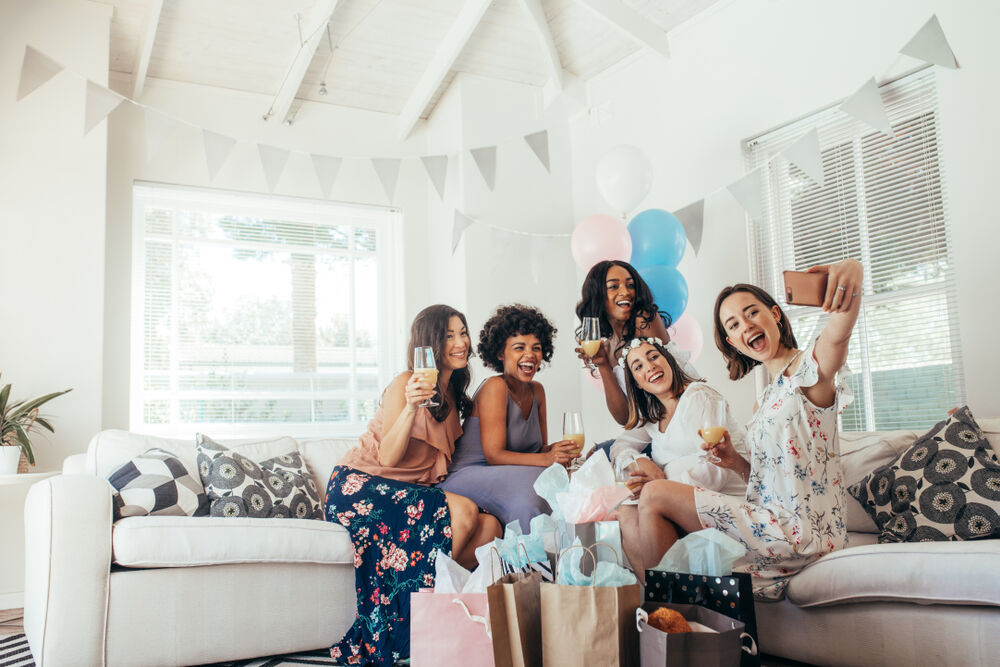 When a baby girl arrives in the world you want to grab a bunch of delightful items. You want to get them a pinky blanket, and a personalized doll toy, or an adorable robe.
The best baby shower gift ideas for girls are usually the most practical ones. To help you make the best decision, here's a list of sweet gifts for the baby girl and the growing family.
Baby pink personalized blankets: a personalized blanket can be a forever keepsake. It's warm, it's comfy, and it can easily be taken anywhere the baby goes.
Pink Own Rocker: the rocker will absolutely be a baby girl favorite. It's the ideal baby shower gift for little legs to climb onto and will give the entire family hours of rocking fun.
Unicorn Hooded Robe: parents will surely capture tons of beautiful photos in this adorable robe. Not only that is incredibly cute, but it's practical as well.
Giraffe Chewing Toy: these toys are easy for babies to grip and offer a soft, pliable texture to soothe irritated gums.
Ballerina socks: these ballerina socks can make your heart melt! They have non-slip rubber grips on the bottom to help prevent new walkers from sliding.
Shopping for the best baby shower gift for a boy can be fun! From cozy blankets to bandana bibs, there's something for everyone at every price point.
Here are our baby shower gift ideas for boys:
Non-skid baby boy socks: these socks will help baby boy's feet grip the ground when standing or walking.
Rainforest Jumperoo: this colorful and interactive Jumperoo will keep the baby entertained and will encourage muscle and balance development.
Wearable blanket: with this cute wearable blanket, new parents won't have to worry about chilly bottoms.
Bandana bibs: these adorable bandana style bibs not only catch all of the mess, but they're a fashion statement.
Tech Truck: baby boys will love the lights, sounds and interactive play that these tech trucks can offer.
Pregnancy can be stressful on any woman's body. For this reason, expecting mothers are deserving of thoughtful gifts. Whether you're looking for something practical or fancy, here's a list of baby shower gifts for a mom that will greatly please the mom-to-be in your life.
Belly oil: The natural belly oil will nurture any expectant mother's body and will help prevent stretch marks from forming. The baby oil is a blend of nutrients that penetrate into the skin to hydrate and aid in healthy skin regeneration.
Maternity belt: Maternity belts can help pregnant women during their pregnancy, especially if they are suffering from lower back pain, or hip and pelvic pain.
Compression hosiery: Compression hosiery is some of the best baby shower gifts for a mom. The hosiery is a special type of elastic hosiery that supports healthy blood circulation and helps prevent a wide range of conditions, including varicose veins.
Maternity pillow: Due to their pregnancy, expecting mothers have troubles getting comfortable at bedtime. That's why a maternity pillow with a supportive cushion sounds like the perfect gift for any mommy-to-be.
Nursing pajama set: Getting the best set of pajamas will surely delight any expecting mother. Nursing pajama sets are the ideal type of clothing to lounge around the house in pure comfort during and after pregnancy.
When an expecting mom organizes a baby shower, guests travel from far to give their wishes, bring beautiful gifts, and offer their best parenting advice. For this reason, they're often given precious gifts in return, as a token of their love, thoughtfulness, and commitment.
These are our favorite baby shower gifts for quests:
Sugar body scrubs: Showering the people you love with baby soft skin? What a lovely idea! This is one of most delightful baby shower gifts for guests that will bathe them in luxury.
Nursery-scented candles: Who doesn't want to swoon over the agreeable baby smells at their home? Now they can with nursery-scented candles.
Sugar bowls: Why not celebrate the upcoming arrival of your baby with gift-ready ceramic sugar bowls? Your guests will surely delight in the sweetness of your sentiment with every use.
Mini champagne bottles: There's no better way to celebrate a pregnancy than with these mini champagne bottles that guarantee good fun.
"A star is born" bookmarks: these lovely bookmarks are one of the sweetest baby shower gifts for guests.