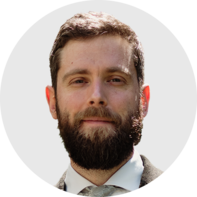 Adam Cunningham, PhD
Senior research scientist, Flo Health Inc., UK
Work Experience: 5+ years in medical research
"I have always been interested in the natural world and biology. As I grew older, I found that mental health and how it can relate to physical health was a field that was extremely important in helping people live healthier and happier lives."
Education
PhD in neuropsychiatric genetics, Cardiff University, 2018
MSc in neuroimaging, King's College London, 2012
BSc in biology with honors, University of Bath, 2011
Featured Publications
"Accelerometer-Derived Sleep Onset Timing and Cardiovascular Disease Incidence: A UK Biobank Cohort Study." European Heart Journal - Digital Health, June 2021, doi.org/10.1101/2021.06.23.21259390.
"Movement Disorder Phenotypes in Children With 22q11.2 Deletion Syndrome." Movement Disorders, 7 May 2020, doi.org/10.1002/mds.28078.
"Assessment of Emotions and Behaviour by the Developmental Behaviour Checklist in Young People with Neurodevelopmental CNVs." Psychological Medicine, 2020, pp. 1–13, doi.org/10.1017/S0033291720002330.
"Developmental Coordination Disorder, Psychopathology and IQ in 22q11.2 Deletion Syndrome." The British Journal of Psychiatry, vol. 212, no. 1, Jan. 2018, pp. 27–33, doi.org/10.1192/bjp.2017.6.
My Journey in Medicine
I have worked on a wide variety of health research projects, from understanding how genetics contribute to mental health to investigating how smartphone-measured sleep can help predict risk for chronic health conditions. I'm particularly interested in how mental health and physical health can interact and how research can help people live healthier, happier lives.
I love working for organizations that are having a positive impact on health and well-being. Finding roles where I can help people is always a priority for me.
Fun fact
I am a novice guitar player!
Flo Advisory Board of 100+ Doctors, Scientists, and Health Experts
We break down complex medical topics into accessible and digestible information that empowers readers to take action and prioritize their own well-being. Our team of Medical and Scientific Advisors is made up of over 100 certified health experts from a variety of disciplines who ensure that every piece of content we release is medically accurate, understandable, and up-to-date with the latest scientific findings. We rely on medical guidelines from international health organizations and get information from academic institutions and peer-reviewed articles, which is fully described in our Flo Editorial Process and Standards.