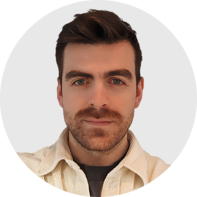 Aidan Wickham, PhD
Senior research scientist, Flo Health Inc., UK
Work Experience: 5+ years in medical research
"I am passionate about producing data-driven results and transforming those findings into tangible health benefits. It's an honor to be able to utilize my background in academic research to advance medical knowledge about women's health and help Flo's millions of users around the world feel more in tune with their bodies."
Career Highlights
Senior Research Scientist at Flo Health Inc., London, UK, 2022–present
Research Associate in Population Health at Imperial College London, UK, 2020–2022
PhD Researcher at Imperial College London, UK, 2015–2019
Assistant Engineer at GL Garrad Hassan, Bristol, UK, 2011–2012
Education
PhD in Bioengineering from Imperial College London, UK, 2019
MRes in Neurotechnology from Imperial College London, UK, 2015
MEng in Engineering Design from the University of Bristol, UK, graduated First Class Honors, 2014
Featured Publications
"Chemical Monitoring in Clinical Settings: Recent Developments toward Real-Time Chemical Monitoring of Patients." Analytical Chemistry, vol. 90, no. 1, Jan. 2018, pp. 2-18, doi: 10.1021/acs.analchem.7b04224.
"An automated analytical tool for detecting and characterising fasciculations in amyotrophic lateral sclerosis." Clinical Neurophysiology, vol. 130, no. 7, Jul. 2019, pp. 1083-1090, doi.org/10.1016/j.clinph.2019.03.032.
"The rise and fall of fasciculations in amyotrophic lateral sclerosis." Brain Communications, vol. 2, no 1, Feb. 2020, fcaa018, doi.org/10.1093/braincomms/fcaa018
My Journey in Research
I have always been interested in learning how I can apply the knowledge and experience I have gained in science and engineering to benefit the health field.
Throughout my research career, I have worked on a wide range of topics, always with a focus on creating data-driven results. For my post-doctoral position, I worked on public health and global health projects, developing models and performing statistical analyses to assess disease risk and multimorbidities. Namely, I looked into how obesity affects the risk of hypertension at both the global and regional levels. For my PhD, I worked on methods for processing high volumes of biological signals and time series data using novel algorithms and machine learning techniques.
I am well experienced in working with multidisciplinary groups of scientific, clinical, and statistical researchers on collaborative projects and translating scientific research into meaningful results for a technical and nontechnical audience.
Most of my career so far has been in academic research, and it's exciting to now apply my skills to Flo's large audience worldwide and help empower them to live healthier lives.
Fun Facts
I love playing rugby and cycling!
Flo Advisory Board of 100+ Doctors, Scientists, and Health Experts
We break down complex medical topics into accessible and digestible information that empowers readers to take action and prioritize their own well-being. Our team of Medical and Scientific Advisors is made up of over 100 certified health experts from a variety of disciplines who ensure that every piece of content we release is medically accurate, understandable, and up-to-date with the latest scientific findings. We rely on medical guidelines from international health organizations and get information from academic institutions and peer-reviewed articles, which is fully described in our Flo Editorial Process and Standards.