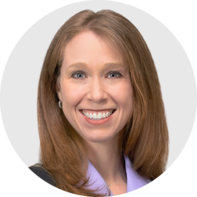 Dr. Allison Rodgers
Reproductive endocrinologist, obstetrician, and gynecologist, Fertility Centers of Illinois, Illinois, US
Work Experience: 15+ years in obstetrics, gynecology, reproductive endocrinology, and infertility
"I strive to care for patients with the compassion and expertise that I would appreciate from my own physician. Having my own experience with fertility treatment and pregnancy loss, I can understand the physical and emotional stress of infertility and aim to be the best possible source of support for my patients on their journey to parenthood."
Career Highlights
Reproductive endocrinologist and director of education, Fertility Centers of Illinois, Greater Chicago Area, IL, US, 2014–present
Reproductive endocrinologist, Chicago IVF, IL, US, 2011–2014
Medical advisor for the "Beat Infertility" podcast (over 2 million downloads)
Author of 20+ articles in peer-reviewed medical journals on endometriosis, tubal factor infertility, in vitro fertilization, and donor sperm
Double board-certified in reproductive endocrinology and infertility as well as obstetrics and gynecology
Medical expert in the media, including Shape, Elle, Huffington Post, and Parents
Verified creator on Instagram and TikTok
Education
Fellowship in reproductive endocrinology and infertility at the University of Texas Health Science Center at San Antonio, TX, US, 2008–2011
Residency in obstetrics and gynecology at MetroHealth and Cleveland Clinic, OH, US, 2004–2008
Medical degree from the University of Michigan Medical School, MI, US, 2004
Bachelor of Applied Science in biological anthropology and zoology from the University of Michigan, Ann Arbor, MI, US
Featured Publications
"In Vitro Fertilization Outcomes in Hispanics versus Non-Hispanic Whites." Fertility and Sterility, vol. 95, no. 8, 2011, doi: 10.1016/j.fertnstert.2011.04.031.
"Serum Beta Human Chorionic Gonadotropin Levels Can Inform Outcome Counseling after In Vitro Fertilization." Fertility and Sterility, vol. 96, no. 2, 2011, doi: 10.1016/j.fertnstert.2011.05.071.
"Reviews: In Vitro Models to Study the Pathogenesis of Endometriosis." Reproductive Sciences, vol. 17, no. 1, 2010, doi: 10.1177/1933719109338221.
"Treatment Strategies for Endometriosis." Expert Opinion on Pharmacotherapy, vol. 9, no. 2, 2008, doi: 10.1517/14656566.9.2.243.
"Optimizing Success with Donor Insemination." Frontiers in Bioscience-Elite, vol. 1, no. 1, 2009, doi: 10.2741/E34.
My Journey in Medicine
Being a parent is the most important thing in my life, and helping others become pregnant is the best job in the world. After beginning my fertility training, I was diagnosed with secondary infertility. Going through the full range of infertility therapy and pregnancy loss has deeply impacted the way I care for patients.
My primary goal as a reproductive physician is to provide compassionate and individualized care. I specialize in treating female health conditions that impact fertility, including endometriosis and polycystic ovary syndrome, as well as assisted reproduction treatments such as in vitro fertilization. Other interests of mine include fertility care for the LGBTQ+ community, recurrent pregnancy loss, and premature ovarian insufficiency.
As the director of education at Fertility Centers of Illinois, I enjoy being able to impact the future of reproductive medicine by teaching the next generation of gynecologists. In my spare time, I create health content for social media platforms (find me on Instagram and TikTok as dr.allison.rodgers), where I share information about reproductive health.
I am passionate about spreading accurate health knowledge through technology and so thrilled to be on the board of Flo's team of experts.
Fun Facts
I live outside Chicago with my husband and three children. When not helping patients, I spend my time riding my horse.
Flo Advisory Board of 100+ Doctors, Scientists, and Health Experts
We break down complex medical topics into accessible and digestible information that empowers readers to take action and prioritize their own well-being. Our team of Medical and Scientific Advisors is made up of over 100 certified health experts from a variety of disciplines who ensure that every piece of content we release is medically accurate, understandable, and up-to-date with the latest scientific findings. We rely on medical guidelines from international health organizations and get information from academic institutions and peer-reviewed articles, which is fully described in our Flo Editorial Process and Standards.