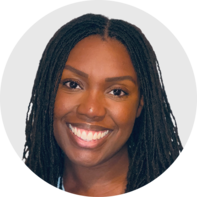 Dr. Amanda Chisholm
General practitioner, National Health Service, UK
Work Experience: 5+ years in family medicine
"Over 70% of diseases can be either prevented, modified, or managed by improving day-to-day lifestyle habits. This is so exciting to me because good health doesn't need to be dependent on your social status and can be accessed by all. This fact is a main motivation of mine to continue educating my patients through my daily work."
Career Highlights
Hospital doctor with rotations in psychiatry, elderly care, vascular surgery, general medicine, pediatrics, dermatology, gastroenterology, emergency medicine, endocrinology, obstetrics, and gynecology
NHS general practitioner (GP)
Out-of-hours GP
Medical expert in several podcasts and health articles, including the Women's Health & Maternal Well-Being Initiative
Leader of a postnatal clinic for moms and babies and an initiative to facilitate early detection and better support of high-risk pregnant women in GP
Medical lead in GP for the monthly multidisciplinary meeting focused on at-risk individuals in the community
Organizer of COVID-19 vaccination clinics for the African Caribbean community
Contributor to online video content surrounding COVID-19 vaccine education from the local authority
Member of the Royal College of General Practitioners and the British Society of Lifestyle Medicine
Education
Health coach training with the College of Naturopathic Medicine, London, UK, 2023
Medical degree (MBChB) from the University of Leeds, UK, 2015
My Journey in Medicine
The majority of women in my family are health care professionals, starting with my grandparents, who immigrated to England from Jamaica in the 1950s to support the NHS. The need to care for and treat people feels like a part of my DNA, and I wanted to become a doctor from a very young age.
Being part of the community, treating entire families, and preventing disease are what drew me to general practice and family medicine. Through my hospital rotations, I found that I really enjoyed all types of medical specialties.
As my career has progressed, I've discovered a real passion for health education. I am a proponent of individuals taking control of their own bodies and having the knowledge to advocate for themselves. Simple daily behaviors can massively impact health, and shifting away from pharmaceutical-centered to lifestyle medicine is a primary goal of mine.
I enjoy sharing aspects of my life and spreading helpful information on health via social media — you can find me on Instagram and YouTube under "Life with Dr. Amanda." I have also set up several community-based classes on topics such as menopause, cancer, mental health, and more.
I'm committed to creating engaging and relevant health education resources, especially in the field of women's health, which historically has not been a priority. I'm so grateful to be collaborating with Flo in this endeavor.
Fun Facts
Outside of my work as a doctor, I'm the director of events for Black Female Doctors UK and co-host of "So Sis Podcast." I love to travel and often find myself planning our next trip whilst still away on a current one! To unwind, you can find me in the kitchen doing some culinary experimentation, as I love to cook. I have two very young daughters and am married to a secondary school teacher. Being with my family is my happy place.
Flo Advisory Board of 100+ Doctors, Scientists, and Health Experts
We break down complex medical topics into accessible and digestible information that empowers readers to take action and prioritize their own well-being. Our team of Medical and Scientific Advisors is made up of over 100 certified health experts from a variety of disciplines who ensure that every piece of content we release is medically accurate, understandable, and up-to-date with the latest scientific findings. We rely on medical guidelines from international health organizations and get information from academic institutions and peer-reviewed articles, which is fully described in our Flo Editorial Process and Standards.