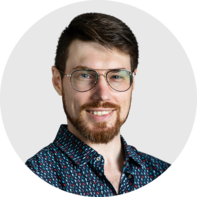 Dr. Andrei Marhol
General practitioner, medical advisor, Flo Health Inc., Lithuania
Work Experience: 10+ years in internal medicine and general practice
"It's a great honor and responsibility to work for Flo and be at the forefront of femtech, where medicine and technology meet to work towards innovative scientific discoveries."
Career Highlights
Senior Lecturer and General Practitioner at Grodno State Medical University, 2011
Head General Practitioner at an outpatient clinic, 2009-2011
Provider of Advanced Cardiovascular Life Support (ACLS) approved by the American Heart Association
Honorary member of the Argentine Association of Cardiac Electrophysiology (SADEC)
Speaker at multiple medical conferences, including the European Meeting on Hypertension and Cardiovascular Protection
Education
Degree in Internal Medicine from Grodno State Medical University
PhD from state commission for academic degrees and titles of the Republic of Belarus, specialty — Cardiology. Thesis: "Vitamin D deficiency in patients with chronic heart failure with preserved ejection fraction and development of methods of their correction"
Featured Publications
"Association of the level of vitamin D in the body with the morphofunctional state of the myocardium in persons with chronic heart failure." Arterial hypertension, No. 22 (2), 2016
"Relationship between the time spent outdoors and the level of total vitamin D in the blood in patients with chronic heart failure." Medical News, No. 4 (271), 2017
"Optimization of vitamin D levels in persons with chronic heart failure with an assessment of the effect on endothelial function." Healthcare, No. 9, 2017
My Journey in Medicine
My area of expertise lies in internal medicine, cardiology, functional diagnosis, and emergency care. I became particularly interested in heart conditions while conducting research for my PhD, when I studied how vitamin D levels may impact patients with chronic heart failure.
As a head general practitioner, I conducted outpatient appointments for various types of patients, treated internal diseases, performed minor surgeries, provided emergency care, and organized work processes in my assigned health care unit. For several years, I taught medicine at Grodno State Medical University, which is where I used to be a medical student back in the day. In my classes, I explained procedures for outpatient emergency care. I also worked as a GP at the campus hospital.
Being a medical advisor for Flo gives me the exciting opportunity to constantly learn something new and apply my experience to solve complex tasks while surrounded by fellow high-level specialists from various fields. I really appreciate communicating and exchanging ideas with medical professionals from leading institutions and organizations from all over the world through my work here.
Since I joined Flo in 2019, I've witnessed the horizons of the company expand, not only in terms of medical knowledge, but product development, engineering, and new content features. This constant development helps us support women in all different aspects of their individual health management. There are still many discoveries to be made within the realm of female health, and I'm happy to play a part in it.
Fun Facts
During my medical studies, I was part of a campus comedy club and participated in battles with my team of students from India, Africa, Europe, and the Middle East. We even won local competitions several times!
When I was in my first year as a doctor, I had to deliver a baby in a car on the way to the hospital.
And lastly, while I was working as a senior lecturer at the university, all of my fellow professors constantly thought that I was a student. So I decided to grow a beard to be taken more seriously … unfortunately, it didn't help.
Flo Advisory Board of 100+ Doctors, Scientists, and Health Experts
We break down complex medical topics into accessible and digestible information that empowers readers to take action and prioritize their own well-being. Our team of Medical and Scientific Advisors is made up of over 100 certified health experts from a variety of disciplines who ensure that every piece of content we release is medically accurate, understandable, and up-to-date with the latest scientific findings. We rely on medical guidelines from international health organizations and get information from academic institutions and peer-reviewed articles, which is fully described in our Flo Editorial Process and Standards.