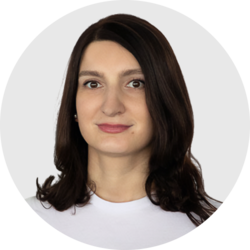 Anna Klepchukova, MD
Anesthesiology and Intensive Care Specialist, Chief Science Officer at Flo
Work Experience: 7+ years in Anesthesiology and Intensive Care Medicine
Dr. Anna Klepchukova acquired deep knowledge in endocrinology, infectious diseases, neurology, cardiology, nephrology, pulmonology, pain management, sleep disorders, and nutrition working as an Intensive Care Specialist. Her field of expertise includes research and practical interest in epidemiology and endocrine disorders, as well as mental, sexual, and reproductive health.
Dr. Klepchukova was a guest speaker at the 26th European Congress of the European Board & College of Obstetrics and Gynecology and at the European Manifestation & Conference in Brussels as part of the European week of action against the privatization and commercialization of health and social protection. She is a member of the Google Launchpad Mentor Community.
Dr. Klepchukova believes that women's health deserves much more attention and action. Her goal is to raise global awareness about women's health and to integrate science and clinical practice into people's everyday life.