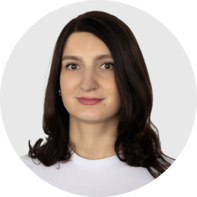 Dr. Anna Klepchukova
Intensive care medicine specialist, chief medical officer, Flo Health Inc., UK
Work Experience: 10+ years in anesthesiology, intensive care medicine, and digital health
"Whatever her role in life, whether she is a mother, boss, or friend, each woman should feel empowered and successful. But in order to achieve that, she needs to be healthy. Women's health has been neglected within the medical community for far too long, and it deserves much more attention and action today. I believe that through scientific research and education on reproductive and sexual health, we can drive innovation and societal change for the better."
Career Highlights
Member of a Working Group Focused on Development of the FIGO Ovulatory Disorders Classification System, 2021
Speaker at FIGO 2021 World Congress of Gynecology and Obstetrics
Guest speaker at the 26th European Congress of the European Board & College of Obstetrics and Gynecology (EBCOG) and the European Manifestation & Conference in Brussels
Mentor for startup founders with Google's Launchpad program
Marketing Manager at Takeda Pharmaceuticals, 2015–2017
Intensive Care Medicine Doctor in Emergency Hospital, Minsk 2010–2013
Education
Degree in Medicine, Anesthesiology, and Intensive Care from Belarusian State Medical University, 2010
Specialist in Clinical Trials at Belarusian State Medical University, 2010
Internship in Intensive Care Medicine and Anesthesiology at Emergency Hospital, Minsk 2010-2011
Degree in Marketing from IPM Business School, 2014
Degree in Strategic Marketing from The Chartered Institute of Marketing, 2016
Featured Publications
"SUN-LB6 Characterization of PCOS Among Flo App Users Around the World." Journal of the Endocrine Society vol. 4, Suppl 1 SUN-LB6. 8 May. 2020, doi:10.1210/jendso/bvaa046.2173
"SUN-LB3 Relationship Between BMI and PCOS Symptoms Among Flo App Users in the United States." Journal of the Endocrine Society vol. 4, Suppl 1 SUN-LB3. 8 May. 2020, doi:10.1210/jendso/bvaa046.2175
My Journey in Medicine
I began my medical career as an intensive care medicine doctor and anesthesiologist at an emergency hospital. In the ICU, no two days were the same. I gained experience treating patients with serious conditions related to their brain, heart, kidneys, and lungs.
The opportunity to make a truly big impact on a patient's health in this fast-paced environment was very rewarding. It led me to find my passion for researching the spread of diseases and their most effective treatments. Through this work, I also became interested in both drug development and lifecycle management. So I shifted into marketing for pharmaceutical companies, where I developed strategies for the launch, approval, and sale of new medications.
Working in pharma, I found a research gap in women's health. Novel treatments for conditions like endometriosis are not investigated or launched, unlike diseases that primarily affect men. I also came across many women who were forced to delay professional or family plans because of diseases that could have been prevented or more easily treated had they been diagnosed earlier or simply due to a lack of knowledge about reproductive health.
It was then that I found my calling to promote health for the women of the world to help them reach their full potential in life. Serving as the Chief Medical Officer for Flo is a dream come true, allowing me to champion women's health on a global scale.
My team and I are responsible for ensuring Flo is medically accurate and up-to-date with the latest scientific findings and technological innovations concerning women's health and wellness. We also do our own scientific research and collaborate with the world's leading medical societies, experts, and health advocacy organizations, such as the UNFPA and EBCOG.
I love being able to apply my clinical and marketing knowledge to ensure our users worldwide have access to a reliable, evidence-based app to support their health. My overarching goal at Flo is to raise more global awareness about various conditions affecting women's health and to integrate clinical practice into people's everyday lives.
Fun Facts
I love fashion and design. I have designed 30 dresses and coats for myself and my friends.
Flo Advisory Board of 100+ Doctors, Scientists, and Health Experts
We break down complex medical topics into accessible and digestible information that empowers readers to take action and prioritize their own well-being. Our team of Medical and Scientific Advisors is made up of over 100 certified health experts from a variety of disciplines who ensure that every piece of content we release is medically accurate, understandable, and up-to-date with the latest scientific findings. We rely on medical guidelines from international health organizations and get information from academic institutions and peer-reviewed articles, which is fully described in our Flo Editorial Process and Standards.