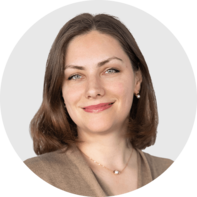 Dr. Anna Targonskaya
Obstetrician and gynecologist
Work Experience: 5+ years in obstetrics, gynecology, and digital health
"I'm a passionate believer that education is a woman's strongest tool when it comes to managing her health. At Flo, I aim to support each of our users through understandable and engaging content on preventative care topics so they can make informed decisions and stay healthy."
Former Flo medical advisor
Career Highlights
Speaker at the 25th International Conference on Population and Development, 2019
Author of Flo materials on pregnancy and postpartum related topics, 2017–2018
Obstetrician-gynecologist in an ambulatory center, 2012–2018
Education
Degree in Medicine, Obstetrics, and Gynecology from Grodno State Medical University, 2011
Internship in Obstetrics and Gynecology in Brest Regional Hospital, 2011–2012
Featured Publications
"The relationship between ovulatory cycle characteristics and women's sexual motivation: A longitudinal approach using Flo™ cycle tracking data." 2021
My Journey in Medicine
While studying at university, I fell in love with the magic of the appearance of a new life and couldn't imagine myself as anything other than an obstetrician-gynecologist.
When I started working as an obstetrician-gynecologist, I was pregnant with the eldest of my two boys and spent the majority of my time supporting the health of my fellow pregnant patients. I found a great passion for pregnancy-related topics through this work and my own experience, and it became the main focus in my clinical practice.
Before becoming a Medical Advisor for Flo, I enjoyed authoring various articles on medical supervision during pregnancy, pregnancy symptoms, potential complications, postpartum care, and miscarriage.
In my current position as a Medical Advisor, I wear many hats. In addition to reviewing content that gets published on our blog and app, I coordinate different content projects, work on Flo's medical policies and standards, develop and maintain relationships with US and Europe-based medical experts and international health associations (such as UNFPA, EBCOG, and SEUD), and speak at international and local conferences on behalf of Flo.
From the beginning of my career in medicine to today, I have always strongly advocated for reproductive health education to help inspire women to consciously manage their lives. I aim to utilize both my medical background and understanding of digital technologies to commit to and find innovative solutions for female health.
Fun Facts
My journey to medicine started prior to my admission to the medical university, since I was born in a medical family: My mom was a therapist and my father was an anesthesiologist.
Flo Advisory Board of 100+ Doctors, Scientists, and Health Experts
We break down complex medical topics into accessible and digestible information that empowers readers to take action and prioritize their own well-being. Our team of Medical and Scientific Advisors is made up of over 100 certified health experts from a variety of disciplines who ensure that every piece of content we release is medically accurate, understandable, and up-to-date with the latest scientific findings. We rely on medical guidelines from international health organizations and get information from academic institutions and peer-reviewed articles, which is fully described in our Flo Editorial Process and Standards.