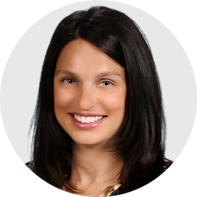 Dr. Beth Schwartz
Assistant professor of obstetrics, gynecology, and pediatrics, Sidney Kimmel Medical College at Thomas Jefferson University, Pennsylvania, US
Work Experience: 10+ years in pediatric and adolescent gynecology
"All of the pressure and inaccurate information out there nowadays makes it really hard to be a teenager or young woman at times. I like being able to give medically accurate information in a fun, non-threatening way and create a safe space for my patients to ask questions."
Career Highlights
Director of the Pediatric and Adolescent Gynecology Program at Thomas Jefferson University and Nemours Children's Hospital, Philadelphia, PA
Attending Physician in the Department of Obstetrics & Gynecology at Thomas Jefferson University, Philadelphia, PA
Attending Physician in the Division of Adolescent Medicine and Pediatric Gynecology, Nemours Children's Hospital, Wilmington, DE
Director of the Fertility Preservation Program at Nemours Children's Hospital, Wilmington, DE
Focused Practice Designation in Pediatric and Adolescent Gynecology from the American Board of Obstetrics and Gynecology
Recipient of multiple awards, including the Top Doctors Award from Delaware Today magazine in 2018 and 2021; Huffman-Capraro Award from the North American Society for Pediatric and Adolescent Gynecology Annual Clinical & Research Meeting in 2016; Dean's Award for Excellence in Education at Sidney Kimmel Medical College; and the Association of Professors of Gynecology & Obstetrics Faculty Excellence in Teaching Award at Thomas Jefferson University
Member of multiple organizations, including the American College of Obstetricians and Gynecologists, North American Society for Pediatric and Adolescent Gynecology (NASPAG), Children's Oncology Group, and Oncofertility Consortium Pediatric Initiative Network
Lead of the Grant Working Group of the NASPAG Research Committee
Journal reviewer for the Journal of Pediatric and Adolescent Gynecology, American Journal of Obstetrics & Gynecology, Pediatrics, Journal of Adolescent Health, and PLOS One
Education
Fellowship in Pediatric and Adolescent Gynecology at Cincinnati Children's Hospital Medical Center, Cincinnati, OH
Residency in Obstetrics and Gynecology at Thomas Jefferson University Hospital, Philadelphia, PA, 2008–2012
Degree in Medicine from the University of Rochester School of Medicine & Dentistry, Rochester, NY, 2008
Bachelor's degree in Biological Anthropology from Harvard University, 2004
Featured Publications
"Levonorgestrel Intrauterine Device Use for Medical Indications in Nulliparous Adolescents and Young Adults." Journal of Adolescent Health, vol. 68, no. 2, Feb 2021, doi: 10.1016/j.jadohealth.2020.05.041
"Intrauterine Device Use in Adolescents with Disabilities." Pediatrics, vol. 146, no. 2, Aug 2020, doi: 10.1542/peds.2020-0016
"Normative values for ultrasound measurements of the female pelvic organs throughout childhood and adolescence." Pediatric Radiology, vol. 49, no. 8, Jul 2019, doi: 10.1007/s00247-019-04419-z
"Experience with intrauterine device insertion in never sexually active adolescents: a retrospective cohort study." American Journal of Obstetrics & Gynecology, vol. 219, no. 6, Dec 2018, doi: 10.1016/j.ajog.2018.09.033
My Journey in Medicine
Believe it or not, I have known that I wanted to be a pediatric and adolescent gynecologist since high school. I spent many years babysitting and working as a summer camp counselor, and I have always loved spending time with kids and teens. After completing my undergraduate degree at Harvard, I went to medical school to become a pediatric gynecologist and was thrilled to find that this field was everything I had always hoped it would be.
Besides teaching medical students at Thomas Jefferson University, I'm a pediatric and adolescent gynecologist at hospitals in the Philadelphia area. I love working with patients and their families. Being able to reassure them that they're okay or intervening when they're not is unbelievably rewarding and drives me to put my best foot forward each day.
My clinical research focuses on the reproductive health of medically complex and special needs patients. I'm particularly interested in non-contraceptive uses of intrauterine devices in adolescents and have published several articles on this topic. Some of my time as a physician is spent with patients in a multidisciplinary gender clinic, and I strive to better understand and care for this population by conducting research. Currently, I'm studying how transgender and non-binary adolescents experience and manage menstruation.
I joined Flo to advise on gynecological topics for girls and young women, and I love that the app makes health information fun and easy to understand for people of all ages, from the onset of menstruation through menopause.
Flo Advisory Board of 100+ Doctors, Scientists, and Health Experts
We break down complex medical topics into accessible and digestible information that empowers readers to take action and prioritize their own well-being. Our team of Medical and Scientific Advisors is made up of over 100 certified health experts from a variety of disciplines who ensure that every piece of content we release is medically accurate, understandable, and up-to-date with the latest scientific findings. We rely on medical guidelines from international health organizations and get information from academic institutions and peer-reviewed articles, which is fully described in our Flo Editorial Process and Standards.