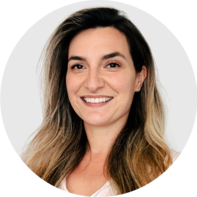 Claudia Pastides, MBBS
General practitioner, medical advisor, Flo Health Inc., Cyprus
Work Experience: 10+ years in internal medicine and family medicine
"It is an understatement to say that I am completely obsessed with promoting women and children's health through creating approachable, engaging, and scientifically sound medical information! I'm fascinated by how much reach health tech has, making good quality health information and help accessible to people all over the world."
Working at Flo, it feels like I can touch the lives of so many people, wherever they may be, and provide reassurance or help that they might not have access to or feel comfortable asking for.
Education
MBBS from University College London
BSc in Primary Health Care at University College London
Work Experience
Hospital doctor with rotations in general medicine, surgery, anaesthetics, psychiatry, palliative care, public health, and obstetrics and gynecology
NHS general practitioner in London, UK
Private general practitioner in Marylebone, London, UK
Medical copywriter and medical content manager at Babylon Health
Working as a medical advisor at Flo is the culmination of everything I've ever loved, all combined in one amazing job. The opportunity to promote health, prevent disease, and support women through innovative health tech and information is a dream! Being part of a team that is both creative and scientific and explores and pushes women's health tech ever forward is incredibly exciting!
I have two peer-reviewed research publications, have been live on British national television (ITV, This Morning) as a medical expert and am quoted in many women's magazines (including Hello, Glamour, Marie Claire, and Cosmopolitan). Together with Babylon Health, I created YouTube videos, including a period pain video that has over 1.5 million views. I'm quoted in many British newspapers and on online platforms such as HuffPost. I'm also on the editorial board for Motherdom (a magazine that supports the mental health of new parents) and have both blogged for and reviewed articles for Babycentre.
I believe that there is always a way to make health care information fun or interesting — memorable until the point someone needs it. There is so much health information out there that it can be overwhelming. My goal is to make health information as engaging and valuable as possible whilst remaining true to science and evidence-based medicine too.
I set up two initiatives to support pregnant people and new parents whilst I was working as a GP. I set up a course that teaches parents and carers in London how to take care of newborns, from how to spot and manage a fever and common illnesses through managing choking and performing basic life support. I also set up baby-friendly conferences for medical parents on parental leave and helped to make baby-friendly medical conferences the norm for the Royal College of GPs and beyond.
Fun Facts
I love playing (competitive!) tennis and walking my Vizslaraner pup. I like to unwind with my sewing machine, which I use to replicate outfits that I find online, really want, but cannot find to buy! I love a good romance novel but can't ever read one book at a time, so I always have a health and lifestyle or psychology book on the go too.
My house is organized chaos, with three very young children, my surgeon husband, and a hyperactive hunting dog. I'm happiest when I'm busy, being creative, feeling helpful, and surrounded by friends and family.
Flo Advisory Board of 100+ Doctors, Scientists, and Health Experts
We break down complex medical topics into accessible and digestible information that empowers readers to take action and prioritize their own well-being. Our team of Medical and Scientific Advisors is made up of over 100 certified health experts from a variety of disciplines who ensure that every piece of content we release is medically accurate, understandable, and up-to-date with the latest scientific findings. We rely on medical guidelines from international health organizations and get information from academic institutions and peer-reviewed articles, which is fully described in our Flo Editorial Process and Standards.