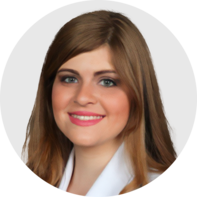 Dr. Claudia Pastorelli Mosca
Obstetrician and gynecologist, medical advisor, Flo Health Inc., Germany
Work Experience: 5+ years in obstetrics and gynecology
"I believe information is power and can change the world. Through technology, we can bring information even to distant communities with limited access to the things money can buy and make a real difference in people's lives."
Career Highlights
Medical Advisor, Flo Health Inc., Berlin, Germany, 2022–present
Medical Knowledge Engineer, Ada Health, Berlin, Germany, 2021–2022
OB-GYN, Alfafin Brasil, Telemedicine Platform, Lisbon, Portugal, and Brazil, 2020–2022
Medical Assistant, Praxis Pima, Hamburg, Germany, 2020–2021
Medical Assistant, Helios Mariahilf, Hamburg, Germany, 2019–2020
OB-GYN, responsible for Labor Room and obstetrics residents, Hospital São Luis Gonzaga, São Paulo, Brazil, 2017–2019
OB-GYN, Private Practice, São Paulo, Brazil, 2016–2018
Education
Currently pursuing a postgraduate degree in human sexology at Instituto Paulista de Sexualidade (InPaSex), São Paulo, Brazil, expected to complete in December 2022
Residency in obstetrics and gynecology at Sistema Municipal de Saúde de São Paulo, Brazil, 2014–2017
Medical degree from the University of Medicine, Mogi das Cruzes, São Paulo, Brazil
Featured Publication
"Do Women Know What Preeclampsia Is? What Is the Level of Knowledge of the Disease in a Small Population Connected to a Social Net?" Pregnancy Hypertension, vol. 2, no. 3, pp. 264–265, July 2012, doi: 10.1016/j.preghy.2012.04.154.
My Journey in Medicine
I discovered my love for obstetrics and gynecology while in medical school, thanks to an inspiring and passionate professor. Taking classes and observing prenatal appointments with high-risk pregnancy patients sparked an immediate interest and even fascination for the incredible transformation the female body is capable of.
A few years into my clinical work, I realized that most women don't have a good understanding of their anatomy and what their bodies can do. As I helped women through pregnancy and delivery, I reflected on how the experience could change for the better if they had more knowledge about what was going on.
I grew up in Brazil, a developing country with a lot of social injustice. Some people can afford to attend great schools and access excellent health care, while others get neither. But I've realized that through technology and the internet, we can make important information accessible to everyone, not just the lucky few.
I began creating content on social media platforms to inform women about their wonderful bodies, both before and after pregnancy. Soon enough, I discovered the world of healthtech. Before joining Flo, I worked for one year for Ada Health, a symptom assessment app. But my dream was to work in femtech, which is what led me here.
Flo brings my two passions together: spreading knowledge and empowering folks on a large scale and women's health.
Fun Facts
I have a pug dog named Hilda, after a famous old Brazilian soap opera. I am Brazilian, but my whole family came from Italy, and I am a living cultural mix between these two places. I love to cook and bake and dream of taking a patisserie course one day so I can create truly amazing cakes.
Flo Advisory Board of 100+ Doctors, Scientists, and Health Experts
We break down complex medical topics into accessible and digestible information that empowers readers to take action and prioritize their own well-being. Our team of Medical and Scientific Advisors is made up of over 100 certified health experts from a variety of disciplines who ensure that every piece of content we release is medically accurate, understandable, and up-to-date with the latest scientific findings. We rely on medical guidelines from international health organizations and get information from academic institutions and peer-reviewed articles, which is fully described in our Flo Editorial Process and Standards.