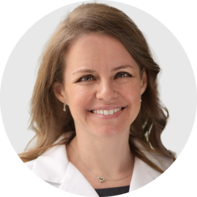 Eleonora Teplinsky, MD
Breast and Gynecologic Medical Oncologist, Valley Health System, NJ, USA
Work Experience: 5+ years in medical oncology
"I am driven by the treatment advances that have occurred in oncology in the last decades. Patients are living longer, being diagnosed earlier, and have improvement in their quality of life during treatment. I am driven every day by the incredible women I have the privilege of treating. Cancer is a life-changing diagnosis, and I am humbled every day by the ability to impact my patients' lives as they go through treatment."
Career highlights
Head of breast medical oncology at Valley Health System, May 2017–present
Clinical assistant professor of medicine at Icahn School of Medicine at Mount Sinai, NJ, USA
My clinical and research interests include survivorship, treatment of young adults with cancer, exercise oncology, and the use of social media in oncology.
Education
Hematology/oncology fellowship at NYU Langone Medical Center, 2012–2015
Internal medicine residency at Tufts Medical Center, 2009–2012
MD in medicine at Tufts University School of Medicine, Boston, MA, 2005–2009
Bachelor of Science in biology at the College of New Jersey, NJ, 2001–2005
Publications
Teplinsky, Eleonora. "It's Time to Update the Lexicon of Cancer." The Boston Globe, 4 Mar. 2022, www.bostonglobe.com/2022/03/04/opinion/its-time-update-lexicon-cancer/.
Teplinsky, Eleonora, et al. "Online Medical Misinformation in Cancer: Distinguishing Fact from Fiction." JCO Oncology Practice, 31 Mar. 2022, doi:10.1200/OP.21.00764.
Pennell, Nathan A., et al. "American Society of Clinical Oncology Road to Recovery Report: Learning from the COVID-19 Experience to Improve Clinical Research and Cancer Care." Journal of Clinical Oncology, vol. 39, no. 2, 10 Jan. 2021, pp. 155–169, doi:10.1200/JCO.20.02953.
Ponce, Sara Beltrán, et al. "Netiquette for Social Media Engagement for Oncology Professionals." Future Oncology, vol. 18, no. 9, 3 Feb. 2022, pp. 1133–1141, doi:10.2217/fon-2021-1366.
Flo Advisory Board of 100+ Doctors, Scientists, and Health Experts
We break down complex medical topics into accessible and digestible information that empowers readers to take action and prioritize their own well-being. Our team of Medical and Scientific Advisors is made up of over 100 certified health experts from a variety of disciplines who ensure that every piece of content we release is medically accurate, understandable, and up-to-date with the latest scientific findings. We rely on medical guidelines from international health organizations and get information from academic institutions and peer-reviewed articles, which is fully described in our Flo Editorial Process and Standards.