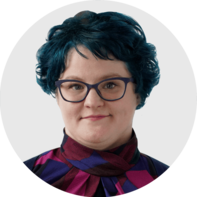 Emily Nagoski, PhD
Amazon and New York Times bestselling author, sex educator, Massachusetts, US
Work Experience: 20+ years in sex and wellness education
"I wring the truth from data and teach women to live with confidence and joy."
Career Highlights
Award-winning and best-selling author of Come as You Are: The Surprising New Science that Will Transform Your Sex Life, honors include the SSTAR's Consumer Book Award in 2017, GoodReads Choice Awards: Top 5 Science and Technology Books, Book Riot's Best of 2015, Autostraddle's Top 10 Queer and Feminist Books, and Indiana University School of Public Health-Bloomington W.W. Patty Distinguished Alumni Award in 2019
Self–employed educator, author, and speaker, 2016–present
Director of Wellness Education at Smith College, Northampton, MA, 2008–2016
Assistant Coordinator for Wellness Programs and Assistant Director of the Women's Center at West Chester University, PA, 2007–2008
Health Educator at Indiana University, Bloomington, IN, 2005–2006
Trained Gottman Seven Principles educator, with extensive specialized training in bystander intervention, motivational interviewing, and cultural sensitivity
Education
PhD in Health Behavior with a concentration in Human Sexuality from Indiana University, Bloomington, IN, 2003–2006
Master of Science in Counseling from Indiana University with a clinical internship at the Kinsey Institute Sexual Health Clinic, Bloomington, IN, 1999–2002
Bachelor of Arts in Psychology with minors in Cognitive Science and Philosophy, University of Delaware, Newark, DE, 1995–1998
Featured Publications
Come As You Are: The Surprising New Science that Will Transform Your Sex Life. Simon & Schuster, 2015.
BURNOUT: The Secret to Unlocking the Stress Cycle. Ebury Digital, 2019.
"Risk, individual differences, and environment: an Agent-Based Modeling approach to sexual risk-taking." Archives of Sexual Behavior, vol. 41, no. 4, Aug 2012, doi: 10.1007/s10508-011-9867-5
My Journey in Sex Education
My career as a sex educator began in 1995, when I started teaching my fellow college students about stress, nutrition, exercise, sex, and sexual violence prevention and response at the University of Delaware. Originally, I planned on using my psychology degree to become a clinical neuropsychologist and work with people following a traumatic brain injury or stroke. Over the past twenty years, I've had the joy of combining my passions for brain science and sex education in various university roles, and more recently as an author and speaker.
As a sex and mental health educator, I love SPSS, Google Scholar, and the library as much as teaching. I design, carry out, and assess innovative, evidence-based interventions surrounding mental health promotion, positive body image, and prevention of alcohol abuse, sexual assualt, and relational aggression.
I speak regularly at college campuses, professional trainings, clinical conferences, and sex positive venues nation-wide and around the world to advance feminist, sex positive, trauma-informed, and science-backed sex and wellness education for everyone.
My main mission in life is to spread knowledge that helps women live happily in their bodies. My first book, Come As You Are, explains the science of female sexual desire. I co-authored my second book, Burnout, with my twin sister, and we give proven strategies to help women manage stress and realize that they are already enough.
Flo Advisory Board of 100+ Doctors, Scientists, and Health Experts
We break down complex medical topics into accessible and digestible information that empowers readers to take action and prioritize their own well-being. Our team of Medical and Scientific Advisors is made up of over 100 certified health experts from a variety of disciplines who ensure that every piece of content we release is medically accurate, understandable, and up to date with the latest scientific findings. We rely on medical guidelines from international health organizations and get information from academic institutions and peer-reviewed articles, all of which is fully described in our Flo Editorial Process and Standards.