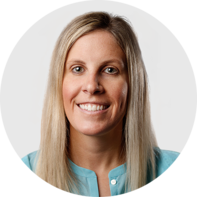 Erica Rauff, PhD
Assistant professor of kinesiology, Seattle University, Washington, US
Work Experience: 10+ years in kinesiology
"I am driven by knowing that the strategies I teach individuals around how to integrate physical activity into their daily life can have a profound impact on their mental and physical health."
Career Highlights
Assistant Professor of Kinesiology at Seattle University, WA, 2017–present
Faculty mentor for the Exercise is Medicine student group at Seattle University, WA
Research and Evaluation Scientist for military family readiness at Pennsylvania State University, PA, 2015–present
Adjunct Instructor at Seattle University, WA, 2016–2017
Research and Teaching Assistant in Kinesiology at Pennsylvania State University, PA, 2007–2013
Eight publications in peer-reviewed journals
Received the Student Research Award from the North American Society for the Psychology of Sport and Physical Activity, 2010
Education
Postdoctoral fellow at Pennsylvania State University, PA, 2014
PhD in Kinesiology from Pennsylvania State University, PA, 2013
Master of Science in Kinesiology from Pennsylvania State University, PA, 2010
Bachelor of Arts in Psychology from Susquehanna University, Selinsgrove, PA, 2007
Featured Publications
"First-year undergraduate students: Depressed, distressed, and drained? Influence of depressive symptoms on markers of psychological well-being, sleep, and physical activity." Journal of American College Health, 2021, doi: 10.1080/07448481.2021.1909043
"​​Are all sedentary behaviors equal? An examination of sedentary behavior and associations with indicators of disease risk factors in women." International Journal of Environmental Research & Public Health, vol. 17, no. 8, Apr 2020, doi: 10.3390/ijerph17082643
"Mobile health technology in prenatal care: Understanding OBGYN providers' beliefs about using technology to manage gestational weight gain." Journal of Technology in Behavioral Science, vol. 4, no. 1, Mar 2019, doi: 10.1007/s41347-018-0068-0
"A prospective examination of physical activity predictors in pregnant women with normal weight and overweight/obesity." Women's Health Issues, vol. 28, no. 6, Nov-Dec 2018, doi: 10.1016/j.whi.2018.09.003
My Journey in Kinesiology
I am passionate about gaining a greater understanding of what motivates people to be active and how to design effective behavioral interventions for physical activity promotion. I'm curious to explore the effects physical activity behavior has on mental and physical well-being across the lifespan.
My research has focused on physical activity during pregnancy and understanding the connection between exercise, mental health, weight gain, and future obesity in prenatal populations. My goal is to help prevent excessive weight gain during pregnancy through nutrition and exercise-based interventions. Recently, I've also researched physical activity, diet, sleep, and psychological well-being among first-year college students, with the aim to develop science-backed exercise programs to improve the health of this population.
At Seattle University, I teach courses on health and wellness, sport psychology, exercise psychology, and research in exercise. Beyond that, I also mentor kinesiology students in the Exercise is Medicine on-campus student group. We meet once per quarter and work together to plan events for the student community around physical activity.
In my free time, I also enjoy keeping up with an active lifestyle by running, biking, swimming, hiking, and skiing, spending as much time as possible outside with my husband and our black Labrador retriever.
At Flo, I advise on content for our younger and pregnant users that encourages them to take care of their health and promote long-term wellness by staying physically active.
Flo Advisory Board of 100+ Doctors, Scientists, and Health Experts
We break down complex medical topics into accessible and digestible information that empowers readers to take action and prioritize their own well-being. Our team of Medical and Scientific Advisors is made up of over 100 certified health experts from a variety of disciplines who ensure that every piece of content we release is medically accurate, understandable, and up-to-date with the latest scientific findings. We rely on medical guidelines from international health organizations and get information from academic institutions and peer-reviewed articles, which is fully described in our Flo Editorial Process and Standards.