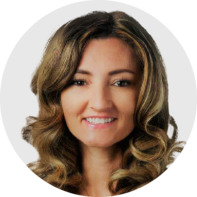 Dr. Erica Stockwell
Gynecologic surgeon, AdventHealth, Florida, US
Work Experience: 5+ years in obstetrics and gynecology
"I am motivated by the ability to make a difference in the lives I touch, whether for my own patients or by teaching other physicians and surgeons to provide better care for their patients. It is truly an honor to be in this position, and I am continually humbled by the stories of the women I meet every day."
Career Highlights
Gynecologic surgeon at AdventHealth, Celebration, FL, 2020–present
President and CEO of Stockwell Medical Inc., Las Vegas, NV, 2017–2020
Assistant minimally invasive gynecologic surgery fellowship program director, Las Vegas Minimally Invasive Surgery, AAGL, Las Vegas, NV, 2018–2020
Minimally invasive gynecologic surgeon and director of innovation and business education at HealthCare Partners, Las Vegas, NV, 2017–2020
Authored numerous published articles and textbook chapters on gynecologic surgery
Holds patents on multiple technology-based medical and surgical devices
Recipient of a number of top performer awards, including Woman to Watch by Vegas Inc., 2019, Surgical Training Award by Las Vegas Minimally Invasive Surgery, 2018, Innovations in MIS
Women's Pelvic Health Award by Boston Scientific, 2017, and more
Medical mission trips to Tanzania, Peru, and Colombia
Fellow of the American Congress of Obstetricians and Gynecologists (FACOG)
Education
Fellowship in minimally invasive gynecologic surgery at Las Vegas Minimally Invasive Surgery, 2015–2017
Master of Business Administration from the University of Nevada, Las Vegas Lee Business School, 2015–2017
Residency in obstetrics and gynecology at the University of Minnesota Medical School, chief resident, Minneapolis, 2011–2015
Medical degree (DO) from Midwestern University, Downers Grove, IL, 2007–2011
Bachelor of Science in biomedical engineering and physiology at the University of Minnesota, Minneapolis, 2003–2007
Featured Publications
"Cosmetic Surgery — Use of 3mm Ports and Reduced-Port Techniques for Gynecologic Surgery." Surgical Technology International, vol. 36, 28 May 2020, pp. 153–156.
"Developing a visual aid to improve women's knowledge of hysterectomy." Patient Education and Counseling, vol. 104, no. 4, Apr. 2021, pp. 715–719, doi: 10.1016/j.pec.2021.01.008.
"Patient Understanding of Uterine Fibroids and the Different Surgical Approaches to Hysterectomy." Women's Health Rep (New Rochelle), vol. 1, no. 1, 17 Aug. 2020, pp. 252–258, doi: 10.1089/whr.2020.0040.
"Intrauterine Pressure During Hysteroscopic Morcellation: A Comparison of Three Commercially Available Devices." Surgical Technology International, vol. 33, 11 Sep. 2018.
"Enhanced Recovery Program and Length of Stay After Laparotomy on a Gynecology Oncology Service: A Randomized Controlled Trial." Obstetrics & Gynecology, vol. 129, no. 2, Feb. 2017, pp. 355–362, doi: 10.1097/AOG.0000000000001838.
My Journey in Medicine
I'm passionate about the intersection between technology and medicine and aim to improve health care for women everywhere through my work. As a gynecologic surgeon, I specialize in treating women and girls for benign gynecologic conditions such as endometriosis, fertility, pelvic organ prolapse, and pelvic pain.
I did my bachelor's degree in biomedical engineering and then went on to earn my medical degree from Midwestern University. During my residency training in obstetrics and gynecology, I developed a robotic surgical training program.
I love to utilize my engineering background to develop safer and more effective surgical innovations and currently hold patents on a number of diverse technological medical and surgical devices. Besides my work as a physician, I have founded a nutraceutical company for women together with six business students from my MBA program at the University of Nevada. We developed a prenatal vitamin powder that's easy on the stomach to make it easier for pregnant women suffering from morning sickness to stick to their daily recommended vitamin regimen.
My goal is to empower women to be stewards of their health. The most fulfilling part of my job as a gynecologic surgeon is the power to make a huge impact on the lives of my patients. It's an honor to be a Medical Advisor for Flo, and I'm excited to be able to touch even more women's lives worldwide with information to help them take care of their bodies.
Fun Facts
In my free time, I love to get outdoors and be active with my husband, dog, and three beautiful children. On the weekends, we enjoy traveling, hiking, camping, playing sports, and just living life to the fullest!
Flo Advisory Board of 100+ Doctors, Scientists, and Health Experts
We break down complex medical topics into accessible and digestible information that empowers readers to take action and prioritize their own well-being. Our team of Medical and Scientific Advisors is made up of over 100 certified health experts from a variety of disciplines who ensure that every piece of content we release is medically accurate, understandable, and up-to-date with the latest scientific findings. We rely on medical guidelines from international health organizations and get information from academic institutions and peer-reviewed articles, which is fully described in our Flo Editorial Process and Standards.