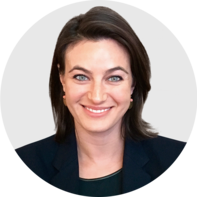 Heather Glubo, PhD
Psychologist, director of behavioral medicine, the American Institute for Cognitive Therapy, New York, US
Work Experience: 10+ years in behavioral medicine
"Our perception is the lens with which we understand and navigate the world. I love helping my patients adjust their perception by meeting them where they are and serving as a mirror through which they can see their world a little differently. This creates the space for small shifts that compound, leading to dramatic results."
Career Highlights
Director of Behavioral Medicine at the American Institute for Cognitive Therapy and runs the young adult group, New York, NY
Supervisor to psychiatry fellows at Mount Sinai Hospital, New York, NY
Adjunct faculty clinical supervisor at the Ferkauf Graduate School of Psychology, New York, NY
Serves on the New York State Psychological Association Division of Culture, Race and Ethnicity
Fellow of New York State Psychological Association's Leadership Institute, 2014
Past Northeast regional advocacy coordinator and representative on the American Psychological Association's Committee for the Advancement of Professional Practice
Published several peer-reviewed journal articles and abstracts
Speaker at numerous national and international conferences, universities, and medical centers, such as the American Congress of Rehabilitation Medicine Young Investigators Symposium
Recipient of several postdoctoral and predoctoral research awards
Education
Dialectical Behavior Therapy Intensive Training with Behavioral Tech at the Linehan Institute Training Company, New York, NY
Neuroanatomical dissection on the human brain and spinal cord at Marquette University, Milwaukee, WI
Maternal Mental Health Certificate Training for Mental Health and Clinical Professionals from PSI and 2020 Mom
Fellowship in Clinical Neurorehabilitation Psychology at Rusk Rehabilitation in the New York University Langone Medical Center, 2012–2014
PhD in Clinical Psychology with an emphasis on health from Yeshiva University, Ferkauf Graduate School of Psychology & Albert Einstein College of Medicine, New York, NY, 2007–2012
Internship in psychology at Rusk Rehabilitation in the New York University Langone Medical Center, 2011–2012
Featured Publication
"Screening instruments for the early detection of cognitive impairment in patients with multiple sclerosis." International Journal of MS Care, Jan-Feb 2017, vol. 19, no. 1, doi: 10.7224/1537-2073.2015-001
My Journey in Medicine
I am fascinated by the connection between the mind and body and take a holistic and evidence-based approach to care. Biological, psychological, and social factors are all important influences on how patients think, feel, and act and their overall health, and I aim to consider each of these in my treatment. Through my training and experience, I've found that when we treat a whole person rather than a list of symptoms, overall outcomes can be significantly improved.
My practice focuses on anxiety, depression, emotion regulation difficulties in young adults, and mental health for new moms. I also treat neurological and medical conditions such as concussion, traumatic brain injury, headaches, pain, cancer, multiple sclerosis, heart disease, and issues affecting women's health. We work together to improve attention, memory, language, visual-spatial skills, emotional management, problem-solving, and personal dynamics.
I enjoy staying up to date with health literature and science breakthroughs, being part of the discussions and questions related to the mind–body feedback loop, and using this knowledge to improve the lives of my patients.
It's wonderful to have the chance to collaborate with Flo to improve the lives of millions of users around the globe and make mental health resources more accessible to those in need.
Flo Advisory Board of 100+ Doctors, Scientists, and Health Experts
We break down complex medical topics into accessible and digestible information that empowers readers to take action and prioritize their own well-being. Our team of Medical and Scientific Advisors is made up of over 100 certified health experts from a variety of disciplines who ensure that every piece of content we release is medically accurate, understandable, and up to date with the latest scientific findings. We rely on medical guidelines from international health organizations and get information from academic institutions and peer-reviewed articles, all of which is fully described in our Flo Editorial Process and Standards.