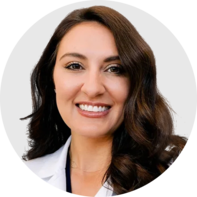 Dr. Holly Singletary
Dermatologist, Westlake Dermatology and Cosmetic Surgery, Texas, US
Work Experience: 15+ years in dermatology
"I am motivated by the lasting relationships I build with my patients, and it's an absolute privilege to be able to make a life-changing impact on people. As a mother of three girls and a medical professional, I realize the importance of self-love and feeling confident, brave, and empowered, and I strive to make everyone who comes to see me feel this way."
Career Highlights
Dermatologist at Westlake Dermatology & Cosmetic Surgery, Austin, TX, 2018–present
Professional speaker for SkinCeuticals, 2016–present
Dermatologist at Vitalogy Skincare, Austin, TX, 2014–2018
Dermatologist at Suzanne Bruce & Associates, Houston, TX, 2011–2014
Presenter at multiple dermatology conferences, including the American Academy of Dermatology and Cosmetic Surgery Forum
Education
Residency in Dermatology (Chief Resident during the final year) at Duke University, Durham, NC, 2007–2011
Internal medicine residency program at the University of Texas Health Science Center at Houston, TX, 2006–2007
Medical Degree from UT Houston medical school with clinical research study evaluating chemotherapy for patients with advanced melanoma, TX, 2006
Bachelor of Science in Pharmacology and Toxicology from Texas A&M University, College Station, TX, 2002
Bachelor of Science in Biomedical Sciences, graduating cum laude from Texas A&M University, College Station, TX, 2000
Featured Publications
"Subcutaneous interferon alfa for the treatment of cutaneous pseudolymphoma." Archives of Dermatological Research, May 2012, vol. 148, no. 5, doi: 10.1001/archdermatol.2011.1016
"Dermatomal sclerodermoid graft-vs-host disease following varicella-zoster virus infection." Archives of Dermatological Research, Sep 2011, vol. 147, no. 9, doi: 10.1001/archdermatol.2011.256
My Journey in Medicine
The field of dermatology is exciting because it's highly innovative and always changing. As research develops and new technologies are discovered, there are continued opportunities for growth and learning. My professional role as a physician allows me to be not only a health care provider but also a mentor, teacher, and advocate for my patients.
I'm incredibly passionate about providing the highest-quality care, using state-of-the-art technology and the latest treatment techniques. For instance, I have specialized training in cutaneous laser and dermatologic surgery. I practice medical, surgical, and cosmetic dermatology, and I enjoy being able to enhance patients' natural beauty through aesthetic injectables. It's extremely motivating to help someone achieve their skin goals and witness the transformation in my patients by bringing out their most powerful features!
Evidence-based medicine and safety are the two most important aspects for me when it comes to caring for my patients. Furthermore, I aim to create a friendly and comfortable atmosphere in my exam room. Finally, I regularly educate patients about prevention techniques to protect their health, such as how to spot early signs of skin cancer.
On the Medical Board at Flo, I help with various content projects related to skin health. My goal is to provide medically accurate information in an engaging way so that our millions of users worldwide feel great in their skin.
Flo Advisory Board of 100+ Doctors, Scientists, and Health Experts
We break down complex medical topics into accessible and digestible information that empowers readers to take action and prioritize their own well-being. Our team of Medical and Scientific Advisors is made up of over 100 certified health experts from a variety of disciplines who ensure that every piece of content we release is medically accurate, understandable, and up to date with the latest scientific findings. We rely on medical guidelines from international health organizations and get information from academic institutions and peer-reviewed articles, all of which is fully described in our Flo Editorial Process and Standards.