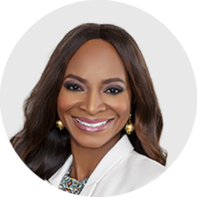 Dr. Iyabo Webzell
Pediatrician, private practice, Georgia, US
Work Experience: 20+ years in pediatrics
"I love to work with kids and their families and give them the tools and resources to look after their health. It's so incredible to watch my young patients grow, with me by their side cheering them on."
Career Highlights
Owner and president of private practice, Milestone Pediatrics, Atlanta, GA, 2004–present
Business and lifestyle coach for medical professionals and women, 2017–present
Motivational speaker who has spoken multiple times in front of the United Nations and women's conferences
Author of the book Permanent Happiness
Board-certified pediatrician and fellow of the American Academy of Pediatricians
Education
Residency in pediatrics at Bronx Lebanon Hospital of the Albert Einstein School of Medicine, New York, NY, 1998–2001
Residency in pediatrics in the United Kingdom, 1994–1998
Medical degree from the University of Lagos College of Medicine, 1992
Bachelor's degree from Queens College, Lagos, 1986
My Journey in Medicine
I grew up in Lagos, Nigeria, and found a passion for medicine and helping people at a young age. At just 16 years old, I started medical school in Lagos and went on to complete my residency training in the United Kingdom and then the United States, where I've been based for over 20 years.
In 2004, I opened my private pediatric practice in Atlanta, Georgia, where I live with my husband, daughters, and stepsons. Our overarching mission at Milestone Pediatrics is to provide excellent preventive care to our patients in a welcoming and friendly environment. I feel honored to be able to serve a very diverse patient population, and we pride ourselves in empowering each one of them to take care of their health. We believe reading is an essential part of early childhood development and give books to every child from six months to five years old at each visit. I also enjoy sharing my love for pediatrics by mentoring medical students in our office; I've taught hundreds of students over the years!
Besides my clinical practice, I am an author, blogger (The Peace Place Blog), motivational speaker, and business and lifestyle coach. I'm passionate about equipping physicians and dentists with the necessary tools to achieve work–life balance, reduce burnout, and practice self-care. I also coach women in other professions to help them accomplish their goals, have financial freedom, and live a healthy lifestyle. In my work, I am committed to promoting peace on all levels and encouraging people to find happiness within themselves.
I joined Flo as a Medical Advisor in 2019. In my role, I write and edit articles related to pediatric care to help the millions of parents around the world who use our app look after their children's health.
Flo Advisory Board of 100+ Doctors, Scientists, and Health Experts
We break down complex medical topics into accessible and digestible information that empowers readers to take action and prioritize their own well-being. Our team of Medical and Scientific Advisors is made up of over 100 certified health experts from a variety of disciplines who ensure that every piece of content we release is medically accurate, understandable, and up to date with the latest scientific findings. We rely on medical guidelines from international health organizations and get information from academic institutions and peer-reviewed articles, all of which is fully described in our Flo Editorial Process and Standards.