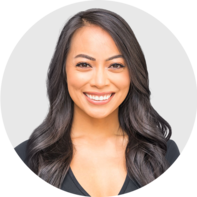 Jenny Jaucian
Fitness instructor, Bay Club Company, California, US
Work Experience: 10+ years in health and fitness
"My professional life is driven by the desire to help thousands of women feel good about themselves. I believe that we cannot reach our highest potential in life if we are not taking care of our health first and foremost."
Career Highlights
Online Fitness Coach at Jenny J Fitness, 2012–present
Group Fitness Instructor at The Bay Club Company, Santa Monica, CA, 2016–present
Online Health and Fitness Coach for Beachbody, 2012–present
Coach at Orangetheory Fitness, Playa Vista, CA, 2015–present
Assistant Fitness Program Manager at Elevation Corporate Health, Playa Vista, CA, 2016–2019
Professional Dancer with Movement Talent Agency, Los Angeles, CA, 2009–2013
Creator and Founder of JJF On Demand, Fit Foodie Club, and GLOW UP!
Worked with major brands as an on-camera fitness expert, including Bowflex, Nike, and PopSugar
Certified National Academy of Sports Medicine Personal Trainer, NASM Weight Loss Specialist, American Council on Exercise Group Fitness Instructor, TRX Suspension Training, WaterCoach Professional Level 1, CPR and AED, and Precision Nutrition Level 1 Coach
Education
Bachelor of Arts in Communications Studies from the University of California, Los Angeles, 2012
My Journey in Fitness
I got into the health and fitness industry out of my own desire to feel fit, happy, and confident in my body. My initial goal when I started my fitness journey was focused exclusively on my physical appearance. But I realized that when you commit to living a healthy, fit lifestyle, it can transform so many more aspects of your life than just how you look!
Through my online programs, products, workout videos, and challenges, I aim to help people from all fitness backgrounds achieve their health and wellness goals. Across all of my social media channels, I have built up a community of almost one million people who are motivated to make health a priority in their lives. In the past, I was a professional dancer, and today I enjoy leading hip hop and high intensity interval training dance classes as a group fitness instructor.
Above all, I approach exercise with positivity and fun — reaching your goal won't be worth it if you feel miserable getting there! I'm also a huge advocate for personal and professional development and regularly listen to podcasts and read books that help me grow. I believe that with consistency, a go-getter attitude, and accountability, you can achieve anything you want in life!
I love working together with health brands that align with my views on wellness, and I enjoy helping Flo create expert fitness content for millions of women worldwide.
Flo Advisory Board of 100+ Doctors, Scientists, and Health Experts
We break down complex medical topics into accessible and digestible information that empowers readers to take action and prioritize their own well-being. Our team of Medical and Scientific Advisors is made up of over 100 certified health experts from a variety of disciplines who ensure that every piece of content we release is medically accurate, understandable, and up-to-date with the latest scientific findings. We rely on medical guidelines from international health organizations and get information from academic institutions and peer-reviewed articles, which is fully described in our Flo Editorial Process and Standards.