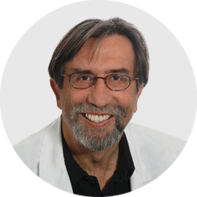 Dr. Johannes Bitzer
Professor emeritus of obstetrics and gynecology, University Hospital of Basel, Switzerland
Work Experience: 40+ years in obstetrics and gynecology
"I am dedicated to women's health because this field combines medicine with social sciences and preventive medicine with treatment, and it has a major impact on the health of women, newborns, and children, as well as on the whole of society, prosperity, and peace."
Career Highlights
Consultant Head of Multidisciplinary Consultation Sexual Medicine/Sexual Therapy at the University Hospital of Basel, 2016–present
Head of Department of Obstetrics and Gynecology, University Hospital of Basel, 2014–2016
Head of Division of Psychosomatic and Psychosexual Medicine, OB-GYN Department, University Hospital of Basel, 2010–2014
Director of knowledge-based assessment in the education committee of the European Board and College of Obstetrics and Gynecology (EBCOG)
Director of the Diploma of Advanced Studies in Sexual Medicine at the Advanced Study Center of the University of Basel and Co-director of the Basel Course of Psychosomatic Obstetrics and Gynecology
Former President of the European Society of Contraception and the International Society of Psychosomatic Obstetrics and Gynecology
Member of several international executive and advisory boards in family planning, sexology, and menopause
Past member of the Board of Trustees of the International Menopause Society and Chair of the Education Committee
Member of the Multidisciplinary Joint Committee of Sexual Medicine
Editor-in-Chief of the European Journal of Contraception and Reproductive Health Care and Associate Editor of the Journal of Sexual Medicine
Education
Doctor of Medicine from University of Freiburg, Germany, 1976
Obstetrician-Gynecologist, University of Basel, Switzerland, 1986
Doctor of Philosophy, University of Basel, Switzerland, 1993
Featured Publications
"Global Consensus Positioning Statement on the Use of Testosterone Therapy for Women." The Journal of Clinical Endocrinology & Metabolism, vol. 104, no. 10, 01 Oct 2019, pp. 4660-4666, doi: 10.1210/jc.2019-01603
"Female Sexual Dysfunction-Medical and Psychological Treatments, Committee 14." The Journal of Sexual Medicine, vol. 14, no. 12, Dec 2017, pp. 1463-1491, doi: 10.1016/j.jsxm.2017.05.018
"The pandemic of violence against women - the latest chapter in the history of misogyny." The European Journal of Contraception and Reproductive Health Care, vol. 20, 2015, pp. 1-3, doi: 10.3109/13625187.2015.1005445
"Do gynecologists talk about sexual dysfunction with their patients?" The Journal of Sexual Medicine, vol. 11, no. 8, Aug 2014, pp. 2048-2054, doi: 10.1111/jsm.12603
"Center of excellence for sexual medicine." The Journal of Sexual Medicine, vol. 10, no. 9, Sep 2013, pp. 2127-2128, doi: 10.1111/jsm.12288
My Journey in Medicine
I was drawn toward obstetrics and gynecology because it is one of the most comprehensive fields of medicine. As OB-GYNs, we need strong communication and surgical skills, knowledge about the body and mind in addition to hormonal regulation and central nervous system processes, and a general understanding of the individual, couple, family, and society.
Over my 40 years as both an academic and practitioner in the field, I have developed a particular interest in the intersection between obstetrics/gynecology and psychology. Much of my research has been dedicated to comprehending the psychosocial influences behind sexual health and dysfunction. I also specialize in contraception. Someone's choice for a certain method of birth control is very individual and should take different factors into account. I do personalized contraceptive counseling to help my patients find the method, either with or without hormones, that best works for them and their bodies.
I believe that good education about sexuality and health starting from an early age is essential because knowledge is power. During my time as President of the European Society of Contraception, I helped develop an educational program to spread knowledge and skills about women's reproductive and sexual health across the continent.
Collaborating with Flo gives me the opportunity to empower women all over the world by providing information and advice on different health topics that affect their daily lives, so they gain more control and a better grasp of what is going on in their bodies and minds.
Flo Advisory Board of 100+ Doctors, Scientists, and Health Experts
We break down complex medical topics into accessible and digestible information that empowers readers to take action and prioritize their own well-being. Our team of Medical and Scientific Advisors is made up of over 100 certified health experts from a variety of disciplines who ensure that every piece of content we release is medically accurate, understandable, and up-to-date with the latest scientific findings. We rely on medical guidelines from international health organizations and get information from academic institutions and peer-reviewed articles, which is fully described in our Flo Editorial Process and Standards.