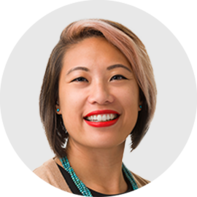 Kathryn Macapagal, PhD
Clinical psychologist and research associate professor, Northwestern University's Institute for Sexual and Gender Minority Health and Wellbeing, Illinois, US
Work Experience: 15+ years in psychology and public health research
"I'm passionate about ensuring digital sexual health tools like Flo are informed by science and inclusive of LGBTQ users."
Career Highlights
Research Associate Professor at Northwestern University's Feinberg School of Medicine, Chicago, IL, 2020–present
Associate Director of the THRIVE Center at the Institue for Sexual and Gender Minority Health and Wellbeing at Northwestern University, Chicago, IL, 2021–present
Author of over 70 publications in the field of sexual health and HIV prevention
Education
Postdoctoral training in Health Services and Outcomes research at Northwestern University's Feinberg School of Medicine, 2014
Residency in Medical Psychology, Sexual and Gender Minority Health, and HIV/AIDS at the Medical College of Georgia–Charlie Norwood VA Medical Center, 2012–2013
PhD in Psychology from Indiana University, Bloomington, IN, 2012
Master of Education in Counseling from the University of Houston, 2006
Bachelor of Arts in Psychology from the University of Texas at Austin, TX, 2004
Featured Publications
"Stigma on the Streets, Dissatisfaction in the Sheets: Is Minority Stress Associated with Decreased Sexual Functioning Among Young Men Who Have Sex with Men?" The Journal of Sexual Medicine, vol. 16, no. 2, Feb 2019, doi: 10.1016/j.jsxm.2018.12.010
"A Qualitative Study Examining Young Adults' Experiences of Disclosure and Nondisclosure of LGBTQ Identity to Health Care Providers." Journal of Homosexuality, vol. 64, no. 10, 2017, doi: 10.1080/00918369.2017.1321379
"Differences in Healthcare Access, Use, and Experiences Within a Community Sample of Racially Diverse Lesbian, Gay, Bisexual, Transgender, and Questioning Emerging Adults." LGBT Health, vol. 3, no. 6, Dec 2016, doi: 10.1089/lgbt.2015.0124
My Journey in Psychology
I aim to support folks on all areas of the sexuality and gender spectrum through my work as a social-behavioral public health scientist. I'm proud to be a leader of Northwestern University's Institute for Sexual and Gender Minority Health and Wellbeing, the first university-wide research institute focused on the health of LGBTQ people in the U.S.
My research and work focus on the intersection of sexual behavior, HIV prevention, and LGBTQ health. I also want to understand how technology and social media can help improve the health, identity development, and well-being of underserved populations. Some of my research projects are focused on digital sexual health and HIV prevention within LGBTQ adolescent populations. I love to design new studies, learn what LGBTQ teens want in terms of digital health applications, analyze data, communicate about sex and LGBTQ health science to the public, and work with an interdisciplinary team of colleagues.
As I'm particularly interested in how mobile health apps can educate and improve the health and well-being of young people, it's such a joy to be on the medical board of the top cycle-tracking app. Here at Flo, I enjoy advising on content for our LGBTQ users and offering ways to make them feel both heard and included in the app.
Flo Advisory Board of 100+ Doctors, Scientists, and Health Experts
We break down complex medical topics into accessible and digestible information that empowers readers to take action and prioritize their own well-being. Our team of Medical and Scientific Advisors is made up of over 100 certified health experts from a variety of disciplines who ensure that every piece of content we release is medically accurate, understandable, and up to date with the latest scientific findings. We rely on medical guidelines from international health organizations and get information from academic institutions and peer-reviewed articles, all of which is fully described in our Flo Editorial Process and Standards.