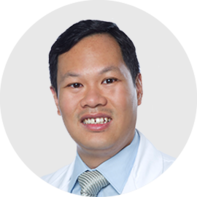 Dr. Kenneth Chen
Director of the division of obstetric and consultative medicine, Women & Infants Hospital, Rhode Island, US
Work Experience: 15+ years in endocrinology
"Seeing the joy on a mother's face when she gives birth to a happy and healthy baby following a complicated pregnancy is the best part of my job. I'm passionate about supporting the long-term health of people with endocrine disorders, diabetes, and obesity, and forming meaningful connections with my patients during this exciting and intimate time of their lives."
Career Highlights
Associate Professor of Medicine and Obstetrics and Gynecology at Brown University
Director of the Division of Obstetric and Consultative Medicine at Women & Infants Hospital, Providence, RI, 2012–present
Co-director of the Integrated Program for High-Risk Pregnancy at Women & Infants Hospital, Providence, RI, 2012–present
Director of the Obesity in Pregnancy service at Women & Infants Hospital, Providence, RI, 2012–present
Director of Endocrinology, Diabetes & Metabolism, Care New England Health, Providence, RI, 2020–present
Department of Medicine's Beckwith Family Award for Outstanding Teaching at The Warren Alpert Medical School of Brown University, 2017
Co-chair of Health & Public Policy Committee, Rhode Island Chapter of American College of Physicians, 2021–present
Education
Fellowship in Endocrinology at The Prince of Wales Hospital, University of New South Wales, Sydney, Australia, 2005–2007
Fellowship in Obstetric and Consultative Medicine at Women & Infants Hospital, Brown University, Providence, RI, 2008–2009
Residency in Internal Medicine at Westmead Hospital, University of Sydney, Australia, 1999–2004
MBBS degree from the University of Sydney, Australia, 1993–1998
My Journey in Medicine
In medical school, I enjoyed the disciplines of internal medicine and obstetrics the most. I decided to specialize in endocrinology once I finished my internal medicine residency, and I found myself especially drawn to caring for pregnant women with various endocrinological conditions.
To this end, I decided to pursue a second fellowship in obstetric medicine so that I could provide more expertise to pregnant women with general medical conditions as well. I am blessed to complete the full circle by working in both the disciplines of internal medicine and obstetrics on a daily basis.
As a physician in obstetric and consultative medicine, I spend most of my time supporting pregnant people with medical conditions to help them have a safe pregnancy and birthing journey. Specifically, I specialize in diabetes (both pre-existing and gestational), obesity, and endocrine disorders during pregnancy. I also have special interests in the use of insulin pumps and continuous glucose monitoring during pregnancy as well as the management of polycystic ovarian syndrome.
I care deeply about the long-term health of mothers and offer preconception counseling to those who have chronic medical conditions to help them achieve better pregnancy outcomes.
At Women and Infants Hospital, I am also the director of the Obesity in Pregnancy service, which was the first of its kind in North America when it was set up back in 2012. I enjoy coaching future doctors about how people who are obese can still have the safest possible pregnancy with the appropriate preconception & interpregnancy care.
It is an absolute joy for me to work with the Flo team to help spread knowledge to users around the world that helps them better manage their personal and reproductive well-being.
Flo Advisory Board of 100+ Doctors, Scientists, and Health Experts
We break down complex medical topics into accessible and digestible information that empowers readers to take action and prioritize their own well-being. Our team of Medical and Scientific Advisors is made up of over 100 certified health experts from a variety of disciplines who ensure that every piece of content we release is medically accurate, understandable, and up to date with the latest scientific findings. We rely on medical guidelines from international health organizations and get information from academic institutions and peer-reviewed articles, all of which is fully described in our Flo Editorial Process and Standards.