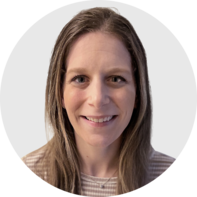 Laura Cordella, MS, RD
Senior clinical dietitian, NewYork-Presbyterian Westchester Behavioral Health Center, New York, US
Work Experience: 5+ years treating eating disorders
"I am passionate about providing women with nutritional information using an evidenced-based, supportive, individualized, and inclusive approach. I believe that health is so much more than simply what we eat. I strive to help women better understand their eating behaviors and how these behaviors impact various aspects of their lives, specifically their mental well-being."
Career Highlights
Senior Clinical Registered Dietitian at NewYork-Presbyterian Westchester Behavioral Health Center, White Plains, NY, 2019–present
Clinical Dietitian/Nutritionist at NewYork-Presbyterian Westchester Behavioral Health Center, White Plains, NY, 2016–2019
Registered Dietitian Nutritionist in private practice, Westchester County, NY
Recognized as Dietitian of the Year in 2020 and Dietetics Preceptor of the Year in 2021 by the NewYork-Presbyterian Hospital System
Member of the Academy of Nutrition and Dietetics and the Academy for Eating Disorders
Education
Eating disorder fellowship at NewYork-Presbyterian Westchester Behavioral Health Center, 2015–2016
Clinical dietetics internship at NewYork-Presbyterian Hospital System, 2014–2015
Master of Science in Nutrition from City University of New York-Hunter College, New York, NY, 2014
Bachelor of Arts in Psychology from Loyola University Maryland, Baltimore, MD, 2010
My Journey in Nutrition
My interest in psychology, combined with my experience as a female living in a diet-obsessed society that idealizes thinness, led me to pursue a career at the intersection of nutrition and mental health. After earning degrees in psychology and nutrition, I became a registered dietitian specializing in providing evidence-based nutritional therapy for those struggling with eating disorders and disordered eating.
My passion for this work intensified after becoming pregnant with my first child. I experienced the pressure placed on women to eat a certain way and maintain a specific body size from preconception through postpartum. At my first prenatal appointment, I received an informational packet on nutrition. Included was a recommendation to avoid bagels during pregnancy because they are "loaded with carbohydrates." This type of advice is not only unhelpful — it also ignores individual needs and circumstances. Nutritional education should be provided in a way that considers psychological outcomes in addition to physical health outcomes, rather than solely linking nutritional choices with physiology. I believe food is meant to provide our bodies with fuel and nutrients, while simultaneously fostering human connection, pleasure, satisfaction, and joy.
In addition to my role as senior clinical dietitian at NewYork-Presbyterian Westchester Behavioral Health Center, I have a small private practice called Nurturing You Nutrition. When I am not working, I can be found exploring new places and staying active with my husband and two little boys.
Flo Advisory Board of 100+ Doctors, Scientists, and Health Experts
We break down complex medical topics into accessible and digestible information that empowers readers to take action and prioritize their own well-being. Our team of Medical and Scientific Advisors is made up of over 100 certified health experts from a variety of disciplines who ensure that every piece of content we release is medically accurate, understandable, and up-to-date with the latest scientific findings. We rely on medical guidelines from international health organizations and get information from academic institutions and peer-reviewed articles, which is fully described in our Flo Editorial Process and Standards.