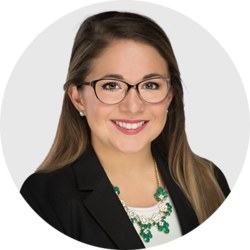 Laura Hanson Downing, MD
OB-GYN, Austin ObGyn Associates, TX, USA
Work Experience: 8+ years' experience in obstetrics and gynecology
"It's important to understand your body and take care of yourself. An app to track your cycle can help you learn about your body and can offer important information for yourself and for your health care provider."
Dr. Laura Hanson Downing, FACOG, chose to specialize in obstetrics and gynecology because she values the ability to connect with women and participate with them in their health throughout their life stages. She is dedicated to educating young women regarding their cycles, health care, and relationships.
Education and professional experience
Dr. Laura Hanson Downing's educational background includes:
Bachelor's degree in biomedical science from Texas A&M University, TX
MD from Baylor College of Medicine, TX
Residency in obstetrics and gynecology and reproductive science at UT Health's Memorial Hermann Hospital, TX
Residency training in Da Vinci robotic surgery
She has working experience at the following organizations:
Austin ObGyn Associates, St. David's Medical Center, Austin, TX
Houston Women's Care Associates, The Woman's Hospital of Texas, Houston, TX
Passion and motivation
As a physician, Dr. Laura Hanson Downing is driven to learn, educate, and empower her patients through knowledge. She believes that the physician–patient relationship should involve trust and the ability to make decisions together for a patient's health.
"Being a new mom gives me a deep appreciation for my pregnant patients and those wanting to start a family. And I look up to my patients who are entering perimenopause and menopause. We as women are always evolving, and it's beautiful! Getting to walk alongside my patients through life's changes is a privilege."