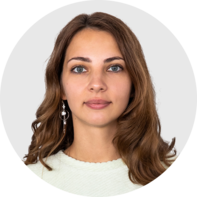 Liudmila Zhaunova, PhD
Director of Science, Flo Health Inc., Lithuania
Work Experience: 5+ years in reproductive biology research
"As a female scientist, it's my priority to move cutting-edge women's health research front and center. The Flo app helps us do just that so we can make important advances in scientific knowledge concerning the menstrual cycle and conditions affecting women."
Career Highlights
Member of a working group focused on development of the FIGO Ovulatory Disorders Classification System, 2021
Postdoctoral research scientist in reproductive oncology at Universitätsklinikum Bonn in Germany, 2018–2019
Clinical embryologist at Nuffield Health Hospital, UK, 2017
Speaker at many national and international conferences, including Bonner Forum Biomedizin in Hennef, Germany; Ernst Klenk Symposium in Molecular Medicine 2018 in Cologne, Germany; the British Meiosis Meeting in Edinburgh, UK; the Meiosis Gordon Research Сonference in New London, US, and others
Conference and workshop organizer at Innovation Forum in Edinburgh, UK, 2016–2017
Education
PhD in Cell and Molecular Biology from University of Edinburgh, Scotland, UK, 2017
Bachelor's degree in Microbiology from Belarusian State University, 2013
Research internship at the University of Leuven, Belgium, 2012
Featured Publications
"Risk factors associated with postpartum depressive symptoms: A multinational study." Manuscript submitted for publication, 2021.
"Premenstrual Symptoms Across the Lifespan in an International Sample: Data from a Mobile Application." Manuscript submitted for publication, 2021.
"Characterization of polycystic ovary syndrome among Flo app users around the world." Reproductive Biology and Endocrinology, vol. 19, no. 26, 03 Mar 2021, doi: 10.1186/s12958-021-00719-y
"SCF-Fbxo43 promotes synaptonemal complex assembly by downregulating PP2A-B56." Journal of Cell Biology, vol, 220, no. 2, 01 Feb 2021, doi: 10.1083/jcb.202009167
"Kdm5/Lid Regulates Chromosome Architecture in Meiotic Prophase I Independently of Its Histone Demethylase Activity." PLOS Genetics, vol. 12, no. 8, 05 Aug 2016, doi: 10.1371/journal.pgen.1006241
My Journey in Science
As a child, I was always surprised when someone said to me, "You look like your mum" or "I can't distinguish you from your sister." I was always wondering why that is so, and this inspired me to get an undergrad degree in biology with a focus on genetics and reproduction. Upon completion of my bachelor's degree, I continued my scientific career and pursued a PhD studying genes and how they regulate chromosome organization and separation within immature eggs (oocytes).
Following my degree, I helped couples struggling to get pregnant by performing embryo analysis and assisting with treatments such as in vitro fertilization (IVF), intrauterine insemination (IUI), egg collection, and sperm and egg freezing/thawing. There's no better feeling than helping people achieve their dream of building a family!
During my postdoctoral, I conducted research to understand how germ cell tumors form as embryos develop and led lectures to fifth-year medical bachelor's degree students and master's biomedical students.
In my role as Lead Science Advisor at Flo, my main responsibility is to ensure that our app is both medically and scientifically accurate and reflects all the latest advancements in research. I also develop clinical studies using Flo data in addition to external research collaborations with the world's leading universities and organizations to promote scientific discoveries in the field of women's health.
I believe that bridging science and technology is the best driver for health innovations, and I'm honored to help advance progress through my work here.
Fun Fact
I've always loved the idea of skydiving but have never actually tried it … I prefer to keep that passion in my imagination!
Flo Advisory Board of 100+ Doctors, Scientists, and Health Experts
We break down complex medical topics into accessible and digestible information that empowers readers to take action and prioritize their own well-being. Our team of Medical and Scientific Advisors is made up of over 100 certified health experts from a variety of disciplines who ensure that every piece of content we release is medically accurate, understandable, and up-to-date with the latest scientific findings. We rely on medical guidelines from international health organizations and get information from academic institutions and peer-reviewed articles, which is fully described in our Flo Editorial Process and Standards.