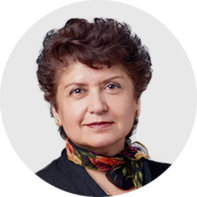 Dr. Lubna Pal
Professor of obstetrics, gynecology, and reproductive sciences, Yale School of Medicine, Connecticut, US
Work Experience: 25+ years in obstetrics, gynecology, and reproductive endocrinology
"I'm passionate about female reproductive health — caring for a single woman can mean caring for an entire community!"
Career Highlights
Vice Chair for Education, Department of Obstetrics, Gynecology, and Reproductive Sciences at Yale School of Medicine, 2020–present
Associate Chair for Education, Department of Obstetrics, Gynecology, and Reproductive Sciences at Yale School of Medicine, 2013–2020
Professor, Yale School of Medicine, 2015–present
Fellowship Director for the Reproductive Endocrinology & Infertility (REI) Fellowship Program at Yale School of Medicine, 2015–2021
Director of the Yale REI Program for Polycystic Ovarian Syndrome, 2007–present
Director of the Yale REI Menopause Program, 2007–present
Associate Professor, Department of Obstetrics, Gynecology, & Reproductive Sciences, Yale School of Medicine, 2020–2015
Assistant Professor, Department of Obstetrics, Gynecology, & Reproductive Sciences, Yale School of Medicine, 2007–2010
Assistant Professor, Department of Obstetrics, Gynecology, & Women's Health, Division of Reproductive Endocrinology & Infertility, Albert Einstein College of Medicine & Montefiore Medical Center, Bronx, NY, 2003–2007
Member of the American Society for Reproductive Medicine, the Endocrine Society, and the North American Menopause Society
Recipient of multiple awards for clinical excellence, teaching, and clinical research
Published in numerous scientific journals
On the Editorial Board of several reputable peer-review journals in the field of Menopause
Edited multiple books in the field of Reproductive Endocrinology
Speaker at multiple national and international meetings, including the FIGO 2021 World Conference on the power of real world data for managing women's health
Education
Fellow of the Royal College of Obstetricians & Gynaecologists, UK, 2015–present
Fellow of the American College of Obstetricians and Gynecologists, 2007–present
Master's degree in Clinical Research from Yeshiva University, New York, 2006
Member of the Royal College of Obstetricians & Gynaecologists, UK, 1996–2015
Diploma in Child Health, United Kingdom, 1991
MBBS in Medicine from Dow University of Health Sciences in Karachi, Pakistan, 1989
My Journey in Medicine
I was drawn to obstetrics and gynecology from a young age — my mother was an OB-GYN, and my father a surgeon. Growing up in Pakistan, I learned that as a women's health provider, particularly in the developing world, it's possible to make a difference not just for one patient at a time, but for multiple families, or even entire communities!
Family-building and well-being are critical for communities to flourish, and this realization influenced my decision to specialize in reproductive endocrinology and infertility. It means so much to me to be able to make a difference for couples who are struggling to conceive — being able to help individuals and couples achieve their dream of building a family is an absolute privilege! The field is dynamic, intellectually stimulating, rapidly evolving … there's never a dull moment!
I truly relish the breadth of practicing reproductive endocrinology and infertility — my experience and expertise range from issues of infertility and fertility planning, reproductive endocrine disorders like polycystic ovary syndrome (PCOS), and recurrent pregnancy loss to challenges related to reproductive aging, including perimenopause, and menopause.
I believe that forging close relationships with patients is crucial to helping them along their healing journey. I believe in the importance of psychological support and personalized care and strive to do my best to be a source of knowledge, information, guidance, and support for each and every patient. Management of infertility and reproductive health issues requires sensitivity and empathy, and genuine compassion is really the key.
It is the challenges faced by our patients that serve as impetus for my research efforts and interests. I have examined the causes and consequences of diminished ovarian reserve in reproductive age women; attempted to understand the relevance of vitamin D as it relates to reproductive health; and examined understanding and knowledge of reproductive wellness information at the population level, to name a few things I've studied.
I strive for a present — and imagine a future — where individuals are empowered with evidence-based information and knowledge, where preventative health is prioritized by both health care providers and patients, and where people play an active role towards the common goal of wellness in their community. I believe that femtech resources like Flo can really help bring us closer to that future — these technological platforms and communities can serve not just as informative hubs, but can also allow active participation of individuals in steering their own health towards wellness and well-being. I am truly privileged to have the opportunity of working alongside many of the world's medical experts to help make a difference in the lives of so many.
Featured Publications
"Implications of diminished ovarian reserve (DOR) extend well beyond reproductive concerns. Menopause, 2008; 15(6):1086-94.
"Replete vitamin D stores predict reproductive success following IVF." Fertil Steril. 2010;94:1314-9.
"Characterizing the reproductive hormone milieu in infertile women with diminished ovarian reserve." Fertility and Sterility, vol. 93, no. 4, Mar 2010, doi: 10.1016/j.fertnstert.2008.10.069
"Knowledge, attitudes and practices regarding conception and fertility: a population-based survey among reproductive age U.S. women. Fertil Steril. 2014 Mar;101(3):767-74.
"Menopause." Nature Reviews Disease Primers, vol. 1, 23 Apr 2015, doi: 10.1038/nrdp.2015.4.
Fertility Preservation in Females with Turner Syndrome: A Comprehensive Review and Practical Guidelines. J Pediatr Adolesc Gynecol. 2015 Oct PMID: 26485320.
"Vitamin D Status Relates to Reproductive Outcome in Women with Polycystic Ovary Syndrome: Secondary Analysis of a Multicenter Randomized Controlled Trial." J Clin Endocrinol Metab. 2016 August: jc20154352.
Effects of Oral vs Transdermal Estrogen Therapy on Sexual Function in Early Postmenopause Ancillary Study of the Kronos Early Estrogen Prevention Study (KEEPS). Oct.2017 JAMA Intern Med PMID: 28846767
"Recent advances in understanding primary ovarian insufficiency." F1000Research, vol. 9, 07 Sep 2020, doi: 10.12688/f1000research.26423.1.
"Recommended Hormone Therapy in Menopause: Concepts, Controversies and Approach to Treatment", Endocrine Reviews, 2021; bnab011, https://doi.org/10.1210/endrev/bnab011
Flo Advisory Board of 100+ Doctors, Scientists, and Health Experts
We break down complex medical topics into accessible and digestible information that empowers readers to take action and prioritize their own well-being. Our team of Medical and Scientific Advisors is made up of over 100 certified health experts from a variety of disciplines who ensure that every piece of content we release is medically accurate, understandable, and up-to-date with the latest scientific findings. We rely on medical guidelines from international health organizations and get information from academic institutions and peer-reviewed articles, which is fully described in our Flo Editorial Process and Standards.