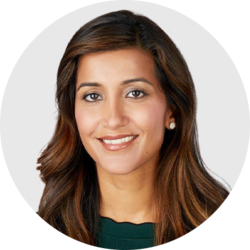 Lucky Sekhon, MD
OB-GYN, Reproductive Endocrinologist and Infertility Specialist, Reproductive Medicine Associates of New York, NY, USA
Work Experience: 9+ years of experience in obstetrics and gynecology
"I love that OB-GYNs take care of women throughout all stages of their life - whether transitioning through puberty, exploring their contraceptive options, trying to conceive, navigating pregnancy and postpartum issues, and entering menopause. I also enjoy being a physician-scientist that participates in cutting-edge research that drives clinical decision making."
Dr. Lucky Sekhon, MD, FACOG, specializes in diagnosing and treating reproductive issues and has particular expertise in fertility preservation techniques that include egg or embryo freezing and in vitro fertilization with preimplantation genetic testing of embryos.
She uses minimally invasive techniques like laparoscopy and hysteroscopy to treat a variety of surgical conditions, including endometriosis and uterine factor infertility.
Education
Medical degree from the Royal College of Surgeons in Ireland
Residency in Obstetrics, Gynecology, and Reproductive Science at the Mount Sinai Health System in New York City
Subspecialty training in Reproductive Endocrinology and Infertility at the Icahn School of Medicine at Mount Sinai/RMA of New York fellowship program
Passion and Motivation
Dr. Sekhon hosts Fertility Fridays, a video podcast, and also shares her expertise as both a fertility specialist and a mom on her personal Instagram account @lucky.sekhon and blog www.theluckyegg.com.
"I am passionate about educating women and couples about their reproductive health and family building options."