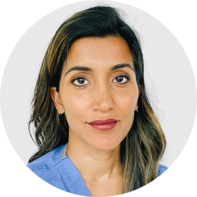 Dr. Lucky Sekhon
Obstetrician and gynecologist, reproductive endocrinologist, and infertility specialist, Reproductive Medicine Associates of New York, New York, US
Work Experience: 10+ years in obstetrics and gynecology
"I love that OB-GYNs take care of women throughout all stages of their life — whether transitioning through puberty, exploring their contraceptive options, trying to conceive, navigating pregnancy and postpartum, or entering menopause. I am passionate about educating women and couples about their reproductive health and family-building options."
Career Highlights
Reproductive Endocrinologist and Infertility Specialist at Reproductive Medicine Associates of New York, 2018–present
Assistant Clinical Professor of Obstetrics, Gynecology, and Reproductive Science at Icahn School of Medicine at Mount Sinai
Clinical Researcher in Reproductive Endocrinology and Infertility at Harvard Medical School, 2014
Awarded the Medal of Excellence while in medical school for her research in male reproductive health
Fellow of the American College of Obstetrics and Gynecology and active member of the American Society for Reproductive Medicine
Published dozens of scientific abstracts and 10 articles in peer-reviewed journals
Education
Fellowship in Reproductive Endocrinology and Infertility at the Icahn School of Medicine at Mount Sinai, NY, USA, 2015–2018
Residency in Obstetrics and Gynecology at the Icahn School of Medicine at Mount Sinai, NY, USA, 2011–2015
Doctorate in Medicine from the Royal College of Surgeons in Ireland, graduated with honors, Dublin, 2010
Bachelor of Science in Biology from McGill University, Montreal, Canada, 2006
Featured Publications
"Infertile patients with inflammatory bowel disease have comparable in vitro fertilization clinical outcomes to the general infertile population." Gynecological Endocrinology, vol. 36, no. 6, Jun 2020, doi: 10.1080/09513590.2019.1684465
"Endometrial preparation before the transfer of single, vitrified-warmed, euploid blastocysts: does the duration of estradiol treatment influence clinical outcome?" Fertility and Sterility, vol. 111, no. 6, Jun 2019, doi: 10.1016/j.fertnstert.2019.02.024
"Blastocyst vitrification, cryostorage and warming does not affect live birth rate, infant birth weight or timing of delivery." Reproductive BioMedicine Online, vol. 37, no. 1, Jul 2018, doi: 10.1016/j.rbmo.2018.03.023
My Journey in Medicine
I chose to specialize in reproductive medicine because I enjoy helping women and couples take control of their fertility and build the family of their dreams. Currently, I care for patients at Reproductive Medicine Associates of New York, an international leader in the field of reproductive medicine. I also teach medical students part-time about obstetrics, gynecology, and reproductive medicine at the Icahn School of Medicine at Mount Sinai, which is where I completed my residency.
My specific areas of expertise include diagnosing and treating reproductive conditions, fertility preservation techniques (egg or embryo freezing), in vitro fertilization with preimplantation genetic testing of embryos, and LBGTQ family planning. In my work, I also often perform minimally invasive procedures such as laparoscopy and hysteroscopy to treat conditions including endometriosis and uterine factor infertility.
Besides practicing medicine, I enjoy being a physician scientist who participates in cutting-edge research that drives clinical decision-making. My research has focused on male fertility, personalized medicine, genetics, and embryonic gene expression networks.
When I'm not seeing patients or conducting clinical research, I love to educate people about fertility, conception, and pregnancy-related topics through my blog, called "The Lucky Egg," and my Instagram, @lucky.sekhon. I've also been quoted in several media outlets, including "Ask Men," on the subject of male fertility testing and factors that can impact male fertility, Weight Watchers on uterine fibroids, and Well and Good about COVID vaccination and pregnancy.
It's a true pleasure to collaborate with Flo about gynecological topics and help spread empowering information to millions of users worldwide.
Flo Advisory Board of 100+ Doctors, Scientists, and Health Experts
We break down complex medical topics into accessible and digestible information that empowers readers to take action and prioritize their own well-being. Our team of Medical and Scientific Advisors is made up of over 100 certified health experts from a variety of disciplines who ensure that every piece of content we release is medically accurate, understandable, and up-to-date with the latest scientific findings. We rely on medical guidelines from international health organizations and get information from academic institutions and peer-reviewed articles, which is fully described in our Flo Editorial Process and Standards.