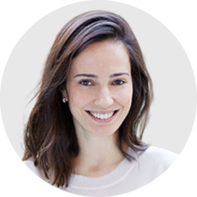 Marcela Fiuza, RD, MSc
Consultant dietitian, Marcela Nutrition, UK
Work Experience: 10+ years in nutrition
"Through my work as a dietitian, I aim to help people prevent diseases and optimize their health through diet and lifestyle interventions. I am particularly passionate about improving the quality and accessibility of information in order to empower women and break taboos associated with women's health to address the gender gap in our health care systems."
Career Highlights
Founder and consultant dietitian at Marcela Nutrition, London, UK, 2015–present
Senior cystic fibrosis dietitian at St. Bartholomew Hospital, London, UK, 2017–2021
Specialist cardiothoracic dietitian at Royal Brompton Hospital, London, UK, 2014–2017
Pediatric dietitian at Royal Brompton Hospital, London, UK, 2013–2014
Pediatric dietitian at Royal London Hospital, London, UK, 2013
Media spokesperson for the British Dietetic Association, featured on BBC One's "Food: Truth or Scare," ITV's "Food Unwrapped," and frequently seen in publications including Women's Health, HELLO!, ID, The Financial Times, BBC News, and The Independent.
Member of the British Dietetic Association (BDA), Health Care and Professional Council, Maternal and Fertility Subgroup of the BDA, and Freelance Dietitians Subgroup of the BDA
Education
European Society for Clinical Nutrition and Metabolism LLL Programme in Clinical Nutrition and Metabolism, 2016
Postgraduate diploma in nutrition and dietetics from King's College London, UK, 2013
Master of Science in nutrition from King's College London; awarded the Kellogg's Prize for the best MSc nutrition project, UK, 2011
Bachelor of Science in human nutrition, first class honors, from the University of Westminster, 2010
Featured Publications
"Melanin Concentrating Hormone in Peripheral Circulation in the Human." Journal of Endocrinology, vol. 232, no. 3, Mar. 2017, doi: 10.1530/JOE-16-0240.
"The Role of Parenteral Nutrition in the Surgical Cardiothoracic Patient: A Case Study." NHD Magazine, no. 114, May 2016 (Link to case study)
"Polymeric or Peptide: What Is the Best Feed for ECMO Patients?" Abstract. Clinical Nutrition, vol. 34, no. 1, Sep. 2015, doi: 10.1016/S0261-5614(15)30207-7.
"An Interesterified Palm Olein Test Meal Decreases Early-Phase Postprandial Lipemia Compared to Palm Olein: A Randomized Controlled Trial." Lipids, vol. 49, no. 9, Sep. 2014, doi: 10.1007/s11745-014-3936-1.
My Journey in Nutrition
Growing up, I knew I wanted to work in health care. As I began to understand the role of diet and lifestyle in preventing disease and optimizing well-being, I knew dietetics would be the perfect career path for me.
After completing my education, I was fortunate to start my career working at a leading National Health Service hospital in London. I had the opportunity to learn from incredible experts in a range of clinical specialties, including cardiovascular disease and Type 2 diabetes. These noncommunicable diseases are driven by lifestyle factors such as poor diet and physical inactivity, which means they are largely preventable.
This experience helped me realize that my real passion is to help people prevent disease in the first place. So in 2015, I founded Marcela Nutrition with the goal of spreading knowledge about how you can take care of your health through a balanced diet. I offer consulting to individuals and businesses, host workshops and educational sessions, and write about health topics for different brands.
In addition to prevention, other specialties of mine include healthy aging and women's health. I am particularly interested in digital technologies for improving access to health information and regularly work with companies on product development. I love collaborating with brands such as Flo so I can share evidence-based nutrition content that will reach and hopefully empower so many people all over the world.
Fun Facts
When I am not working, I am usually hanging out with my family (I have two sons). I love doing Pilates and yoga and try to exercise as often as I can. I also enjoy going to the cinema, traveling, and cooking.
Flo Advisory Board of 100+ Doctors, Scientists, and Health Experts
We break down complex medical topics into accessible and digestible information that empowers readers to take action and prioritize their own well-being. Our team of Medical and Scientific Advisors is made up of over 100 certified health experts from a variety of disciplines who ensure that every piece of content we release is medically accurate, understandable, and up-to-date with the latest scientific findings. We rely on medical guidelines from international health organizations and get information from academic institutions and peer-reviewed articles, which is fully described in our Flo Editorial Process and Standards.