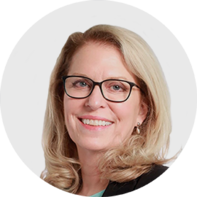 Margaret Howard, PhD
Professor of psychiatry, Brown University, Rhode Island, US
Work Experience: 20+ years in psychology and psychiatry
"Each woman has a unique set of experiences, but what unites them is that they are experiencing depression or another mood disorder at a time when there is a strong cultural expectation to be 'happy' (during pregnancy or after giving birth). Another thing that unites women with these conditions is a strong desire to become well. Thankfully, these conditions are very responsive to treatment, and it's so satisfying for me to support my patients and help them recover."
Career Highlights
Executive director of women's mental health at Care New England, 2019–present
Professor of psychiatry and human behavior at the Warren Alpert Medical School of Brown University, Providence, RI, 2000–present
Division director and founder of women's behavioral health at Women & Infants Hospital of Rhode Island (the first mother-baby perinatal psychiatric partial hospital in the US), 2011–present
Published, taught, and lectured nationally and internationally on the topic of perinatal psychiatric disorders
Recipient of many awards recognizing contribution to the field of perinatal mental health, including the Distinguished Leadership Award by the Committee on Women in Psychology of the American Psychological Association
Education
Internship and fellowship at Brown University Medical School, Providence, RI, 1985–1987
PhD in clinical psychology from Southern Illinois University, Carbondale, IL, 1980–1985
Master's degree in counseling psychology from Southern Illinois University, Carbondale, IL, 1983
Bachelor's degree in psychology from Western Washington University, Bellingham, WA, 1975–1979
Featured Publications
"Peripartum depression: Early recognition improves outcomes." Cleveland Clinic Journal of Medicine, vol. 84, no. 5, May 2017, doi: 10.3949/ccjm.84a.14060
"Symptoms of the anxiety disorders in a perinatal psychiatric sample: a chart review." The Journal of Nervous and Mental Disease, vol. 202, no. 2, Feb 2014, doi: 10.1097/NMD.0000000000000086
"Prenatal yoga and depression during pregnancy." Birth, vol. 37, no. 4, Dec 2010, doi: 10.1111/j.1523-536X.2010.00435_1.x
My Journey in Psychology
I decided to focus on perinatal mental health early in my career when one of my patients developed severe postpartum depression after giving birth to her first child. I had very little experience in this area, so I began researching and reading. The more I learned about perinatal mood and anxiety disorders, the more intrigued I became. I started seeing more and more women with these conditions in my clinical practice.
What drives me in my professional life is a true desire to make a difference in the lives of pregnant and postpartum women. On an individual level, I aspire to guide women on their journey to wellness. On a more system-wide level, I find it highly satisfying to be involved in education, research, and program development.
As a founder of the first mother-baby psychiatric partial hospital program for perinatal women in America, it is endlessly gratifying to see similar programs open around the country. Knowing that even more mothers will be supported during this critical time in their lives through these specialized programs invigorates my work every day.
It's wonderful to be a consultant for the top cycle-tracking app in the US. I appreciate Flo's evidence-based approach and support its mission to empower women and mothers everywhere with important knowledge to take care of their physical and mental well-being.
Flo Advisory Board of 100+ Doctors, Scientists, and Health Experts
We break down complex medical topics into accessible and digestible information that empowers readers to take action and prioritize their own well-being. Our team of Medical and Scientific Advisors is made up of over 100 certified health experts from a variety of disciplines who ensure that every piece of content we release is medically accurate, understandable, and up to date with the latest scientific findings. We rely on medical guidelines from international health organizations and get information from academic institutions and peer-reviewed articles, all of which is fully described in our Flo Editorial Process and Standards.