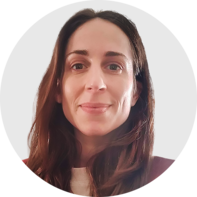 Dr. Maria Corniero
Obstetrician and gynecologist, Hospital Universitario del Sureste, Arganda del Rey, Spain
Work Experience: 5+ years in obstetrics and gynecology
"I have always admired the strength that pregnant women radiate. While attending medical school, I quickly found my passion in health care: obstetrics and gynecology. Now that I work with pregnant women on a daily basis, I know they often feel afraid of what's to come, but the majority still maintain a feeling of calm and wisdom even in very stressful situations. This is something that inspires me at work every day."
Career Highlights
Obstetrician and gynecologist, Hospital Universitario del Sureste, Arganda del Rey, Madrid, Spain, 2015–present
Obstetrician and gynecologist, Doctors Without Borders, Abs Hospital, Yemen, 2020–2021
On-call physician throughout the COVID-19 lockdown, Hospital General Universitario Gregorio Marañón, Madrid, Spain, 2020
Obstetrician and gynecologist, private clinic Agrupación de ginecólogos Española, Madrid, Spain, 2015–2017
Clinical professor in the surgery department, University Alcalá de Henares, Madrid, Spain, 2014–2015
Education
Master's degree in oncological gynecology, CEU Cardenal Herrera University, Alfara del Patriarca, Spain, 2017–2018
Residency in obstetrics and gynecology, Guadalajara University Hospital, Guadalajara, Spain, 2011–2015
Training in endoscopic surgery, Ospedale Sacro Cuore Don Calabria, Verona, Italy, 2014
Training in the Fertility and Reproductive Medicine Hospital, Universitario Gregorio Marañón, Madrid, Spain, 2014
Training in endoscopic surgery in animal models (sheep), Jesús Usón Minimally Invasive Surgery Centre, Cáceres, Spain, 2013
Medical degree, Universidad Autónoma de Madrid, Spain, 2003–2010
Featured Publications
"Toxoplasmosis: Obstetrics, Health and Nutrition" presentation on the benefits of eating ham during pregnancy. Toxoplasma Symposium, XXXII National Congress of the Spanish Society of Gynecology and Obstetrics, Tenerife, Spain, May 2013
Posters in the 18th World Congress in Fetal Medicine from the Fetal Medicine Foundation, Alicante, Spain, June 2019. "Retrospective Study (in Progress) about Association between Fetal Fraction on Cell-free DNA Testing and Development of Preeclampsia" and "Gender Estimation in First Trimester with Anogenital Distance." Hospital Universitario del Sureste, Arganda del Rey, Madrid, Spain
My Journey in Medicine
As an OB-GYN, I diagnose and treat a wide variety of women's health conditions, speak to women about their reproductive health, and help my patients have a healthy pregnancy. One of my specialties is endoscopy, or minimally invasive surgery, to detect and help with fertility problems, chronic pelvic pain, and remove polyps, among other things. I completed two training programs in this type of surgery during my residency.
Across my career, I have always chosen to work with companies and health care centers where they put the patient first. One of the most enriching experiences I've had as a doctor was the year I spent volunteering with Doctors Without Borders in Yemen.
I'm really excited about joining Flo's medical board and using my medical expertise in women's health to help our users all over the world. Flo is a great platform that empowers women and people who menstruate with accessible information about their well-being.
Flo Advisory Board of 100+ Doctors, Scientists, and Health Experts
We break down complex medical topics into accessible and digestible information that empowers readers to take action and prioritize their own well-being. Our team of Medical and Scientific Advisors is made up of over 100 certified health experts from a variety of disciplines who ensure that every piece of content we release is medically accurate, understandable, and up-to-date with the latest scientific findings. We rely on medical guidelines from international health organizations and get information from academic institutions and peer-reviewed articles, which is fully described in our Flo Editorial Process and Standards.