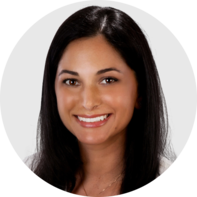 Dr. Marie Mona Forgie
Obstetrician and gynecologist, Aurora Sinai Medical Center, Wisconsin, US
Work Experience: 10+ years in obstetrics and gynecology and medical education
"Knowing more about our physical selves allows us to have more control and confidence in our lives. In my role as an OB-GYN, I aim to help women feel empowered and strong in their bodies."
Career Highlights
Obstetrician-gynecologist at Aurora Sinai Medical Center, Milwaukee, WI, 2014–present
Faculty for Aurora OB-GYN residency program, 2014–present
Director of OB-GYN medical student clerkship at the University of Wisconsin, Madison, 2014–present
Centering Pregnancy Facilitator at Aurora Sinai Medical Center, Milwaukee, WI, 2010–present
Leader of the Gender Affirming Surgical Steering Committee, Aurora Sinai Surgical Team Approach to Advanced Recovery Committee, Advocate Aurora Health Scientific Day Committee, and Aurora Sinai Postpartum Physical Therapy Committee at Aurora Sinai Medical Center, Milwaukee, WI
Fellow of the American Congress of Obstetricians and Gynecologists and member of the World Professional Association for Transgender Health
Received many awards, including the Dr. Cindy Haq Distinguished Teaching Award, 2021; the Association of Professors of Gynecology and Obstetrics Excellence in Teaching Award, 2021; the Kate-Elllen Polacheck Award for Nurse Physician Partnership, 2019; Milwaukee Top Doctor from Milwaukee Magazine, 2018; Council on Resident Education in Obstetrics and Gynecology National Faculty Award, 2019 and 2017; and several others
Education
Residency in Obstetrics and Gynecology at Aurora Sinai Medical Center, Chief Resident, Milwaukee, WI, 2010–2014
Doctor of Osteopathic Medicine Degree from Chicago College of Osteopathic Medicine, ranked in the top 15% of her class, Midwestern University, IL, 2006–2010
Bachelor of Arts in Integrative Biology and Women's Studies from the University of California, Berkeley, 2000–2004
Featured Publications
"Probiotic interventions to reduce antepartum Group B Streptococcus colonization: A systematic review and meta-analysis." Midwifery, vol. 105, 25 Nov 2021, doi: 10.1016/j.midw.2021.103208
"Family-centered cesarean delivery: a randomized controlled trial." American Journal of Obstetrics and Gynecology MFM, vol. 3, no. 6, Nov 2021, doi: 10.1016/j.ajogmf.2021.100472
"Dancing during labor: Are women down to boogie?" Journal of Patient-Centered Research and Reviews, vol. 7, no. 4, 23 Oct 2020, doi: 10.17294/2330-0698.1746
My Journey in Medicine
Before realizing that I wanted to be a doctor, I knew that I wanted to help women feel more powerful. There is such a taboo around women's bodies that many are afraid to ask questions or to get a better understanding of their reproductive health.
As an OB-GYN, I diagnose and treat conditions that impact a woman's physical and mental health. Each day, I am driven by my desire to help people learn about themselves, become comfortable in their bodies, and have more authority in their reproductive decision-making. When I see my patients, I aim to be kind and understanding, listening to any fears or hesitation they may have, so we can become collaborative partners on their treatment journey.
It's so exciting for me to join Flo as a medical advisor. Flo can help people learn how to pay attention and listen to their own bodies, showing patterns in a way that makes it easier to understand. This gives users greater knowledge of what to expect and how to make more informed health choices.
Flo Advisory Board of 100+ Doctors, Scientists, and Health Experts
We break down complex medical topics into accessible and digestible information that empowers readers to take action and prioritize their own well-being. Our team of Medical and Scientific Advisors is made up of over 100 certified health experts from a variety of disciplines who ensure that every piece of content we release is medically accurate, understandable, and up-to-date with the latest scientific findings. We rely on medical guidelines from international health organizations and get information from academic institutions and peer-reviewed articles, which is fully described in our Flo Editorial Process and Standards.