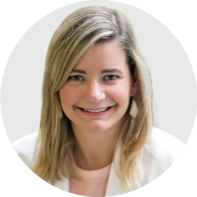 Dr. Marta Perez
Obstetrician and gynecologist, assistant professor, Washington University School of Medicine, Missouri, US
Work Experience: 5+ years in obstetrics and gynecology
"I am passionate about reproductive health because it touches every human's experience and requires a trusting, therapeutic relationship between patient and doctor."
Career Highlights
Assistant Professor of Obstetrics and Gynecologists at Washington University School of Medicine in St. Louis, MO, 2020–present
Fellow of the American College of Obstetricians and Gynecologists, 2020
Board member of Renewing Dignity, a nonprofit dedicated to ending local period poverty in my hometown of Jacksonville, Florida, 2019–present
Education
Residency in Obstetrics and Gynecology at Washington University in St. Louis/Barnes Jewish Hospital consortium program, MO, 2014–2018
Degree in Medicine from Vanderbilt University School of Medicine, Nashville, TN, 2010–2014
B.A. in Psychology from Georgetown University, Washington, DC, 2006–2010
Featured Publications
Perez, M. J., Paul, R., Hirshberg, J., Aibangbee, E., Ford, T., Cooke E., Carter, E. B., Odibo, A. O., Raghuraman, N., & Kelly, J. C. (2021) "MS Administration of the Coronavirus Disease 2019 (COVID-19) Vaccine to Hospitalized Postpartum Patients." Obstetrics & Gynecology, doi:10.1097/AOG.0000000000004590
Perez, M.J., Chang J.J., Temming, L.A., Carter, E.B., López, J.D., Tuuli, M.G., Macones, G.A., & Stout, MJ. (2020) "Driving Factors of Preterm Birth Risk in Adolescents." AJP Rep, 2020 Jul;10(3), e24–-e252. doi: 10.1055/s-0040-1715164
My Journey in Medicine
I spend my days caring for pregnant and postpartum patients, coaching them through labor and delivery. I recently went through my first pregnancy, which helps me better connect and relate to my patients — there are aspects of pregnancy and parenting that aren't so easy, and I aim to support my patients as best as I can so they can fulfill their goals to build a happy, healthy family.
At Washington University, I teach medical students and residents about the work involved in becoming an OB-GYN, preparing them to provide high-quality, empathetic care during all the stages of their patients' lives. My research has focused on perinatal health, and I've published several articles in peer-reviewed medical journals in the field.
After I completed my residency, I suspected that my true calling was to subspecialize in Maternal-Fetal Medicine (MFM), and I am really excited to be starting a fellowship in MFM at the University of Texas Austin Dell Medical School in July 2022! I look forward to deepening my knowledge of complex medical conditions in pregnancy, fetal diagnosis and management, and conducting research to make pregnancy care safer.
I'm passionate about providing helpful, expert health information online. There's so much bad health advice out there, and I aim to combat that by educating thousands of followers through YouTube and my Instagram channel, @dr.martaperez, and blog. Sharing knowledge via these platforms allows me to explore topics in greater depth than I have time for in a typical office visit. I cover many aspects of women's health, from periods, birth control, and fertility to pregnancy and postpartum, and I provide the tools and resources women need to take a more active role in their well-being. I've also appeared as a guest in many podcasts, including the "Mommy Labor Nurse Podcast," "Dabble Co.," "Yoga㆐Birth㆐Babies," and "The Upside with Callie & Jeff."
Collaborating with Flo is wonderful because real, evidence-based education should not be limited to a short doctor's visit but should be available in our everyday lives on the platforms and apps we use each day.
Fun Facts
Outside of caring for patients and teaching medical students, I like to keep active, read, cook, and spend time outside with my husband, rescue dog, and baby boy.
Flo Advisory Board of 100+ Doctors, Scientists, and Health Experts
We break down complex medical topics into accessible and digestible information that empowers readers to take action and prioritize their own well-being. Our team of Medical and Scientific Advisors is made up of over 100 certified health experts from a variety of disciplines who ensure that every piece of content we release is medically accurate, understandable, and up-to-date with the latest scientific findings. We rely on medical guidelines from international health organizations and get information from academic institutions and peer-reviewed articles, which is fully described in our Flo Editorial Process and Standards.