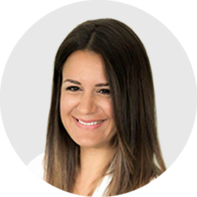 Natalie Moghaddam, MMedSci
Senior embryologist, Gargash Hospital, United Arab Emirates
Work Experience: 15+ years in embryology
"It's an honor to play this important role in a couple's fertility journey. Being able to help people fulfill their dream of becoming parents is incredibly rewarding and never gets old!"
Career Highlights
Senior Embryologist at Gargash Hospital, Dubai, UAE, 2020–present
Lead Embryologist at Bourn Hall Fertility Clinic, Dubai, UAE, 2017–2020
Assistant IVF Laboratory Manager at ARGC Limited, 2015–2017
Senior Embryologist at Bourn Hall Fertility Clinic, 2013–2015
Senior Embryologist at ARGC Limited, London, UK, 2011–2013
Embryologist at IVF Hammersmith, London, UK, 2007–2010
Education
Certification in Clinical Embryology with The Association of Clinical Embryologists, 2007–2009
Master of Medical Science in Reproductive Technology from the University of Nottingham, UK, 2006
Bachelor of Science in Applied Biology from the University of Nottingham, UK, 2005
Featured Publication
"Role of antioxidants in female fertility." Open Journal of Obstetrics and Gynecology, vol. 8, no. 2, Feb 2018, doi: 10.4236/ojog.2018.82011
My Journey in Medicine
I am passionate about helping people conceive a child while upholding the highest standards of patient care. Each day, I am driven to put my best foot forward to make my patients' dreams come true.
Before moving to the United Arab Emirates, I was working at top in vitro fertilization (IVF) clinics in London. In my three years at ARGC, we were able to achieve the highest pregnancy rates among all IVF clinics in the United Kingdom. Now I work at Gargash Hospital in Dubai, leading my team of embryologists with the goal to maximize conception success rates.
Day to day, I have the pleasure of meeting many inspiring people and consulting with them on their fertility. I also perform egg collection, examine healthy sperm and eggs, and monitor embryos to select the ones that will be transferred into the patient's uterus. If necessary, I carry out pre-implantation genetic testing of the embryos to check for any chromosomal abnormalities and increase the chances of a healthy pregnancy.
I'm so grateful for the opportunity to be here as a member of Flo's medical board and help millions of people around the globe on their health and pregnancy journeys.
Flo Advisory Board of 100+ Doctors, Scientists, and Health Experts
We break down complex medical topics into accessible and digestible information that empowers readers to take action and prioritize their own well-being. Our team of Medical and Scientific Advisors is made up of over 100 certified health experts from a variety of disciplines who ensure that every piece of content we release is medically accurate, understandable, and up-to-date with the latest scientific findings. We rely on medical guidelines from international health organizations and get information from academic institutions and peer-reviewed articles, which is fully described in our Flo Editorial Process and Standards.