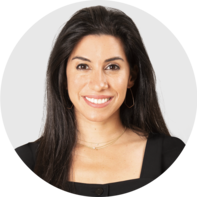 Dr. Nazaneen Homaifar
Obstetrician and gynecologist, Inova Health System, Washington, DC, US
Work Experience: 5+ years in obstetrics and gynecology
"I have always taken a great interest in how women get access to health care and many of the societal challenges they face. Obstetrics and gynecology also offer a unique blend of practice that I love: continuity with my patients, a combination of surgical and clinical work, and an opportunity to help patients through truly vulnerable times."
Career Highlights
OB-GYN at Inova Health System, Falls Church, VA, 2021–present
Medical Advisor on product development and content projects to women's health startups, 2020–present
Assistant Clinical Professor in the Department of Obstetrics, Gynecology, and Reproductive Services at the University of California San Francisco (UCSF) Medical Center, CA, 2017–2013
Fulbright Scholar, evaluated adolescent reproductive and sexual health policies and programs in collaboration with the Direction of Population in the Moroccan Ministry of Health in Rabat, Morocco, 2006–2007
Member of the American Board of Obstetrics and Gynecology, the American College of Obstetricians and Gynecologists, and the Society of Academic Specialists in General Obstetrics and Gynecology
Education
Residency in Obstetrics, Gynecology, and Reproductive Services at UCSF, 2013–2017
Medical Degree from Duke University School of Medicine, Durham, NC, 2013
Master of Business Administration from Harvard Business School, Boston, MA, 2011
Bachelor of Arts in Public Policy Analysis from Duke University, Durham, NC, 2006
Featured Publications
"Experiences in Electronic Consultation (eConsult) Service in Gynecology from a Quaternary Academic Medical Center." Journal of Medical Systems, vol. 45, no. 5, 06 Ar 2021, doi: 10.1007/s10916-021-01732-9
"Emergency obstetrics knowledge and practical skills retention among medical students in Rwanda following a short training course." International Journal of Gynecology & Obstetrics, vol. 120, no. 2, Feb 2013, doi: 10.1016/j.ijgo.2012.07.031
"Interviews with Senegalese commercial sex trade workers and implications for social programming." Health Care for Women International, vol. 26, no. 2, Feb 2005, doi: 10.1080/07399330590905576
My Journey in Medicine
What I feel most passionate about is making health information feel accessible and understandable to my patients so they can feel more in charge during important health care decisions. I derive great satisfaction from knowing that I can make an impact — no matter how big or small — on an individual's life in the time I have with them. It's comments like "Thank you for listening" or "I feel so much better after that treatment" that drive me when other aspects of life can feel overwhelming.
I provide a wide range of gynecological services in my day-to-day work, including supporting my patients throughout their pregnancies; counseling on contraception and family planning; treating fibroids, incontinence, endometriosis, abnormal uterine bleeding, gender dysphoria, and pelvic pain; and performing vaginal and minimally invasive surgery. Health care technology and innovation, as well as normalization of obstetric care, are other areas of special professional interest for me.
While I was in medical school, I decided to take a hiatus to pursue an MBA at Harvard. This has enabled me to combine my work as a physician with advisory positions at startups, where I can tackle macro societal issues surrounding access to health care. I find this to be deeply rewarding, and I currently advise startups related to fertility, pregnancy, and early parenthood.
During my time as an Assistant Clinical Professor at UCSF, I taught OB-GYN students all about how to provide the best possible care during labor and delivery; outpatient gynecology and office procedures; and management of menstrual irregularities. I also put particular emphasis on improving quality, patient education, and experience, as well as equity in women's health.
It's an honor to collaborate with Flo and to be able to spread helpful and engaging knowledge about all aspects of the female body and health to so many people, to empower them to sit in the driver's seat when it comes to their personal well-being.
Fun Facts
In my spare time, I enjoy building Magna-Tile towers with my young twin girls, traveling, and reading fiction. I also speak Farsi and French.
Flo Advisory Board of 100+ Doctors, Scientists, and Health Experts
We break down complex medical topics into accessible and digestible information that empowers readers to take action and prioritize their own well-being. Our team of Medical and Scientific Advisors is made up of over 100 certified health experts from a variety of disciplines who ensure that every piece of content we release is medically accurate, understandable, and up-to-date with the latest scientific findings. We rely on medical guidelines from international health organizations and get information from academic institutions and peer-reviewed articles, which is fully described in our Flo Editorial Process and Standards.