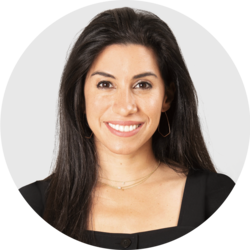 Nazaneen Homaifar, MD, MBA
Assistant Clinical Professor of Obstetrics and Gynecology at the University of California, San Francisco, CA, US
Work Experience: 7+ years of experience in obstetrics and gynecology
"I have always taken a great interest in how women get access to health care and many of the societal challenges they face. Obstetrics and gynecology also offer a unique blend of practice that I love: continuity with my patients; a combination of surgical and clinical work; and an opportunity to help patients through truly vulnerable times."
Dr. Homaifar, FACOG, is passionate about making health information accessible to her patients. To this end, she has worked to create resources for her patients, initiated a webinar series during COVID-19, and contributed to numerous articles for start-ups that she advises.
Education and professional experience
Bachelor's degree in public policy from Duke University
Medical degree from Duke University
Residency in obstetrics, gynecology, and reproductive sciences at UCSF
Master of Business Administration from Harvard University
During medical school, Staci took two years off to pursue an MBA. This has given her the opportunity to mix her very personal work as a physician with tackling macro issues around health care through her work with start-ups. She finds this combination deeply rewarding.
Passion and motivation
As a generalist OB-GYN, she loves being able to provide prenatal care, comprehensive gynecologic care, treatment of abnormal uterine bleeding, fibroids, endometriosis, family planning, contraception counseling, and gender dysphoria, and performs vaginal and minimally invasive gynecologic surgery.
"I derive great satisfaction from knowing that I can make an impact — no matter how big or small — on an individual's life in the time I have with them. It's a comment like "thank you for listening" or "I feel so much better after that treatment" that drives me each day when other aspects of life can feel overwhelming."
In her spare time, she likes building Magna-Tile towers with her toddler twin girls, daydreaming about travel, and reading fiction.